Good Boy: My Life In Seven Dogs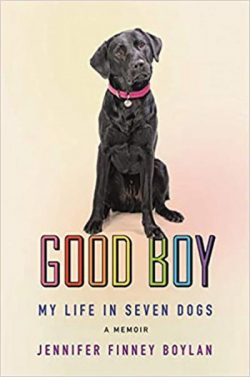 Above all, author Jennifer Finney Boylan '80 is interested in storytelling and its capacity (and limitations) in expressing the strongest human emotions. This has been especially on her mind during her work on her new book, Good Boy: My Life in Seven Dogs.
"At heart, I'm a storyteller and that's what I'm drawn to," Boylan says. "I wouldn't call myself a memoirist because that's a funny word. It sounds like something you'd write at the end of your life looking back on your great accomplishments. I hope I'm not near the end of my life, and I don't know that my accomplishments are all that great. I think of it more that I write nonfiction with a first-person narrator. And if you're lucky enough to have had a lot of adventures, as I have, there's a lot of good fodder for that."
In her new work, Boylan organizes much of this fodder—painful, hilarious, riveting, occasionally lewd—around her many canine pets. Lest that seem too idyllic, consider that Boylan is the first to note how ill-behaved many of them were: tearing up houses, tackling visitors, having and causing many happy accidents. In her honest reflections on her dogs' charms and faults, Boylan accesses many of her own with quick wit and touching candor.
"I've loved my dogs in spite of the fact that most of them were terrible or
kind of deranged," she says. "Playboy stole the Thanksgiving turkey off the table and bit people. Matthew would hump my grandmother's leg and pee everywhere. Brown chewed her legs constantly. If you had a friend who did that, you'd want to call a therapist or the police. So, why are we driven to adore these sometimes-terrible creatures? I think it's that we have this profound need to express love. And we're not all that good at it. Dogs somehow give us permission to let it all out."

Good Boy: My Life in Seven Dogs is published by Celadon Books.