Recommended Reading: Books by Vidich '72, P'00, '03; Moezzi '01; Wiener '09; and Others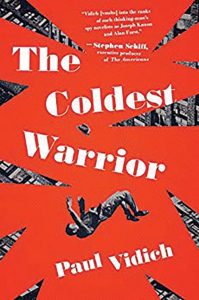 Paul Vidich '72, P'00, '03
The Coldest Warrior (Pegasus, 2020)
In Paul Vidich's latest work of spy fiction, government scientist Dr. Charles Wilson dies when he "jumped or fell" from the ninth floor of a Washington hotel. Two decades later, with the release of the Rockefeller Commission report on illegal CIA activities, Wilson's case becomes news again. A CIA agent is given the perilous assignment to determine what really happened. The book is based on the unbelievable true story of Vidich's uncle, Frank Olson (whose story also inspired Netflix's Wormwood).
Melody Moezzi '01
The Rumi Prescription: How an Ancient Mystic Poet Changed My Modern Manic Life (Penguin Random House, 2020)
A cultural, spiritual, and literary memoir of sorts, The Rumi Prescription chronicles Melody Moezzi's quest to apply the lessons of 13th-century Islamic poet Rumi to 21st-century life. After she finally examines and embraces her father's lifelong obsession with the poet, Moezzi begins to approach Rumi's words as lifechanging "prescriptions" for modern maladies such as depression, anxiety, and distraction.
Anna Wiener '09
Uncanny Valley: A Memoir (MCD, 2020)
Not long after Anna Wiener earned her sociology degree at Wesleyan (and after an unfulfilling stint in New York's publishing industry), she took a job that seemed more alluring at a data analytics startup in San Francisco. In her debut book, she shares an unsparing reflection on the experience that followed as she navigated customer-service roles at Silicon Valley tech companies.
Jessica Valenti and Jaclyn Friedman '93
Believe Me: How Trusting Women Can Change the World (Seal Press, 2020)
The two women behind the feminist agenda-setting Yes Means Yes present a new collection of essays for the post-#MeToo era. More than two dozen of the strongest voices in feminism today—including Rep. Ayanna Pressley, Soraya Chemaly, Julia Serano, Tatiana Maslany, Moira Donegan, and Dahlia Lithwick—make the case for restructuring society to properly elevate and value women's lived experiences and insights.
T. Elijah Hawkes '97
School for the Age of Upheaval: Classrooms That Get Personal, Get Political, and Get to Work (Rowman & Littlefield, 2020)
Young people's lives are fraught with troubling issues: poverty, sexism, and racism; climate change; the loss of loved ones to addiction. T. Elijah Hawkes '97, a principal in Vermont (and formerly New York City), draws on the stories of individuals he has worked with to explore how schools can help students transcend these troubles and channel their aggression in productive ways.
Tim Schwartz '03
A Public Service: Whistleblowing, Disclosure, and Anonymity (O/R Books, 2020)
An artist, activist, and technologist, Tim Schwartz '03 specializes in teaching techniques for challenging power while protecting one's identity, even amidst today's highly surveilled digital world. In A Public Service, he shares practical advice for how to securely and anonymously share information in order to expose and confront corruption, sexual harassment, and other ethical and legal violations.
Ellen Prager '84
Dangerous Earth: What We Wish We Knew About Volcanoes, Hurricanes, Climate Change, Earthquakes, and More (University of Chicago Press, 2020)
Escape Galápagos (Tumblehome Learning, 2019)
With all our modern technology, why is it that we can't better predict natural disasters? In Dangerous Earth, Ellen Prager '84—a marine scientist, freelance writer, consultant, and science advisor to Celebrity Cruises in the Galapagos Islands—delves into the mysteries of our planet's hazards and why they continue to perplex the world's scientists. Prager shares this sense of wonder and discovery with a younger readership through Escape Galápagos, the first book in a new series for middle-graders. Combining adventure and humor with learning about science and nature, the book includes many scenes based on Prager's own experiences in the Galapagos.