New Lecture Series Brings Distinguished Speakers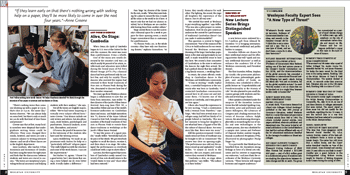 A new lecture series endowed by a $1.7-million gift from Edward W. Snowdon '33 is bringing internationally renowned intellectual and public leaders to campus.
Snowdon Fellows are chosen for their intellectual stature and for offering activities that will "spark and sustain intellectual discourse" as well as enhance the academic life of the Wesleyan community, said President Bennet.
The first Snowdon Fellow, Stephen Jay Gould—the provocative philosopher of science, paleontologist, geologist, and author of books on evolution—was scheduled to offer a public lecture on "Unpredictability and Nondirectionality in the History of Life." He also planned to join small discussion groups with students and faculty and several larger classes.
Other speakers scheduled under the auspices of the Snowdon Lecture Series this fall included Spalding Gray, the writer, actor and performer; and James Billington, the Librarian of Congress and a leading American historian of Russian culture. Ralph Lemon, the award-winning choreographer who is researching the use of media and new technologies in the creative process, also was scheduled for a campus visit. Lemon and Professor of Classical Studies Andrew Szegedy-Maszak co-authored Persephone (1996), illustrated by photographer Philip Trager '56.
"It is just terrific that Wesleyan has benefited from Mr. Snowdon's strong feelings in favor of a liberal arts education and his interest in supporting our endeavors," said Jean Shaw, the coordinator of the Wesleyan University Lectures. "These lectures will expand horizons and support academics."