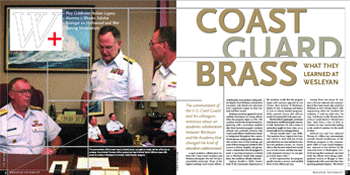 A quiet academic collaboration between the Coast Guard Academy and Wesleyan during the '60s and '70s has a remarkable postscript. Three of the highest-ranking Coast Guard officers, including the commandant, hold graduate degrees from Wesleyan and say their encounter with liberal arts education had a significant impact on their outlook and their careers.
Wesleyan must have appeared to be an unlikely destination for young officers when the program began in 1965. The Academy was heavily oriented toward engineering, with a curriculum modeled after West Point and Annapolis. Academy officials had concluded, however, that Coast Guard officers would need a broader background throughout their careers. The faculty was staffed partly with officers who served a tour of duty teaching, and some of these young men needed to offer courses in history, English, and government—subjects they were ill-equipped to teach. A year-long immersion in liberal arts at Wesleyan would help prepare them, the Academy's officials reasoned.
Captain Ronald A. Wells, former head of the humanities department at the Academy, recalls that the program began with cautious approval by Jim Cronin, then director of Wesleyan's Master of Arts in Teaching and Master of Arts in Liberal Studies programs. Wells assured Cronin that officers would be hand-picked with great care.
The first officer to participate, Lieutenant Dale Bennett, enrolled during the summer in both Humanities 101 and a course in nationalism taught by Hans Cohn, an internationally known visiting professor.
"Several months later," says Wells, "the Academy Dean, Captain Paul Foye, and I drove to meet with Jim Cronin and asked how our man had fared in his first two graduate courses. Dr. Cronin told us that Bennett indeed had earned an A in each course; and that was especially impressive because 'no one gets an A from Hans Cohn.'"
At first experimental, the program quickly became a success and enrolled three or four officers per year.
Among those was James M. Loy, now a five-star admiral and commandant of the Coast Guard, who arrived at Wesleyan in 1969. He had "had it" with engineering when he finished the Academy. "I took my slide rule," he says, "and threw it in the Thames River as far as I could chuck it." Several years later, back from a tour of duty in Vietnam, he was "consciously trading in the world of numbers for the world of ideas."
Admiral Loy and Vice Admiral Thomas H. Collins (vice commandant) recently shared recollections of the Wesleyan program in the commandant's office at Coast Guard headquarters, adjacent to Fort McNair by the Anacostia River in Washington, D.C. Chief among their memories was hard work: the officers were taking undergraduate courses to fill gaps in their backgrounds at the same time they were pursuing graduate degrees. "We weren't deeply grounded at the Academy in some of the courses that constitute the liberal arts," Admiral Collins noted.
"That summer and fall," added Admiral Loy, "were the most challenging times of my academic life. I have never worked so hard reading and attempting to stay abreast of what was happening in the classroom because of that double challenge."
When Admiral Loy arrived, the Wesleyan campus was in an uproar over the Vietnam War. He and his fellow officer-students decided to avoid highlighting their Coast Guard affiliations, at least initially. Later, they opted to blow their cover by coming to class in uniform. "When the Wesleyan undergraduates found out that we were in the military and had actually gone to Vietnam, it was a striking moment," he says. Some friends turned hostile overnight—but he was resolute about the value of his service.
Admiral Collins was refreshed by the energetic exchange of ideas at Wesleyan during his stay in 1971–72. "People were very willing to express an opinion," he says. "Every notion was challenged. I carried away from Wesleyan the rich interchange of ideas."
Assistant Commandant for Government Affairs Rear Admiral Patrick M. Stillman, who also taught in the humanities department of the Academy, recalls spending "endless hours in Olin Library reflecting on naval leadership." He subsequently captained the Academy's training vessel, the Eagle, and moored it off the English coast where Nelson had anchored the British fleet. Thoughts of his thesis for the late Professor of History Emeritus Will Wallace, a study of naval leadership during the great age of sail, came back to him.
"I remember a book, Worlds Apart, by Owen Barfield, that Professor Eugene Golub used in his course," he adds. "There is a wonderful dialogue between physicists and humanists, the whole range of thinking that defines what we construe as our foundation of knowledge. I truly gained an appreciation that there are multiple ways to address issues. It's absolutely critical, I think, that you develop the intellectual empathy to stand in another's shoes."
The program had an effect on the careers of its participants; Admiral Loy says that it and his teaching at the Academy "made the difference to me at several key places in my career." The program also had a significant impact on the Academy, according to Wells. "It was eminently clear to me that the teaching and intellectual fire of such Wesleyan faculty as Will Wallace, George Creeger, Ihab Hassan and others directly and profoundly influenced our young officers and were, consequently, infused into the Academy curriculum." The officers introduced new courses. Admiral Loy, for instance, taught a course called Urban America, based on his studies at Wesleyan of urban economics, sociology, and government. Wesleyan faculty became visiting lecturers in his course.
In retrospect, the Wesleyan program assisted the Coast Guard while the Academy was undergoing a significant transition from an engineering school to one in which engineering still figures prominently but is part of a more multidimensional curriculum. Eventually, the Academy came to rely much more heavily on faculty trained with doctoral degrees, and the need for Wesleyan's assistance vanished. The program, however, left a legacy of value for liberal arts education in the life of an officer, says Wells. Thanks to it, more than one cadet may have thought about Melville's Billy Budd while scrambling up the rigging of the Eagle.