HISTORICAL ROW: THE DAVISON RARE BOOK ROOM AT FIFTY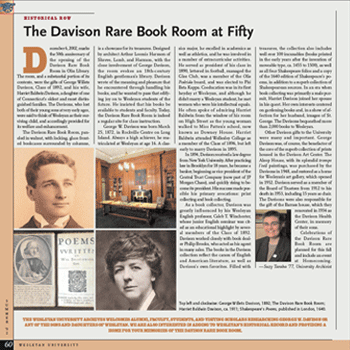 George W. Davison was born March 25, 1872, in Rockville Centre on Long Island. Always a high achiever, he matriculated at Wesleyan at age 16. A classics major, he excelled in academics as well as athletics, and he was involved in a number of extracurricular activities. He served as president of his class in 1890, lettered in football, managed the Glee Club, was a member of the Olla Podrida board, and was elected to Phi Beta Kappa. Coeducation was in its first heyday at Wesleyan, and although he didn't marry a Wesleyan student, he met women who were his intellectual equals. He often spoke of admiring Harriet Baldwin from the window of his room on High Street as the young woman walked to Miss Patten's school, now known as Downey House. Harriet Baldwin attended Wellesley College as a member of the Class of 1896, but left early to marry Davison in 1895.
In 1894, Davison received a law degree from New York University. After practicing law in Brooklyn for 18 years, he became a banker, beginning as vice president of the Central Trust Company (now part of JP Morgan Chase), and quickly rising to become its president. His success made possible his primary avocations: print collecting and book collecting.
As a book collector, Davison was greatly influenced by his Wesleyan English professor, Caleb T. Winchester, whose junior English seminar was cited as an educational highlight by several members of the Class of 1892. Davison worked closely with book dealer Philip Brooks, who acted as his agent in many sales. The books in the Davison collection reflect the canon of English and American literature, as well as Davison's own favorites. Filled with treasures, the collection also includes well over 100 incunables (books printed in the early years after the invention of moveable type, ca. 1455 to 1500), as well as all four Shakespeare folios and a copy of the 1640 edition of Shakespeare's poems, in addition to a superb collection of Shakespearean sources. In an era when book collecting was primarily a male pursuit, Harriet Davison joined her spouse in his quest. Her own interests centered on gardening books and, in a show of affection for her husband, images of St. George. The Davisons bequeathed more than 2,000 books to Wesleyan.
Other Davison gifts to the University were many and important. George Davison was, of course, the benefactor of the core of the superb collection of prints housed in the Davison Art Center. The Alsop House, with its splendid trompe l'oeil paintings, was purchased by the Davisons in 1948, and restored as a home for Wesleyan's art gallery, which opened in 1952. Davison served as a member of the Board of Trustees from 1912 to his death in 1953, including 15 years as chair. The Davisons were also responsible for the gift of the Barnes house, which they renovated in 1934 as the Davison Health Center, in memory of their sons.
Celebrations of the Davison Rare Book Room are planned for this fall and include an event at Homecoming.
Suzy Taraba '77, University Archivist