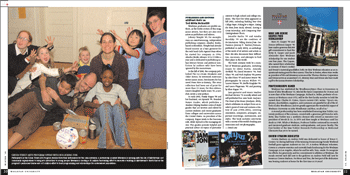 Wesleyan graduates are prolific authors, as the books section of this magazine attests, but they are also very active as publishers and editors.
Johnny Temple '89, for example, runs an award-winning, independent publishing company, Akashic Books, based in Brooklyn. Temple had already found success as a bass guitarist for the rock band Girls Against Boys when he started his company in 1996. Akashic Books releases 12 to 15 titles a year and is dedicated to publishing urban literary fiction and political nonfiction by authors who have been ignored by the mainstream.
In the fall of 2002, the company published The Ice-Cream Headache and Other Stories, by esteemed American writer James Jones, best-known for his novel From Here to Eternity. The story collection had been out of print for more than 15 years; for this edition, Jones's daughter Kaylie Jones '81, a novelist, wrote a new preface.
In early 2002, Nataly Kogan '98 and her husband, Avi Spivack '99, founded Natavi Guides, which publishes a Students Helping Students series of study guides that are written and edited by current students and recent graduates from colleges and universities across the United States. As president of the company, Kogan tends to the business side, while Spivack is the managing editor. The guides provide helpful and practical advice on topics of particular interest to high school and college students. The first five titles appeared in fall 2002, including Tackling Your First College Paper, Fishing for a Major, Getting the Most from Study Abroad, Scoring a Great Internship, and Conquering Your Undergraduate Thesis.
Jennifer Karlin '99 and Amelia Borofsky '99 are the coeditors of ReGeneration: Telling Stories from Our Twenties (Jeremy P. Tarcher/Putnam, published in early 2003), an anthology of the work of 40 writers and artists in their 20s who document their difficulties, successes, and attempts to find their place in the world.
The book contains work by a number of Wesleyan graduates, including essays by editor Karlin, Amanda DeWald '98, David Montero '98, Paul Ohan '99, and Nick Suplina '00; poetry by Alix Olson '97 and Justin Moyer '98; photographs by Amani Willett '97, Lauren Kesner '99, Steffie Kinglake '99, and Laura Plageman '99; and painting by Elsie Kagan '99.
Jazz guitarist and music teacher Michael Brewin '72 recently edited and self-published his new book Souljazz: The Heart of the Music (Souljazz, 2002), which celebrates its subject from an insider's point of view and contains a history of jazz (1900–2002), covering innovators, composers, arrangers, important recordings, instruments, and styles. The book includes interviews with a variety of the world's leading jazz musicians and 140 photographs.