Volunteering: Forget About Cancun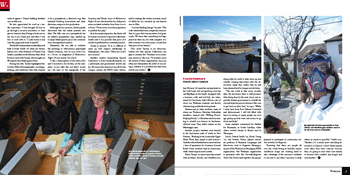 Jane Maxson '06 spent her spring break on the Gulf Coast, but not sporting a sun hat and flip–flops on the beach. Equipped with a hammer, nails, and tool belt, she volunteered for hurricane relief efforts—one of about 100 Wesleyan students and faculty volunteering worldwide during break.
Maxson and 50 other students, many of whom are Wesleyan Christian Fellowship members, teamed with "Willing Hearts, Helping Hands," a Christian ministry aiming to rebuild 200 houses in hurricane-affected areas. They aided victims on the Mississippi coast.
Another 50–plus students went directly to the hurricane's path of wrath in New Orleans. Working in the hardest–hit Upper Ninth Ward, they stayed in and around a Catholic school that had been converted into a base of operations for Common Ground Relief. Some students slept in classrooms, while others slept in tents outside.
Brian Thorpe '07 spent nine days armed with crowbars, shovels, and wheelbarrows, doing what he could to help clean up and rebuild. Coming face–to–face with the destruction made him realize that he had been desensitized by images on television.
"The raw truth is that seven months after the hurricane there is still precious little being done by the state, local, and especially federal government to rebuild the city and help the poorer citizens of the area to get back on their feet," he says. "While I came back from New Orleans frustrated and disheartened, I still felt filled with hope by seeing so many people my own age giving up their time and money to go down and help."
Some students volunteered for Habitat for Humanity in South Carolina, while others worked abroad in Mexico and in Nicaragua.
Jessica French Smith '09, Kevin Young '07, and Octavio Flores, adjunct associate professor of Romance Languages and Literatures, went to Nagarote, Nicaragua, as part of the Wesleyan in Nicaragua (WIN) organization. The Wesleyan organization is partnered with The Norwalk–Nagarote Sister City Project and together, the groups planned to participate in community service activities in Nagarote.
"Knowing that there are people all over the world living in horribly unjust conditions keeps me working hard to take advantage of the resources available to me and to use these resources to help others as much as possible," Smith says. "Besides, it's a much more satisfying alternative to Cancun. I don't think anyone cries when they leave Cancun because they are going to miss their host family or because they couldn't stay longer and work harder."