Three Are Alumni-Elected, New Trustees Join Board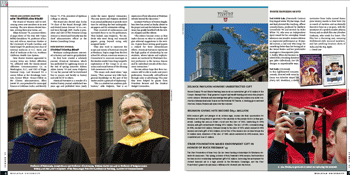 The Board of Trustees will be welcoming seven new members at its next meeting. The new alumni-elected trustees, serving three-year terms, are:
Ethan Bronner '76, assistant editorial page editor of The New York Times; Bobby Donaldson '93, professor of history and African American Studies at the University of South Carolina; and David Siegel '69, professor/vice chair of internal medicine at U.C. Davis and chief of medicine at the V.A. Northern California Health Care System.
 New charter trustees appointed to six-year terms are: Robert Allbritton '92, affiliated with the family-owned Allbritton Communications Co. in Washington, D.C., and CEO of Riggs National Corp.; Lael Brainard '83, a senior fellow at the Brookings Institute, former White House Fellow in the Clinton administration; Ellen Jewett '81, vice president for municipal finance at Goldman Sachs; and Beverly Tatum '75, P'04, president of Spelman College in Atlanta.
The Board also elected Alan Dachs '70 chair of the Board through 2005 and elected James Dresser '63 to a second term through 2009. Dachs is president and CEO of The Fremont Group; Dresser is retired and formerly was the chief administrative officer at the Boston Consulting Group.