Gift From William Manchester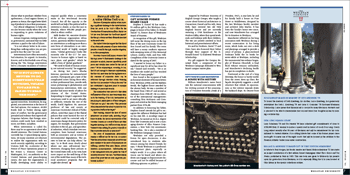 William Manchester's name burst into the national consciousness with his riveting account of the assassination of President Kennedy (Death of a President, 1967). A year later, he and his family built a house on Pine Street in Middletown, designed by the late Wesleyan faculty member and architect John Martin. It has been the family's home ever since, and now Manchester has arranged for its donation to Wesleyan.
Manchester reflected on his long association with Wesleyan during a recent conversation in his living room, which looks out over a deck and plantings arranged to provide a sense of privacy. A glass-enclosed bookcase holds the 16 books he wrote while at Wesleyan, including the monumental two-volume biography of Winston Churchill. A final third volume remains unfinished, and Manchester's declining health has put its completion in doubt.
Positioned at the end of a long driveway, the house is barely visible from the street. Even up close, the facade deceptively suggests a small structure that reveals its spaciousness as the interior expands down the backyard slope. Its reticent front suggests Manchester's approach to literary fame: avoid the trappings and keep working.
"I used to work fantastic hours," he says. After a long day at his office in Olin Library?where he organized his research into elaborate categories with the aid of highlighters and felt-tipped pens in 17 colors?Manchester would return home for an evening of work that would sometimes stretch all night. No army of research assistants fueled his fast-paced narratives, which are distinguished by meticulously accurate detail.
In the spring of 1985, Manchester described his writing habits for the Wesleyan magazine:
"I got a $1,000 advance for my first book (Disturber of the Peace, 1951); $100 went for my agent and I put the rest away until I earned it. I didn't think it would be mine until I finished the book and met the deadline. To meet the deadline I had to write every evening and through every weekend. And all that time, I thought how marvelous it would be to get back to having evenings to myself. Well, I finished the book and I got back to my own reading? and I felt guilty and uneasy. The reason is that I'd formed a good habit. So I started another book.
"When I'm doing research, I love the topic. By the time it's published and people want to talk about it, I've moved on to something else, and I never look back."
Of course, he does look back, as a wall of photographs above his bed attests. He has been the focus of national attention?ABC, NBC, and CBS once sent camera crews to Middletown after Jacqueline Kennedy filed suit to prevent publication of Death of a President. (The book contained details of Kennedy family life that she did not want to be revealed, and Manchester subsequently removed some passages.) Asked about memories of the house, he fondly recalls the jam-packed parties he and his wife held just after moving in.
In 35 years of living on Pine Street, Manchester was rarely away. He and his family lived in Washington, D.C., during 1964 and 1965 when he was working on Death of a President, and he had an office at the National Archives. He lived briefly in Germany while working on The Arms of Krupp (1968) and also resided in England to research the Churchill books. Souvenirs from the latter trip include some British lane signs that decorate the entrance to his house.
Disturber of the Peace is a biography of H.L. Mencken, and much of Manchester's work is devoted to major figures of the 20th century. In addition to his books about Kennedy and Churchill, he wrote American Caesar, a biography of Douglas MacArthur (which was nominated for a National Book Award). Goodbye, Darkness: A Memoir of the Pacific War, was nominated for a Pulitzer Prize.
Manchester grew up in Springfield, Mass., so when he arrived at Wesleyan in 1955 as managing editor for high school papers with American Education Publications, then owned by Wesleyan, he was returning to the familiar landscape of the Connecticut River Valley. In 1959, President Victor Butterfield named him the first fellow of Wesleyan's Center for Advanced Studies. A fellowship in the nowdefunct East College, which combined academics and residential life, provided him a weekly dinner with faculty and students. Later, he became writerin- residence and adjunct professor of history. He offered tutorials and taught expository writing for one year, but his writing career was always the center of his life. His devotion to it, he confesses, had some costs.
"When you spend as much time writing as I did, there is an awful lot you miss. Until recently, I didn't know who Michael Jackson was. I hadn't heard of Martha Stewart."
Manchester still has an office in Olin Library. An ancient Underwood typewriter and marked-up galleys evoke the writer's life in a pre-computer era. He took his Bronze Star home, but hanging on a wall is the certificate awarding him a Purple Heart for "wounds received in action" on June 5, 1945, as he fought with his Marine unit on Okinawa. In 1994, cardiovascular surgeons studying an X-ray of his heart discovered a two-centimeterlong bullet lodged in his right ventricle. He had carried this souvenir of battle, unknowingly, for 50 years. His Marine service is a family tradition: his father served in WWI and his brother in Korea.
Amid old filing cabinets and packed bookcases are mementos of the writer's life: a 1948 photo of the city room of the Baltimore Sun, where Manchester worked as a reporter; his White House press pass; issues of Time magazine from 1940; a copy of the front page of the New York Times announcing the British evacuation at Dunkirk; a certificate of commendation from the Marine Corps Combat Correspondents Association; and a 1941 portrait of Winston Churchill signed by Churchill's photographer.
A map of the world dotted with red push pins shows his world travels. Befitting his deep interest in World War II, there are concentrations in Europe, the Far East, and the South Pacific, but he has traveled in the Mid- East and in India as well. Elsewhere, a locked file cabinet is labeled "First Draft?Lion III."
Now 81, he has received numerous honors for a lifetime of distinguished work. President Bush presented him with the National Humanities Award in April 2002.
At his house, the hand-split cedar shingles from California that John Martin used for siding have weathered to a soft gray. Manchester's three children (including John '72), who grew up next to campus, have moved away. His wife, Julia, a founding member of Wesleyan Potters, died five years ago. He rarely gets out anymore. But he is a chronicler of his own history as well as the lives of great leaders and institutions. He hands a visitor a photo album that traces every step of construction of the house, starting with the empty plot of land that the Manchesters purchased from Wesleyan's former treasurer, Howard Matthews. With Wesleyan's acquisition of Long Lane property, the campus is now just across the street.
Manchester has had faculty members for neighbors and has lived within easy walking distance of Andrus Field, where he faithfully attended football games. Though his reputation spans the globe, Wesleyan has been the center of his life, as the donation of his house attests.