Everything Old Is New Again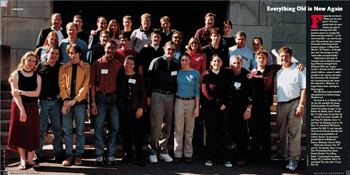 Frequently overheard: "Where has the time gone?" The once gawky frosh of a generation ago who remember showing their folks around campus on a bright fall Homecoming weekend—"as if it were yesterday"—are now the parents. This weekend, they content themselves with being toured around campus—College Row, WestCo, '92 Theater—as though they were the strangers to the "ivied walls and storied halls."
Gathering on the steps of Crowell Concert Hall this morning of Homecoming/Family Weekend 2000, the "Legacy Group"—alumni and their matriculated children—pause to smile proudly at the camera and enjoy the time–warp with classmates and contemporaries who share this experience. Wesleyan, no longer theirs alone, belongs to their progeny.
The Wesleyan Legacy families who gathered on Homecoming Weekend are:
Front row (l. to r.): Yulman, Kait '04, Jim '69, and Nick '02; Tatum, Travis Jonanthan '04 and Beverly Daniel '75; Lehner, George '71 and Kristin '04; Mirsky, Sara J. '04 and Ken '72; Lilly, James '04 and Ted '66.
Second row: Lame, Jennifer '04 and Tony '67; Belinkie, Steve '74 and Dan '04; Whiting, Dave Jr. '04, Dave '75, and Sarah '98; Bruner, Andrew '04, Bill '71, and Amanda '02 (current students Amanda and Andrew are grandchildren of Clark E. Bruner '36 and greatgrandchildren of William E. Bruner, Wesleyan Class of 1885).
Third row: Greaney, Tim '70 and T.J. '04; Richlin, Dean '74 and Sara '04 (missing from photo: Pamela Richlin '75); Gillam, Robin '71 (missing from photo: Danny '03 ); Gottfried, Barry '70 and David '04; Lake, Bob '75 and Rob '04.