New Ideas Infuse the Curriculum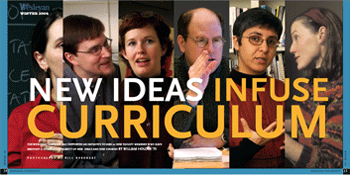 BARRY CHERNOFF CAN BE A HARD GUY TO REACH when classes are not in session. His work as an environmental scientist bent on saving ecosystems from destruction takes him to remote areas of South America where he is more likely to stumble across a new species of fish than find a cell phone tower.
For most of his career he pursued this research as curator of zoology at the Field Museum in Chicago and as a professor at the University of Chicago.
Yet he left these prestigious positions to become Wesleyan's first Robert Schumann Professor of Environmental Studies.
"As I investigated the possibilities of a career at Wesleyan," he says, "I was excited and surprised by the combination of excellence in teaching and research. It is a unique combination. The faculty actively publish scholarly papers in top journals and they bring in significant outside funding. Wesleyan offered me the possibility to be involved with excellent colleagues and undergraduate students. 
"It always has been a dream of mine to lead or participate in an environmental studies program. I want to engage students in a dialog about the environment. I hope that our program will challenge them to focus upon the multidimensional nature of environmental issues that affect us locally and globally and to seek integrated solutions for a sustainable future."
Chernoff holds professor-level appointments in both the departments of biology and earth and environmental sciences, which reflect the breadth of his interests. As an evolutionary biologist, he works with tropical ecosystems and specializes in climate change. In environmental science, his research dovetails with other Wesleyan faculty members studying the Connecticut River ecosystem.
He and his colleagues have carried out six programs in various areas of South America, most recently in the Caura River basin of Venezuela. Associated Press and Reuters reported on their discovery of 10 new species of fish, including a tentacled armored catfish and a piranha that eats fruit.
As a result of this work, they advised the Venezuelan government to protect six habitats on the basin against deforestation, which would protect more than 80 percent of species and ensure the survival of a fishing livelihood worth $330 million annually.
"The way I approach environmental activism is to be a voice of informed reason," says Chernoff. "My group provides scientific information for governments and NGOs and others involved in trying to shape environmental policies."
Working with Conservation International, Chernoff founded AquaRAP (RAP stands for "rapid assessment program"), a multidisciplinary effort aimed at aquatic conservation. He typically takes groups of 25 scientists and students into the field and says that, in addition to enlisting Wesleyan students in these ventures, he would like to recruit South American and other Latin American students to study at Wesleyan.
Chernoff is not alone among Wesleyan's new faculty members in bringing powerful, formative experiences from the field to inform the classroom. As part of its strategic initiative to lower the student-to-faculty ratio, Wesleyan has hired 20 individuals who are infusing academic departments with expertise in many new areas of study. They come from various parts of the globe: Australia, India, Poland, and England. They've worked for governments and grassroots organizations. Some yearned to be academics when they were teenagers; others tumbled into the academic world through experiences as adults. All were attracted to the particular mix of teaching and research that Wesleyan affords.
The new faculty positions were approved in a competitive process that produced 80 proposals from academic departments. "We had no shortage of ideas," says Judith Brown, vice president for academic affairs and provost. "It broke my heart to turn some down."
The university particularly sought proposals that would enhance course access and lower class size, reach into emerging fields, support Wesleyan's efforts to emphasize essential capabilities in the curriculum, and enhance interdisciplinary efforts.
"These faculty members bring to Wesleyan the latest developments in new fields of research, fields that often overlap and reinforce each other," says Brown. "As a group they therefore have a greater impact on each other and on the rest of the institution than if they had come singly and spread out over many years. They also bring an enormous amount of energy and optimism about the future, the influence they can have in shaping the world of knowledge and society, and the ways they can link their teaching and research to shape future generations.
"Some of the most interesting work in academe happens across interdisciplinary lines," she adds. "Those are the new fields of tomorrow."
Peter Gottschalk's work, for example, is implicitly interdisciplinary. An assistant professor of religion, he is an authority on Hindu-Muslim relations in India and the religion department's first specialist in these areas. The history of religion, he says, "doesn't define itself according to one method of research or one theory of analysis, but really understands itself by using a kind of toolbox approach."
He is attempting to understand intractable intercultural conflicts. Communal violence is on the rise in South Asia, abetted by Hindu chauvinist organizations that are mobilizing Hindus in the United States and fostering anti-Muslim bias.
His research has revealed a nuanced relationship between Hindus and Muslims inside India, despite the frequent outbreaks of violence and the undeniable rise of Hindu militancy.
"My research challenged ideas that people are only Muslim or only Hindu, that religion in India is the be-all and end-all. Hindus and Muslims have a lot of different identities. They share some of them and are not necessarily always in conflict. There is a lot of collaboration."
Students have a growing interest in Islam. "They want to understand the current political situation, but most of them want to understand the history and the culture behind current events," hes says. I think that's positive and affirming. They want to see the larger picture."
Faculty hires bring change and intellectual renewal, sometimes in the form of a discipline that is entirely new to Wesleyan. In the sociology department, Mary Bosworth is a criminologist, a discipline more commonly found in Australia and England, where she learned it. In the United States, those interested in studying crime and punishment most frequently find themselves in criminal justice programs, which are oriented more toward the practical than theoretical aspects of the field.
In this country she also finds a lack of funding for criminology and a reluctance on the part of prison officials to provide access—a distinct contrast to her experience in England. None of this stopped her from conducting interviews and extensive correspondence with several dozen inmates in federal prisons that underlie her recently published book: The U.S. Federal Prison System (2002).
Bosworth believes that there is a great deal wrong with the U.S. prison system and that many people are behind bars who never should have been incarcerated. She is no Pollyanna, however, and she pushes her students to think through the hard issues about punishment.
"It's very challenging to get students to avoid romanticizing the offenders and vilifying the custodians," she says. They tend to focus on the injustices that prisoners may suffer, but she is keenly aware that the custodians also have difficult jobs.
She encourages her students to balance theory and practice, so they visit sites (such as a women's prison in Connecticut) and read firsthand accounts in addition to academic studies. Students seem to respond to this approach; she accepted 35 students into her course on punishment but was forced to turn away just as many. Some of her students have started a group called WesPREP, organizing volunteers to go into the women's prison to participate in a teaching program.
The arrival of a new faculty member can also stimulate the Olin Library collection. Bosworth, for example, says the library has been "fantastic" in its willingness to help develop a collection in criminology, including key journals such as Punishment and Society, Theoretical Criminology, and Violence Against Women.
Some people decide early in life to seek an academic position, but that doesn't mean the path is straightforward. As a teenager in Yorkshire, England, Kathryn Johnston read a book about black holes by Isaac Asimov. "I found it thrilling to think of the universe in a theoretical sense," she says. "From that moment on, I wanted to do theoretical science."
Today, as an assistant professor of astronomy, she has fulfilled her dream by becoming an authority on the ways in which large galaxies form by swallowing smaller galaxies. Within the past decade, the Hubble Space Telescope has provided observational evidence that has lent firm support to theoretical models of galaxy formation, which she develops through supercomputer simulations.
Yet on more than one occasion, Johnston was ready to chuck her dream. As an undergraduate at Cambridge University, she felt that astrophysics was beyond her reach academically. Only when she attended a summer course at the university's Institute of Astronomy did she meet astronomers and realize "they weren't so different from me." But another major hurdle lay in her path.
"The low point in my career was as a postdoc. I was at the Institute for Advanced Study in Princeton. When you go to an elite institution, the air gets harder and harder to breathe. As I look back on my postdoc, I believe it was very successful. At the time, however, I wondered if I were cut out for the work. The social system—the way scientists interacted—was hard and did not provide the encouragement I needed. Many people find the environment to be psychologically bruising."
She thought about becoming a physician and began to doubt the usefulness of being an astronomer. Then she met an astronomer from Haverford College, who not only helped her to understand that leading an integrated life as a scholar and teacher could be deeply satisfying, but also alerted her to the possibility of working at a smaller U.S. institution. If she had not come to know him, she acknowledges that she probably would not have paid any attention to the opening at Wesleyan.
Anu Sharma came to an academic life because she was "waylaid." She grew up in India, attended the New School in New York City, then went to the School of International Public Affairs at Columbia University—a program that prepared her to be an international development expert.
"As I was working, I wanted to delve deeper into issues of development. I had a background in economics and political science, but I wanted to ask different kinds of questions about the human aspects of development. Anthropology seemed to allow me to ask those questions as well as provide an interdisciplinary approach that would enable me to make use of my background."
Sharma not only asks questions, she acts on the answers. As an assistant professor of anthropology and women's studies, she considers herself to be "somewhat of an academic activist."
She is currently involved with a group of progressive South Asian academics in this country, trying to address, through various projects, the spread of Hindu fundamentalism in India and within the Indian diaspora in the United States.
She is also at work on a book about gender, the state, neoliberalism, and development. Specifically, the book focuses on empowerment and development programs initiated by the Indian government to help rural women. She examines how the concept of empowerment is changing development programs and the role of the state; she explores how empowerment programs are affecting the lives of rural women and ways in which the programs themselves are transformed by women's everyday struggles. The inequities and injustices she deals with in her work can seem staggering, but she describes her method of coping:
"Teach about it. For a lot of students, this material is eye-opening. For others, they've known it all along. They take the kinds of courses I teach to make theoretical sense of these processes and to make activist interventions; they are the ones who carry the mantle forward."
Undergraduate students benefit greatly through exposure to the ideas of new faculty members. Assistant Professor of History Magda Teter, the first person hired specifically to teach Jewish history, has introduced six new courses into the curriculum since her arrival. She brings a fresh approach, controversial to some.
"An increasing number of people are looking at Jewish history and Jewish experience in the larger context of the environment in which Jews lived," she says. "I try to show students texts—Jewish and non-Jewish—that reveal how cultures fed off each other in negative and positive ways."
This is a major departure from the tradition of Jewish studies in academia, which, according to Teter, has tended until recent decades to be insular and focused on rabbinic sources. That focus broadened under the leadership of the Columbia University scholar Salo Wittmayer Baron, who developed a more contextualized approach, one that required studying the languages and cultures of the people with whom Jews lived. Since Teter obtained her doctorate at Columbia, she absorbed this point of view and is now part of a generation of scholars who will spread it further.
Carrying out research in this area requires formidable linguistic talent. Teter has a working knowledge of Hebrew, Yiddish, Russian, Polish, Latin, Italian, Spanish, French, and Ukrainian. She also knows but no longer uses Mongolian, a language she picked up for her undergraduate degree at a Polish university.
Among the courses she has introduced are upper-level seminars on the Jews under Christianity and Islam in the Middle Ages, dealing with the foundation of how these major cultural and religious groups interacted and set the stage for future events that would form such an important part of Western history. Her students read the Qur`an, the Bible, parts of the Talmud and Jewish rabbinic sources, and secondary literature that shows how the act of writing history changes over time.
She also teaches a course on Jews and Modernity, in which students explore how traditional Jewish society in Europe and the United States responded to modern dilemmas stemming from feminism, homosexuality, and other cultural changes incompatible with traditional Judaism. Some of her courses are part of the core of the new Certificate in Jewish Studies, a program that provides in-depth study but is not as extensive as a major.
Undergraduates are beneficiaries of new technology that faculty create to launch their research programs. Assistant Professor of Physics Francis Starr, for instance, is building Wesleyan's second supercomputer cluster (a collection of desktop machines operating in tandem so as to create supercomputer processing capability). Wesleyan already has one supercomputer cluster, WesWulf, but it is heavily used.
Starr joined Wesleyan's faculty after four years with the National Institute of Standards and Technology. He found that he missed working with students and wanted to investigate the research problems that most appealed to him, rather than follow the dictates of a government agency.
His specialty is the development of computer simulations that allow him to "see" things that generally are difficult to access experimentally, such as the arrangement of individual atoms in a complex material. He has applied these simulations both to water ("Surprisingly, there is a tremendous amount not known about water," he says) and to polymer nanoparticle composites—a relatively new class of substances that have generated considerable interest among researchers for their novel structures and properties. They are used in automotive and aerospace materials, the semiconductor industry, and potentially may have an impact on pharmaceutical development.
He tries to teach his students the same lessons he learned from his doctoral thesis adviser: a certain amount of doggedness and the ability to distinguish important problems from trivial ones. The important ones have an element of universality, he says, and have application to many systems other than the one at hand.
New faculty members can also bring different perspectives on very old subjects, such as Greek and Roman literature. Assistant Professor of Classical Studies Molly Pasco-Pranger is struck by how much students are attracted to foundation courses, though a course in gender and sexuality is popular as well, and she is developing a course on Romans in film.
"I think they recognize basic cultural texts and realize that they are missing a grounding in them from high school and their own reading," she says. "They fill up other traditional courses, too. We easily have upwards of 75–100 students in history and mythology courses. The way the courses are taught has changed; it's not just generals and wars."
She knows from personal experience how important exposure to dynamic courses can be for undergraduates. She confesses to sleeping through one year of Latin in her Tallahassee high school. Most of her classmates went to nearby state schools, but she "lucked into" Oberlin without knowing much about the school. She started Latin again in her freshman year and fell in love with it.
By introducing her students to another culture—her specialty is Roman literature, especially late Republican and early Imperial—she also is able to help them think about ethics, which is one of Wesleyan's curricular goals. For instance, in a course on Roman decadence, she asked students to consider how the Romans perceived their own moral failure.
"I don't want to be terribly explicit about my own values," she says. "Any time I'm teaching Roman culture, I don't so much try to point out continuities between their culture and our own as I try to point out ways of thinking that are transferable. Sometimes it's easier for people to learn that about another culture first.
"I love teaching and I want to help students have the best undergraduate experience they can," she says. "It's hard for me to picture myself as one of those professors who shape young lives, but I hope I will be."
[Cynthia Rockwell and Heather Zavod contributed substantially to the reporting and researching of this article.]