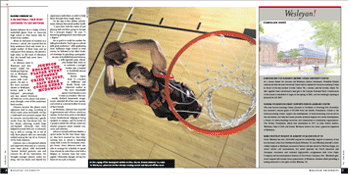 Kanem Johnson '04 is a lanky, 6-foot-4 basketball player from an inner-city high school in New Haven who listened to his mother.
While he dreamed of stardom at a Division I school, she insisted that he keep academics front and center. As a single mother of three boys and an immigrant from Jamaica, she placed a high value on the kind of education that she herself had never been able to obtain.
So Johnson came to Wesleyan and this winter ended his fourth and final season as Wesleyan's all-time leading scorer, with 1,692 points. He also is the most accurate shooter in Wesleyan's history (with a 58.5 field-goal percentage) and was named first-team All-NESCAC in his junior and senior years through a vote of the conference head coaches.
Johnson became the player every opponent tried to stop, according to Head Coach Gerry McDowell. He has a trademark turn-around jumper that he executes one-handed and a gentle stroke from the free-throw line. He has shown admiring crowds huge one-handed rebounds that have helped him lead NESCAC in rebounding as well as scoring. He is one of only three players who are nationally ranked among the top 20 in Division III for both statistics.
Johnson was a disciplined athlete and improved every year as a consummate team player, adds McDowell. "Kanem showed genuine care and concern for all his teammates. He brought younger players under his wing, into his home and shared his experiences with them in order to help them through their tough times."
On the way to this athletic achievement, Johnson discovered another world. "I came here with the intent of just playing ball and then going to Europe for a semi-pro league," he says. "I wound up getting much more than just a degree."
He is quick to credit his mother for telling him that he "had to go to a school with great academics." After graduating from Hillhouse High School in New Haven, he followed in his older brother's footsteps by spending a post-graduate year at Northfield Mount Hermon, a well-regarded prep school. (His brother then went on to Amherst; a younger brother also is headed to Northfield Mount Hermon.)
Burton Saxon MAT '71, a teacher at Hillhouse and family friend, cites Johnson's mother as "the most remarkable parent I have known in my 33 years as a teacher." She constantly checked homework assignments, attended all of her sons' games, and served as a second mother to many of their friends.
At Wesleyan, Johnson has majored in government and African American studies. He has been active in the Black Latino Brotherhood, helping to bring speakers to campus, and he served on a group to advise the African American Studies program about student concerns and interests.
Johnson recently told Sean Barker, a sports writer for the New Haven Register, that he'd received his first letter inviting him to attend a basketball camp with scouts for European semipro teams. Since Johnson never was able to arrange his schedule to spend time abroad, he notes that a stint with a Belgian or German team has some appeal. Ultimately, though, he has his heart set on a job in finance.