HISTORICAL ROW: DOC FAUVER'S LEGACY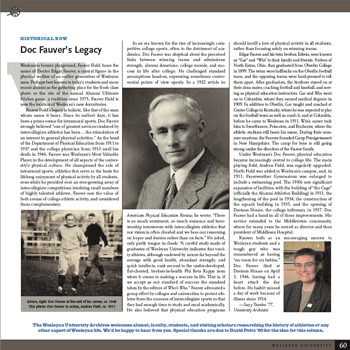 Wesleyan's former playground, Fauver Field, bears the name of Doctor Edgar Fauver, a central figure in the physical welfare of an earlier generation of Wesleyan men. Perhaps best known to today's students and more recent alumni as the gathering place for the frosh class photo or the site of the annual Alumni Ultimate Frisbee game, a tradition since 1975, Fauver Field is now the location of Wesleyan's new dormitories.
Fauver Field's legacy is holistic, like that of the man whose name it bears. Since its earliest days, it has been a prime venue for intramural sports. Doc Fauver strongly believed "one of greatest services rendered by intercollegiate athletics has been a?| the stimulation of an interest in general physical activities." As the head of the Department of Physical Education from 1911 to 1937 and the college physician from 1913 until his death in 1946, Fauver was Wesleyan's Most Valuable Player in the development of all aspects of the university's physical culture. He championed the role of intramural sports, athletics that serve as the basis for lifelong enjoyment of physical activity by all students, even while he presided over an ever-growing array of intercollegiate competitions involving small numbers of highly talented athletes. Fauver saw the value of both arenas of college athletic activity, and considered them complementary.
In an era known for the rise of increasingly competitive college sports, often to the detriment of academics, Doc Fauver was skeptical about the perceived links between winning teams and admissions strength, alumni donations, college morale, and success in life after college. He challenged standard assumptions head-on, expressing sometimes controversial points of view openly. In a 1922 article in American Physical Education Review, he wrote: "There is so much sentiment, so much romance and hero-worship interwoven with intercollegiate athletics that our vision is often clouded and we base our reasoning on hopes and desires rather than on facts." He joked, only partly tongue in cheek: "A careful study made of graduates of Wesleyan University indicates that varsity athletes, although endowed by nature far beyond the average with good health, abundant strength, and quick intellects, rank second to the under-developed, flat-chested, broken-in-health Phi Beta Kappa men when it comes to making a success in life. That is, if we accept as our standard of success the standard taken by the editors of Who's Who." Fauver advocated a group effort by colleges and universities to protect athletes from the excesses of intercollegiate sports so that they had enough time to study and excel academically. He also believed that physical education programs should instill a love of physical activity in all students, rather than focusing solely on winning teams.
Edgar Fauver and his twin brother, Edwin, were known as "Gar" and "Win" to their family and friends. Natives of North Eaton, Ohio, they graduated from Oberlin College in 1899. The twins were halfbacks on the Oberlin football team, and the opposing teams were hard-pressed to tell them apart. After graduation, the brothers stayed on at their alma mater, coaching football and baseball, and serving as physical education instructors. Gar and Win went on to Columbia, where they earned medical degrees in 1909. In addition to Oberlin, Gar taught and coached at Centre College in Kentucky, where he was expected to play on the football team as well as coach it, and at Columbia, before he came to Wesleyan in 1911. Win's career took him to Swarthmore, Princeton, and Rochester, where the athletic stadium still bears his name. During their summer vacations, the Fauvers founded Camp Pemigewassett in New Hampshire. The camp for boys is still going strong under the direction of the Fauver family.
Under Wesleyan's Doc Fauver, physical education became increasingly central to college life. The main playing field, Andrus Field, was regularly upgraded. North Field was added to Wesleyan's campus, and, in 1913, Fayerweather Gymnasium was enlarged to include a swimming pool. The 1930s saw significant expansion of facilities, with the building of "the Cage" (officially the Alumni Athletics Building) in 1931, the lengthening of the pool in 1934, the construction of the squash building in 1935, and the opening of Davison House, the college infirmary, in 1937. Doc Fauver had a hand in all of these improvements. His service extended to the Middletown community, where for many years he served as director and then president of Middlesex Hospital.
Known both as an encouraging mentor to Wesleyan students and a tough guy who was remembered as having "no room for cry babies," Doc Fauver died at Davison House on April 3, 1946, having had a heart attack the day before. He hadn't missed a day of work because of illness since 1914.
Suzy Taraba '77, University Archivist