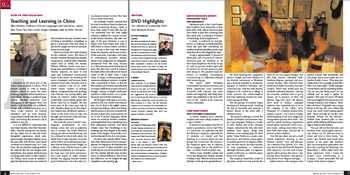 "A Jewish chaplain and a Muslim chaplain took some college students on a trip to Turkey?"
If American stereotypes lead you to expect a punchline?not so fast! This is a real event?an eight-day trip that two Wesleyan chaplains organized for 17 students (12 Jewish and five Muslim) to a country where the two groups live in harmony. The purpose, the chaplains agree, was to improve life on campus and in "the global village," as Rabbi David Leipziger says.
"When Imam Abdullah Antepli told me he was taking some Muslim students to Turkey, I said, ?What we need is an interfaith trip.' On the spot, he agreed with me."
Far from thinking this suggestion brazen, Antepli, part-time chaplain to the Muslim community at Wesleyan and a doctoral candidate in Abrahamic dialogue at Hartford Seminary, welcomed the trip. Only the sixth Muslim chaplain to be a hired by a college in North America, the scholar-chaplain had been exploring avenues for interaction among all faiths.
The two groups of students began meeting and sharing meals, breaking the fast of Ramadan and enjoying a kosher dinner at the Bayit after a Shabbat service. "
We wanted a dialogue on how the Jewish and Muslim communities interact," says Leipziger. "Turkey is a model. In 1492, Turkey, seat of the Ottoman Empire, welcomed the Jews who were expelled from Spain, along with Muslims, even sending ships for their safety." Today Turkey is a secular state, like France, and forbids census-takers to include questions of religious affiliation. For that reason, the exact number of each population is unknown, although estimates place it at approximately 24,000 Jews in a Muslim population of 70 million.
The chaplains hoped this model of pluralism would not only provide the basis for an on-campus dialogue, but also help nurture individual faith, building religious, spiritual, and community identity. They believed these would most likely occur away from the campus, where they would have the students' undivided attention. "During the semester, students have to go to classes, go to practice, or their cell phones ring?but most cell phones don't work in Turkey," Leipziger explains. Also important was to be in the company of the "other." Mira Wijayanti '07, a Muslim student from Jakarta, concurs. "I've come to a better understanding of my own religion by seeing others practice their faith." She and her Jewish traveling companions stayed awake sometimes until 4 a.m., she recalls, talking about their lives, their faith, their hopes, and the role of women in their tradition.
"You feel awe when you see a small Jewish population thriving in this Muslim country," says Joel Bhuiyan '06, a Muslim from Queens, N.Y., who says that he has felt himself observed with suspicion. "I'm not used to hearing the call to prayers five times a day. During those moments I felt particularly proud of my religious heritage."
Jewish visitors in the mosques were greeted warmly, with handshakes and even hugs; dinner most nights was in a Muslim family's home. "They were providing dinner for 22 people around their table, on a Friday night," recalls Leipziger, "but we had to ask for something further. ?Can we use your living room? It's our Sabbath and we want to gather for prayers.' They said, ?Of course. We think even more highly of you because you care enough to practice your religion.' That's what we found. Hospitality was a major theme in the trip. We saw a culture that cared very much about treating guests well." Shirts and silk ties for the men, beautiful blouses for the women? Turkish hosts lavished gifts on their guests, all the while proclaiming it a privilege to welcome the travelers.
"You can tell me that the Jews and Muslims have commingled cultures," says Nitzan Ziv '07, who was born in Israel and lives in New Jersey, "but until I saw Turkish Jews finish their prayers in the same way Muslims did?by running their open palms over their face, pouring the blessings over themselves, I didn't really know this from experience. Until I heard the Imam's voice reverberating in a mosque, I hadn't personally felt the beauty of the Islamic religion."