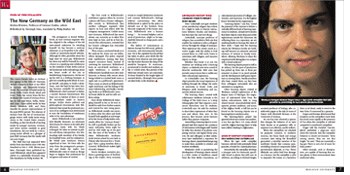 Peter Gottschalk can't give students in his introductory religion class tickets for a flight to India to observe interactions between Hindus and Muslims, but they have the next best thing.
Gottschalk, associate professor of religion, has assembled a Web site that enables his students to take a self-guided tour through the village of Arampur. They experience the streets much as a visitor might, with the ability to look around them in a full circle, listen to interviews with villagers, and examine objects in shops.
Whether they know it or not, his students are working with a learning object?a relatively new term coined to describe multimedia Web sites that provide a way to learn that is unlike any other educational experience.
In Gottschalk's case, the learning object provides the visual experience of walking through the village; the audio of interviews in Hindi, Urdu, and Bhojpuri (with translation); and numerous textual sources.
The learning object, created with collaborator Matthew Schmalz at the College of The Holy Cross, is "a deep ethnographic text" that requires a minimum three-hour visit by students, Gottschalk says. He asks his students to share their experiences of what they saw and whom they met. In the process, they become active learners rather than passive recipients.
Assembling a learning object is a complicated task that requires the assistance of information technologies staff, headed by Mike Roy, director of academic computing services and digital library projects. He and colleagues at other institutions have established a repository for learning objects (www.lolaexchange.org) to make them available to scholars and teachers worldwide.
Wesleyan's work in pioneering the development of learning objects earned it a 2005 Center of Excellence Award from the New Media Consortium, an international association of colleges, universities, and museums. It is the highest honor bestowed by the organization.
"Learning objects," says Roy, "reveal the potential of the Internet to deliver a radically different kind of learning experience to students. Already we've shown that these objects create deep and subtle explorations outside the classroom. By collecting them in a repository, we are enabling faculty to leverage the value of their work. I hope that the learning objects the Wesleyan faculty are building will become an extensive national resource of interest to faculty everywhere, allowing Wesleyan to share the important work taking place on campus with a broad audience."
The learning-objects project is still in its infancy, but the pace of production has picked up from two or three per semester to about 10 as word spreads and the development staff gains experience in creating them. Faculty members who have created them say they hear from colleagues nationwide who are interested in using them.
Other learning objects created at Wesleyan include explorations of the Mayan ruins of Palenque, the migration of indentured labor from the Indian subcontinent, tides in Long Island Sound, musculoskeletal development, protein synthesis, and music of the Afghan North. A full list can be found on the learning objects site at learningobjects.wesleyan.edu/.
The learning-objects project has spurred at least one curious non-academic use. Roy says that a U.S. army colonel used the Afghan learning object to help train soldiers heading to Afghanistan.