Men's Soccer Takes NESCAC Title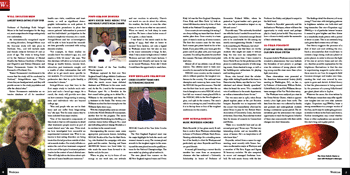 NESCAC Coach of the Year Geoffrey Wheeler reports:
Wesleyan captured its first ever New England Small College Athletic Conference (NESCAC) Championship in any sport when the men's soccer team defeated Amherst and Williams in the same weekend. As the No. 7 seed in the tournament, we upset No. 2 Bowdoin in the first round before going on to defeat No. 1 Williams in the semi-finals and then No. 4 Amherst in the finals. The victory over Williams marked the first triumph over the Williams Ephs since 1992.
With the championship came an automatic bid to the NCAA Division III tournament, another first for the program. The men's team defeated Muhlenberg in a thrilling 3-2 overtime victory before falling to No. 1 seed and defending national champs Messiah 2-1 in overtime in the second round. 
Accompanying the success came some appropriate post-season honors, including NESCAC Rookie of the Year for Matt Nevin '09, who finished the campaign with nine goals and five assists.  Earning 2nd Team All-NESCAC honors was Jared Ashe '07, who made the move from forward to defender early in the year.
When we play, we try to focus all our energy on our work rate, our attitude and our reaction to adversity. There's not much we can do about the referee, the weather, the field or even the other team so we focus on what we can control. When we travel, we look sharp in coats and ties. We leave a clean locker room after a game, a clean bench.
I was hired as the men's coach in the spring of 1999. And what an honor to succeed Terry Jackson, not only a legend in Wesleyan soccer lore but also an icon in the soccer community at large. In fact, when I was a senior in high school, I visited Wesleyan and met with Coach Jackson. I remember how friendly and warm he was as we toured Wesleyan. Never did I think I would have the opportunity to return not as a student but as a coach.