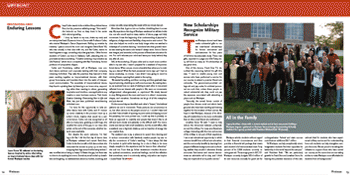 Cheryl Cutler stands in the middle of the polished dance floor, her tiny presence radiating energy. "Strrrrretch," she instructs us, from so deep down in her center she's almost growling.
I drop my hands to my toes, shake my neck, and am transported back 25 years to Intro to Dance with Professor Cutler, who started Wesleyan's Dance Department. Rolling up vertebra by vertebra, I glance around the room and recognize Steve Budd '83, who was actually in that class with me, and like Cutler, seems to have forgotten to age, conceding only a few gray hairs. Other former students of Cutler's are here in Oakland, Calif., attending this improvisational dance workshop, "Creative Listening: Improvisation as Life Practice," which she is co-teaching with Ran Huntsberry, former professor of comparative religion.
Cutler and Huntsberry, neither still at Wesleyan, now conduct dance seminars and corporate training with their company, Listening Unlimited. They take the practices they learned in their years working together as improvisational dancers, with their group Sonomama, and translate them into the realm of interpersonal communication. The essentials of improvisational dance, they found—quieting fears by listening to an inner voice, responding rather than reacting to others, generating inspiration and intuition—are applicable to any creative or even business venture. Their book, Creative Listening: Overcoming Fear in Life and Work, has just been published: www.listeningunlimited.com.
I'm here for the opportunity to take another dance class with Cutler, and if I loosen up some creativity in the process—bust up a writer's block, maybe—that would be a welcome bonus. Cutler not only recognized us all after so many years, greeting us with hugs, she recalled the name of the guy in our class who asked, at the end of the semester, whether leotards were washable.
But despite the warm welcome, I'm feeling a bit like I did the first day of dance class at Wesleyan: awkward and scared. Back then, Cutler broke the ice with a folk dance where she instructed the women to jump up on the men, wrapping their legs around while being twirled. I was mortified about being so heavy I'd flatten the guy, but there was no time to do anything but move. Somehow, we all ended up breathless and laughing, our awkwardness about our bodies, touching, and uneasy sexuality evaporating like sweat while we simply danced.
More than that, it got us into our bodies, inhabiting them in a new way. My experience dancing at Wesleyan awakened an athlete inside me, one who would explore many realms of dance, yoga, and daily movement. It was the beginning of an understanding of physical intelligence, of alignment and flexibility, of expression and control. The class also helped me mold a new body image: when we watched a videotape of ourselves dancing, I wondered who that graceful woman was wearing the same color leotard I always wore. Intro to Dance was integral, and essential, to the process of liberal arts education for me. You can't educate your mind and leave your body behind; they are, after all, one.
Still, at the workshop, 25 years older and so much more comfortable in my own skin, I wasn't prepared for a weekend of improvisational dance. When are you more vulnerable than when you're making up a dance? What the heck possessed me to sign up? I had no dance vocabulary, no moves. I was afraid I was going to resort to miming flowers opening their petals to the spring.
We started by walking, and then running, and then gradually leaping and spinning, shedding our self-consciousness. By creating dances, we explored how our style of relating to each other in movement reflected how we interact with people in life; were our movements self-generated, other-generated, or capricious? We slowly learned to stop flitting around the room and tune in to others' movements, shapes, and narratives. Sometimes we let go of all the metaphors and just danced.
On the second day we identified each other's "koans," the habitual patterns we use in movement. These postures are unconscious to us, but often obvious to the people around us. I couldn't have told you that I have a habit of opening my arms wide and leaping around the periphery, but once pointed out, I could say that it probably reflects an approach to creativity and people that doesn't like to sit still and work closely and patiently on the difficult stuff. Our movements and dances held small revelations, but the overall effect, after a weekend, was a big brain shake-up and an injection of energy into our creative lives.
The weekend was a joy, a pleasure to spend time dancing and in serious conversation with fearlessly creative people. Joy was really the cornerstone of Cutler's teaching. "I have always felt that if a student is joyful while learning, he or she is likely to be more deeply receptive to the experience and its lessons than otherwise," she told me. From that joy follow revelations—intuitive discoveries, spiritual connections, emotional healings, and all the reflection that sometimes, even in a university setting, only action can inspire.