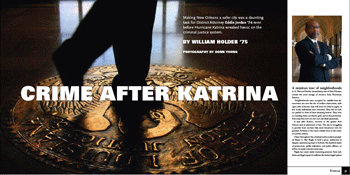 A MINIVAN TOUR OF NEIGHBORHOODS IN ST. BERNARD PARISH, immediately east of New Orleans, reveals the cruel mirage of recovery from Hurricane Katrina.
Neighborhoods once occupied by middle-class homeowners are now the site of endless destruction, mile upon mile of houses that will never be lived in again. A few hardy individuals have returned. They live in trailers parked in front of their decaying homes. They have no running water, no electric grid, and no fire protection. Every day they look out on a vast and bleak panorama.
A year after Katrina, recovery in the greater New Orleans area is patchwork at best. The city is struggling to provide basic services that most Americans take for granted. Nowhere is this more evident than in the criminal justice system.
Chaos throughout the criminal justice system prompted Mayor C. Ray Nagin to hold a press conference in August, announcing steps to buttress the depleted ranks of prosecutors, public defenders, and police officers, as well as to repair ruined courtrooms.
Nagin has come under increasing pressure from residents and legal experts to address the broken legal system that has exposed the city to a resurgence of crime. A recent editorial in the Times-Picayune asserted, "A city that's perceived as unsafe will not recover, whether the threat is levees that can't hold back floods or a justice system that can't keep criminals at bay."
On the seventh floor of a downtown office building, Eddie Jordan '74 wages a daily battle to make the city safer. As district attorney for the Parish of New Orleans, he is responsible for prosecuting thousands of individuals accused of crimes in a system choked on cases, woefully underfunded, and still reeling from the hurricane, which inundated paper records and sent witnesses fleeing throughout the country.
When Jordan discusses challenges facing his office, he speaks in careful, measured tones, as if seeking to calm the roiling political waters around him. He also underscores a fact that complicates recovery from Katrina: the hurricane exacerbated and revealed to the world severe problems in the criminal justice system that long predated the onrushing storm surge.
Jordan, dressed impeccably in coat and tie though the heat index outside his office was soaring to 110 degrees, says he was among the many thousands of residents who inched northward in stop-and-go traffic while the leading edge of the hurricane pummeled drivers with high winds and heavy rain.
When the floodwaters receded, he returned to find the district attorney's offices unusable and the staff dispersed, out of contact. Through a Web site set up by the Louisiana District Attorney's Association, he eventually located his staff and set up a temporary office above the train station, Union Passenger Terminal. For several weeks this was the setting for bond hearings and initial appearances of defendants, many of whom had been charged with looting. Then the office moved to a nightclub.
Jordan quickly ran into another problem. The city of New Orleans, which had been a major source of money for the office, ceased its funding. He was forced to lay off 85 percent of the non-attorney support staff and to suspend
Sunrise over the Lower Ninth Ward, January 2006. Cinder blocks are all that remain of a foundation. No sounds, no birds, no children, no home.
a variety of assistance and community outreach programs, including one designed to help young people avoid entanglement in crime.
Now, a year after the storm, the district attorney's office faces a backlog of at least 4,000 cases, possibly more. Turnover in the office is running at a debilitating 40 percent. Some people left as a result of Katrina, but the office has suffered from an underlying problem: salaries so low that a new district attorney starts at $30,000. Even without Katrina, Jordan has been unable to hang on to his attorneys for more than a year or two. Only recently did he and others persuade the legislature to increase the starting salary to $40,000 over the next two years.
The prospects for reducing the backlog are dim at the moment, in part because the court is operating at 50 percent capacity. Only six of the 12 courtrooms are functional (air conditioning is piped in through tubes from an external unit).
Jordan believes that many of the Katrina-related problems will be overcome. Although five feet of water submerged evidence files in the basement of the courthouse, his office has been sorting through them. He is confident that 85 to 95 percent of evidence will be useable in court. In the months after the storm, witnesses had dispersed throughout the country, and the problem of locating them seemed formidable. Since then, however, many witnesses have been found.
"Many of the cases are in pretty good shape, and we should be able to prosecute those," Jordan says. "Our problem is that there is not enough court time to prosecute all the pre-Katrina cases as well as the post-Katrina ones. We may not have enough jurors to try cases within the normal time period because the pool of jurors is diminished."
Whether defendants awaiting trial remain in jail is, at the moment, an open question. New Orleans Judge Arthur Hunter Jr. has threatened to begin releasing hundreds of defendants who have not had access to a lawyer since the hurricane struck.
The endemic problems that pre-date Katrina pose the greatest challenge for Jordan, who came into the district attorney's office three years ago on a wave of popularity as the highly successful U.S. attorney for Louisiana's Eastern District. A New York Times headline called him "The Prosecutor Who Conquered Edwin Edwards," former governor of Louisiana. The successful prosecution of Edwards on racketeering, fraud, and other charges defied predictions that no one would nail him. Jordan's office also successfully prosecuted a notorious cocaine gang, a police officer-turned-killer, a ring of 10 police engaged in drug protection, and other white-collar figures.
A world of difference exists between the U.S. attorney's office and the district attorney's. When Jordan oversaw the Eastern District, the office prosecuted roughly 400 cases a year and went to trial with fewer than 10. The district attorney's office handles more than 500 cases per month and tried 493 cases in 2003. Despite the lack of any court whatsoever for four months in 2005, the office still tried 378 cases.
Jordan came into the district attorney's office determined to improve cooperation with other law enforcement agencies and to fight crime in a city hobbled by its reputation as a murder capital. Political and cultural realities have hampered progress.
The struggle to make New Orleans safer through law enforcement begins with the police department, which is underfunded and doesn't have the technology normally associated with big-city police departments, according to Jordan. He has repeatedly urged the department to videotape interviews with detainees in order to provide strong evidence in court, but he says the police have resisted changing established practices. Processing forensic evidence is a major bottleneck. Obtaining the identity of confiscated drugs, for example, can take months, and the district attorney's office prosecutes large numbers of drug cases.
"A case is much more than an arrest," he says. "It's not new that police officers don't embrace their ongoing responsibility to make the case strong. Figuratively, they walk away in the sense that they don't seem to have much interest. If the evidence is not compelling, the jury is not going to come back with a guilty verdict. That's what we've had to pound on every time we talk to the police."
He and his colleagues decide which cases have sufficient evidentiary support to prosecute, and this gatekeeper function causes problems in public perception. Officials distribute a flyer intended to counter the view that cases are refused because the office is overburdened. The reality is that prosecutors often have to weigh the likelihood of successful prosecution of major violent crime cases that hinge on a single witness who may be reluctant to come forward.
"There are not a lot of people who are willing to get involved," Jordan says. "That's the number one problem in our violent crime cases."
A consultant's report commissioned by the New Orleans Police Foundation underscored the problems Jordan cites. Fewer than half the criminal suspects referred to the district attorney's office are convicted because so many cases are not suitable for prosecution. Fully two-thirds of the 136,000 arrests New Orleans police made in 2004 involved drug crimes, but only 8 percent of them resulted in jail sentences.
At a press conference in May 2005, attended by Mayor Nagin, Jordan said lack of evidence, probable cause, and eyewitness testimony, as well as chronic underfunding of the district attorney's office, are responsible for creating far too many cases that are not prosecutable.
Sentencing is another problem point in the system, Jordan contends. He says that judges in New Orleans hand down more suspended sentences and lighter prison time than is typical of the rest of Louisiana and the nation.
"If there is no meaningful penalty, people will repeat bad behavior. We end up prosecuting the same people over and over again, just as the police arrest them over and over again."
Jordan has a bully pulpit to urge reform, which he uses frequently. But the mayor appoints the chief of police, which means that Jordan's battle is a political one. His political position has been complicated by a civil suit filed by 43 white employees whom Jordan fired in 2003 and replaced with black employees. Jordan has insisted that the decision was not racially motivated, but was part of a routine effort to reward political allies as previous administrations have done. He also contends that his reorganization has brought meaningful racial diversity to the office for the first time while improving performance. In May of 2004, however, a federal jury ruled that the white employees had been discriminated against and awarded them $1.9 million in back pay and other damages. Jordan is appealing that decision.
If the scope of the problems rattles him, Jordan doesn't show it in his unflappable demeanor. He acknowledges that the residents of New Orleans are tired of longstanding difficulties, and in the wake of Katrina they want a clean slate; they want problems to be fixed. The problems, of course, extend well beyond the criminal justice system. The New Yorker magazine, in its August 21 issue, examined the failure of officials from the local to the federal level to agree upon any recovery plan for a city that may never regain more than half its pre-Katrina population. Federal disaster relief funds have fallen far short of what city and state officials anticipated.
The difficulties of living in New Orleans prompted Time magazine's feature headline: "Is New Orleans Having a Mental Health Breakdown?" The story noted a substantial increase in cases of serious depression among residents and a dearth of psychiatric services.
Crime adds to the burdens residents face, but Jordan points out that the criminal justice system, alone, cannot solve the crime problem.
"We have a huge number of individuals who are poorly educated," he says. "There are limited economic opportunities for thousands of people here. That kind of poverty and hopelessness breeds crime. We have not come up with solutions to grinding poverty, to joblessness, and to the lack of good jobs. We have not tackled these problems in an honest and meaningful way."
Woman and child in a neighbor's house. The assessed tax value was $375,000; the owner's homeowners insurance company offered $1,900. They moved to Alabama and have no plans to rebuild.
Download a PDF of the complete article HERE