By Eric Gershon '98 | Photography By Vidyun Sabhaney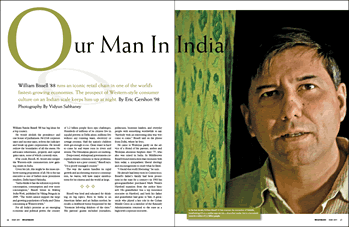 William Nanda Bissell '88 has big ideas for a big country.
He would abolish the presidency and one house of parliament. He'd lift corporate taxes and income taxes, reform the judiciary and break up giant corporations. He would redraw the boundaries of all the states. He advocates inheritance, property, and capital gains taxes, none of which currently exist.
If he could, Bissell, 45, would also temper the Western-style consumerism now gaining steam in India.
Given his job, this might be the most eyebrow-raising proposition of all: He is the top executive at one of India's most prominent retailers, Delhi-based Fabindia.
"India thinks it has the solution to poverty: consumption, consumption and ever more consumption," Bissell writes in Making India Work, published by Viking Penguin in 2009. "The world cannot support the large and growing populations of India and China consuming at Western levels."
For all India's promise as an emerging economic and political power, the country of 1.2 billion people faces epic challenges. Hundreds of millions of its citizens live in squalid poverty; in Delhi alone, millions live without any running water, electricity or sewage systems. Half the nation's children don't get enough to eat. Clean water is hard to come by and waste runs in rivers and streets. The Himalayan glaciers are melting.
Deep-rooted, widespread government corruption thwarts solutions to these problems.
"India is not a poor country," Bissell says. "It's a poorly managed country."
The way the nation handles its rapid growth and accelerating resource consumption, he warns, will have major ramifications for its citizens and the world at large.
Bissell was bred and educated for thinking on big topics. Born in India to an American father and an Indian mother, he recalls a childhood home frequented by the "foremost left-wing thinkers of the time." His parents' guests included journalists, politicians, business leaders, and everyday people with something worthwhile to say. "Anybody with an interesting idea was welcome to come," Bissell said on the phone from Delhi, where he lives.
He came to Wesleyan partly on the advice of a friend of his parents, author and Wesleyan alumnus Stephen Alter '77, who also was raised in India. In Middletown Bissell found instruction that resonates with him today, a sympathetic liberal ideology and encouragement to study what he liked.
"I found that really liberating," he says.
He already had deep roots in Connecticut. Bissell's father's family had been prominent in the state for a century—in 1903 his great-grandfather purchased Mark Twain's Hartford mansion from the author himself. His grandfather was a top insurance executive in Hartford, and both his father and grandfather had gone to Yale. A great-uncle who played a key role in the Cuban Missile Crisis as a member of the Kennedy Administration returned to the state as a high-level corporate executive.
Bissell's grandfather, William T. Bissell, established the family connection to India as an emissary from the U.S. government during World War II. But it was his father's decision to settle there that would make India home.
In the late 1950s, John Bissell spent a two-year Ford Foundation fellowship cultivating an export market for India's handloom textile industry, a major goal of the Indian government, then still freshly independent from Great Britain. A former buyer for Macy's, John fell in love with the teeming, complex country, and with Bimla Nanda, a Punjabi who would become William's mother.
John Bissell also founded Fabindia as a wholesale export firm that explicitly joined its drive for profit with a social and cultural mission—cultivating the work and traditions of hundreds of thousands of skilled but scattered rural weavers and other textile artisans.
For decades, John Bissell ran the company with less emphasis on profit growth than on cultivating the handloom textile industry. As a Bissell friend told author Radhika Singh for her 2010 book, The Fabric of Our Lives: The Story of Fabindia, "'John preferred to sell 1,000 meters of fabric to 20 people than 20,000 meters to one. He didn't want to go big.'"
William liked his father's model of social entrepreneurism and felt deeply about India. Within a week of his Wesleyan graduation, he went back and headed for the vast northwestern province of Rajasthan, by the Pakistani border. There he sought to organize an economic cooperative for leather workers, printers, and rug weavers, an experience that would influence Fabindia's operations decades later.
"I wanted a canvas. To experiment with things," says William, who took a formal role at Fabindia in 1993 and became its top executive in 1999. "For me India represented a phenomenal new frontier. I liked the new frontier idea. Where in the U.S. could I have had the opportunity to do so many things?"
In the last decade, William has overseen a radical overhaul of the firm's business model, transforming it from an exporter into a diversified retailer that is a household name in a nation of 1.2 billion people. Fabindia sells garments, linens, rugs, furniture, jewelry and natural foods from a growing number of stores, often in landmark buildings. With William in charge, the company has opened more than a hundred stores in India alone—there are now 140—as well as franchises in China, Italy, and Dubai. More are on the way. Fabindia directly employs nearly 900 people and provides work for tens of thousands of largely rural Indian crafts-people. Revenues are approaching $100 million USD, up from $8 million in 2003.
"The company completely shifted gears," says Katherine Allen, an 18-year Fabindia veteran who has run the company's U.S. wholesale operation and now raises money for a rural school the Bissells founded in 1992.
At the same time, Bissell worries about the emergence of Western-style consumption in India (and China), enabled by rapid economic growth—about 7 percent annually since 2000 and more than 9 percent in some years. (This compares with 2 percent in the same period for the United States, a more mature economy and the paradigm of a consumer-driven growth.)
While tens of millions of Indians remain desperately poor, tens of millions of others are moving into the middle classes, thanks to decades of economic liberalization and increasing foreign investment. Despite his own company's dependence on upwardly mobile Indians for sales, Bissell, a U.S. citizen with permanent legal status in India, has taken pains to warn Indians to avoid mindless Western consumerism. It will lead, he believes, to global calamity.
"If China and India adopt the Western road to development, it is likely to lead to an environmental breakdown," he writes in Making India Work.
Bissell calls himself an idealist, but also a pragmatic, profit-seeking capitalist. Human life and activities consume material, and raising living standards for hundreds of millions of people in a modern society involves providing wealth they don't yet have. "You can't move away from consumption," he says. "Without consumption, the capitalist system is not going to work."
But consumption and consumerism aren't the same, he says. Companies can make money while minding the earth's finite resources, and economies can grow in ways that provide for more social equity, in India and elsewhere.
Bissell envisions a society where government authority is sufficiently local to reflect and respond to local citizens, where market prices accurately reflect environmental costs, and where consumption is based primarily on need.
Among his specific proposals, Bissell urges that common resources such as air, water, and forest must be valued financially and factored into the price of goods and services. "We rarely pay the true price of anything," he writes in his book. Not only would this help preserve precious resources, but it would also help alleviate poverty, he argues. "In India, the poor are actually rich in natural assets such as mineral resources, forests, watersheds, and biodiversity zones. Poverty is partly a result of these assets not being valued, as well as the non-existent or limited opportunities for trading [them]."
Bissell, who travels widely and often, and takes six newspapers a day, hints at the social consequences of the status quo: "I have seen people shed blood over water."
His prominence gives him a platform and an audience—an unselfconscious member of India's "superelite," he has access to power in the country and outside it. In 2007 he was an invited speaker at the Clinton Global Initiative. His social status hasn't guaranteed a warm reception for his ideas within the Indian establishment, however, especially for proposals running counter to entrenched interests. His call for the imposition of inheritance, property, and capital gains taxes, for example, is not popular among the peers that would pay them.
"The establishment has completely ignored the book," Bissell says.
"But it's hit a huge chord with younger people in India."
Bissell assumed formal duties at Fabindia in 1993, after his father suffered a debilitating stroke, and has been its managing director since 1999. In this period Fabindia began an aggressive transition from exporter to diversified retailer, motivated in part by necessity—foreign buyers were increasingly going directly to Fabindia's suppliers, bypassing the company. Given the time involved in the production of handmade products—Fabindia's stock in trade—the company couldn't meet the high-volume orders foreign customers increasingly wanted. As exports fell, though, domestic sales rose amid economic reforms and increasing Indian prosperity. William pushed retail expansion.
Remarkable as the company's recent evolution has been, the best measure of his success might not be the reinvention of the company's business model, but rather his effort to do it while adhering to Fabindia's idealistic founding mission. It hasn't always been easy.
"We have constantly followed a double bottom line approach," William says. "We will work for a social mission. And that will be equally important as our profits. That's like saying we're going to run the race, but we're going to run it as a three legged race."
Alter, who has written 15 books of fiction and nonfiction, mostly about India, says Bissell stands out in the country for his dedication to pragmatic idealism.
"While William understands the way business is done in India and has successfully expanded Fabindia beyond what many of us imagined it could become, he is a very different kind of entrepreneur than most," he says. "He has a very strong and idealistic vision for his company and for India."
William has labored to maintain Fabindia's tradition of selling handcrafted products made of environmentally sustainable materials produced by fairly paid rural craftspeople. The company still relies primarily on a vast army of handcrafts workers, rather than on factory production, and doesn't use plastic or synthetic materials. Its customers pay for intensive labor and natural materials, and they don't mind, William says, because these are intrinsic to the brand. "We have tried to develop products in which there is a huge amount of human intervention," he says.
To secure its supply chain and give rural suppliers a greater financial stake in Fabindia's success, the company has set up a group of independent enterprises called supplier region companies. Financed by Fabindia, company-backed bank loans, and share-holding individual suppliers, these firms receive guaranteed business from Fabindia provided they meet quality standards. The regional companies purchase and manage raw materials, help develop new products, recruit craftspeople, and provide rural workers with an equity investment opportunity. More than 17,000 rural artisans are shareholders.
"What we've tried to do," Bissell says, "is walk the talk."
In the rush to profit from India's current economic boom, many business leaders tend to focus on the tremendous opportunity, giving little thought to the long-term consequences of Western-scale materialism in a nation of more than one billion people. An airline executive Bissell knows placed a $15 billion order for 180 aircraft—one of the biggest orders in commercial aviation history. Another acquaintance started a taxicab company from scratch with 3,000 cars. Moderation is not part of the zeitgeist.
Bissell says it's time for everybody to think twice.
"Things are changing so rapidly," he says. "With 1.2 billion people in catch-up mode, six months here is like a eon."
Information about The Fabindia School is available at www.fabindiaschools.org.