BY CLARA SILVERSTEIN '82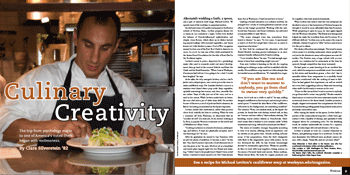 Alternately wielding a knife, a spoon, and a pair of stainless steel tongs, Michael Leviton '88 spends most of his workdays in perpetual motion.
As chef and owner of Lumiere restaurant in the Boston suburb of Newton, Mass., Leviton prepares dinner for as many as 120 customers a night. Critics have lauded his balance of French-influenced sophistication and simple, clean flavors, which show up in dishes including seared scallops with seasonal vegetables, and warm lemon tart with blueberry sauce. Food & Wine magazine named Leviton one of the Best New Chefs in America in 2000. In 2006, he was one of five chefs nominated by the James Beard Foundation for the title of Best Chef in the Northeast region.
Leviton's career is quite a departure for a psychology major who used to research social and moral development, then go back to his room at Eclectic and blare the Clash and the Dead Kennedys. "When I was at Wesleyan, if someone had told me I was going to be a chef, I would have laughed," he says.
As he talks, the wiry, energetic Leviton, clad in a chef's jacket and a striped apron, sets a stock pot on the stove to make cauliflower soup. The Lumiere kitchen's nexus is a stainless steel island where prep cooks chop vegetables, sprinkle seasonings into sauces, and, later, assemble dinner orders. Trays of rolls, just out of the oven, cool on a rack in the corner. While Leviton sautes leeks in butter, the sous chef stirs a pot of white bean chili. On another burner of the stove, a stock of pork and herbs simmers, its flavors becoming concentrated as the liquid evaporates.
Leviton admits that restlessness, rather than passion about food, initially led him to cooking. When he took a semester off from Wesleyan, he discovered that he "couldn't sit still" at a desk job. So he started working at La Boca, a popular Mexican restaurant on the north end of Middletown's Main Street.
"Cooking is a lesson in a bunch of sciences, anthropology, and history. It kept me physically occupied, and I was learning a lot," he says.
After he graduated, he moved to San Francisco with no job but plenty of ambition to become a chef. "In the late '80s, San Francisco was such a food-obsessed city. It was the place to be," he says. His first job at a breakfast and lunch place tapped right into his liberal arts training. "I didn't want to let people know I hadn't been a chef before. I needed to teach myself a lot. But I had already done that at Wesleyan?I had learned how to learn."
Lacking a formal education at a culinary institute, he plunged into a study of cooking literature and ate out as often as his budget permitted. Working with the celebrated San Francisco chef Joyce Goldstein, he cultivated a nuanced ability to taste flavors.
"The menu changed every day, sometimes from lunch to dinner," he says. "In two years, I experienced a variety of food that might have taken me 10 years to experience elsewhere."
In New York he continued his education with chef Daniel Boulud, learning precise techniques in an environment heavily influenced by French cooking.
"I can visualize flavor," he says. "I've had enough experience to know how something might turn out."
Even now, Leviton is learning on the job. An ongoing challenge is refining a recipe until he is satisfied with the results. His cauliflower soup started out with a simple idea but needed many modifications. "It's basically four ingredients, but it took me a while to nail it," he says, adding chopped cauliflower to the stock pot and stirring it with a metal spoon. "I wanted the clear flavor of the cauliflower, with leeks in the background, not something muddled." The solution? Water, not chicken stock, as the liquid. For protein, he found that rock shrimp worked well, as they are "sweeter and less rubbery" than ordinary shrimp. The finishing touch?creme fraiche (a French-style, thickened cream that is similar to sour cream)?adds "a little creaminess and tang, with acid to accentuate the flavor."
The menu at Lumiere changes frequently according to what is in season, offering about six appetizers and six entrees at any given time. French cooking informs many of his preparations, from the herb vinaigrette with fluke to the mignonette sauce with oysters. As he has developed his skill, he has become increasingly devoted to sustainable agriculture. Whenever possible, he likes to work with local suppliers, listing sources on the menu?Vermont lamb and carrots, Maine scallops, Rhode Island fluke. He looks for organic products and for suppliers who treat animals humanely.
When Leviton was ready to start his own restaurant, he decided to return to his hometown of Newton because he thought it would be more affordable than San Francisco. While preparing to open in 1999, he once again tapped into his Wesleyan education. "My liberal arts background helped me make the transition from chef to owner. It's a different skill set," Leviton says, as he purees the soup in a blender, strains it to give it a "silky" texture, and returns it to the pot to reheat.
His choice of location was strategic. The trend in many urban areas is to develop restaurants where people live, not just in the downtown areas with expense-account clienteles. The Newton area, a large suburb with 90,000 people, was underserved by restaurants at the time he opened, though competition has since increased.
He had spent 10 years learning to be an excellent line cook, which he compares to an athletic event. Surrounded by hot stoves and hazardous grease, a line chef has to assemble dishes from components in a carefully timed sequence coordinated with the cooking of meat or fish. Once he had gained that experience?as well as worked as a sous chef, suggesting culinary ideas and overseeing other staff?he felt ready to venture on his own.
"If you are like me and don't want to answer to anybody, you go from chef to owner very quickly." He also wanted a blank canvas to construct his own restaurant exactly as he envisioned, down to the finest detail. Lumiere presents a simple, elegant environment that complements the food. Sound-absorbing ceiling panels keep ambient noise down and make conversation easy.
After wiping his hands on his apron, Leviton ladles a portion of the cream-colored soup into a white bowl, garnishes it with a handful of shrimp, and sprinkles it with chopped chives for contrasting color. For the finishing touch, he reaches underneath the counter for a squeeze bottle of extra-virgin olive oil and drizzles a bit on top.
Leviton is already at work on a second restaurant in Boston, and gathering recipes for a cookbook. To his former classmates who followed more academic careers, he says, with a laugh, "Enjoy life, and eat out more often!"
Clara Silverstein is a food writer in the Boston area who has contributed to the Boston Globe and other publications.
Visit Lumiere at 1293 Washington St., West Newton, Mass., 617/244-9199, www.lumiererestaurant.com.
Download a PDF of the complete article HERE
The Boston Chef's Table, the cookbook Silverstein compiled, is forthcoming from Globe Pequot Press.