Breaking the Grip of Poverty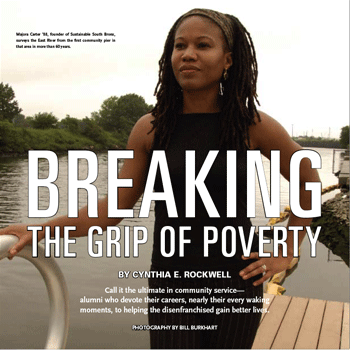 IN THEY DAYS AFTER HURRICANE KATRINA, many were shocked by the depth of poverty in New Orleans. To others who were already fighting its effects in America's inner cities, the unfolding story of failed aid held few surprises. Two Wesleyan alumni, both working in New York City's poorest neighborhoods, each mentioned the image of the New Orleans school buses sinking under the filthy water as iconic in its portrayal of wasted resources and broken faith.
Majora Carter '88 and Alwyn Cohall '76, M.D., have returned to the New York neighborhoods of their childhoods and are now offering their services to a population living in poverty. Along with their sharp intellect and practical skills, they offer their particular gifts for re-envisioning the status quo, boosting individuals—and communities—out of hopelessness.
MAJORA CARTER '88, recipient of a 2006 MacArthur award, makes things happen. Much of the renaissance in the South Bronx—most notably, perhaps, the riverfront recapture projects—can be traced to Sustainable South Bronx, the nonprofit she founded in 2001.
Hunts Point Riverside Park, the first riverside park in the South Bronx in more than 60 years and the first completed segment of the South Bronx Greenway, got its start, she says, because one rainy day she adopted an abandoned puppy. It was this dog who found the point of access from which all else has evolved.
Since that day, her dream for her hometown—and that puppy—have both grown much larger than she had imagined, she tells us when we visit her at the Sustainable South Bronx (SSB) headquarters on Lafayette Street. Longwood Avenue, on the 6-train, is the closest subway stop, an uphill walk after crossing a six-lane road that runs directly underneath the Bruckner Expressway. The echoes of speeding cars above mix with street-level noise.
The brick building that houses SSB looks as though it might be the husk of a former public school. A group of men smoke cigarettes around a loading dock that is the main entrance. Just inside, hand-lettered signs direct visitors to several organizations.
SSB is on the fourth floor, its space divided into cubicles, all holding ringing phones or one-sided conversations. Carter has a room at the end, walls covered with funky handpainted flowers. She starts to tell about her dog's discovery, but rolls back the story to its beginning.
A child in the South Bronx during the '70s, she recalls the fires that changed the landscape of her neighborhood, several buildings at a time. The new highways, allowing Westchester commuters easy access to Manhattan, had carved up the South Bronx. Real estate values plummeted so that many landlords found the only value in their property was in its insurance.
"I was a kid. I didn't really understand," she says, "'Another fire? What's that all about?' More troubling was that, literally overnight, friends and families were gone. Like Miss Mary, who watched us walk home from school every single day—and heaven forbid you do anything wrong; your mother would know before you got home—she was gone. The summer before I started third grade, a tenement building at one end of our block burned down, and then the end of the summer, the one at the other end went up in flames, too."
She remained in the South Bronx, eventually attending Bronx High School of Science, until entering Wesleyan in 1984, graduating with a major in film studies. Returning to the city for graduate school—a master's program in fine arts at New York University—Carter moved back to her parents' home, but spent all waking hours, she said, downtown.
Then her work as an artist led her to The Point CDC, an art-centered community group not far from her parents' home. One member who went to Durban, South Africa, to do an art installation was struck by the similar appearance of the poor, Black communities on different continents. Both had recycling and waste management facilities lining their waterfront.
"If you are poor, if you have a face some shade like mine, you are more likely to live near a waste treatment center—and 25 percent of the waste in treatment plants for all five boroughs is processed here within a one-mile radius; none on the Upper West Side," she adds. "You are more likely to live within walking distance of a highway. Asthma is a major health problem for the children in our community. We live right near the highway, but we don't own cars; we use public transportation, so who was the highway built for?"
Environmental racism is the term used to describe the planning that has built parks in wealthier neighborhoods, waste treatment plants in poorer ones. Environmental justice—through innovative, economically sustainable projects that are informed by the needs of the community—is her mission at Sustainable South Bronx. No one community should have to bear the greater portion of the environmental burden with fewer environmental benefits than any other, she says.
She'd heard there were grants for riverfront recapture and thought, "Yeah, right, but what's the good in recapturing something that no one can access?" Landfill areas, power plants, scrap yards, and sewage treatment plants clogged the East River and Bronx River shores, making it impossible for people even to see the water.
It was about this time when Carter adopted her dog, who became a companion on her morning runs. One day the dog pulled her toward an illegal dumping ground, revealing that this garbage and weed-filled lot was something more. It had once been prepared as part of a defunct Robert Moses-era bridge project, so it had remained undeveloped.
"Make no small plans; they have no power to inspire." It's one of her favorite inspirational sayings, a paraphrase of a quotation attributed to architect and city planner of the previous century Daniel Hudson Burnham. When she says it aloud, her smile widens.
She applied for and received a grant, $10,000 in seed money, which she leveraged 300 times over. Now, just a few blocks from her office, the South Bronx has its first new waterfront park in 60 years—the $3 million Hunt's Point Riverside Park. It is the first in a planned series, to be linked by a bike route, through what used to be a dumping ground for the entire city. She'll take us to see it, but first we climb up one flight to visit the green-roof. It's another project underway at SSB—a way to re-envision and improve life in the South Bronx.
"Green is the New Black," is the slogan. Replace black tar roofing with green plants: black absorbs heat while plant beds offer insulation and do not radiate heat back into the local atmosphere. They also reduce stormwater run-off, which easily overwhelms treatment plants. Additionally, foliage purifies the air.
Carter examines the plants—the small strawberries are sweet. Some flats of grasses look dry; others are lush. She pulls a few weeds, steps back, and scrutinizes the beds around her. "The native grasses are doing well," she notes. "The hybrids aren't as strong." She steps over the electronic equipment set up to record data, the quantitative proof for the effectiveness of this project.
From the roof, the skyline of Manhattan gleams in the southwest. To the northeast, the Sheridan Expressway looms, bearing its burdens of trucks and diesel fumes through the neighborhood that has an asthma rate seven times the national average. "It's good to come up here and be reminded of why we're doing this work," she says.
Out on the street and walking toward the park, Carter is waiting to cross an intersection when a man leans out of a car and calls, "Hey, Majora!" She waves back, the light changes, and he continues on.
"He was in "B.E.S.T.—Bronx Environmental Stewardship Training Program. Green-collar jobs," she explains. The 12-week program at SSB offers participants the opportunity to gain skills and certification in such areas as ecological restoration, hazardous waste cleanup, and landscaping, and job placement is 90 percent. Some participants were mothers on welfare who now have a job that pays a living wage and offers growth potential. "I just know we're going to have someone go on to become a landscape architect," she says. "I believe in jobs, not jails."
Instead of a new prison that city planners proposed for her neighborhood, SSB offers another vision: the Bronx Recycling Center. Along with several local cooperatives and corporations, SSB is working to develop "a collection of businesses in which the waste and byproducts of one business are the raw materials for another one." This, she explains, would not only offer manufacturing jobs, which have traditionally been a point of entry in the U.S. job market for unskilled labor—and are currently lost to competition overseas—but also would decrease the amount of truck traffic through the streets, with the proximity between producer and user. A healthy community offers employment for its residents, she says, which creates foot traffic. Crime stats go down; shops spring up.
Furthermore, when people have a beautiful place to walk, they will get exercise, which combats the high obesity rates in poor neighborhoods, such as the South Bronx.
At the Hunt's Point Riverside Park job site, construction workers greet her and foremen take her aside to ask a question or two.
On one side of the brick wall that runs from the street to the river, a mountain of scrap metal looms high. On the other side of the wall, however, a grassy knoll slopes toward a dock at the water. Saplings rim the walkways, picnic tables and barbecues await family celebrations on a warm evening.
The water park has a delightful array of sprinklers, sure to lure any child in to play. Carter stands in its center and surveys it. "When we first started talking about it with the neighborhood, the water park was going to be a hose with running water." She looks around, assessing the progress, and nods to herself. "This feels pretty good."
The parks, jobs, recreation, and a political voice Carter has fostered in the Bronx have a key ingredient: bringing the community together and inspiring them to dream.
"When we first got the grant we started to hold neighborhood meetings. We asked them what they wanted. They weren't used to that; nobody had ever asked them what they wanted. It took a while to get them to think that way. Then they started thinking, well, yes, a park would be nice. Trees would be nice. Jobs would be nice."
When you have a group of people who become community, and when the community has a vision, change is inevitable.
One of the strengths Carter brought to her role as community organizer and political activist was, as she says, "I hadn't a clue. I had no idea whose toes I was stepping on. I was so naive."
Another strength: "I'll talk to anybody. If any group, any person, wants to meet with us, I'll say yes. I'm willing to find out what we have in common."
ALWYN COHALL '76, M.D., like Majora Carter, is back in his old neighborhood. For him, it's northern Manhattan—the communities of Harlem and Washington Heights, and he is tackling improved access to healthcare for adolescents.
Friday morning he arrives at New York Presbyterian Hospital's Ambulatory Care Clinic wearing a multipocketed flak vest. This is where Project STAY—Services to Assist Youth—has clinical sessions. When he shrugs off the vest to reveal a pressed plaid shirt, a staffer jokes about his "formal attire." Cohall laughs, loops a stethoscope around his neck, and is ready to see his patients.
Cohall, the founder and director of the project, developed it with a grant from the New York State Department of Health to work with adolescents living with HIV. He is one of only a handful of physicians in the city who specialize in caring for young people living with the virus. This particular focus had never been part of his initial plan. It was, however, where his patients took him.
Cohall's foray into adolescent public health services began during the late 1980s in New York City public schools. Historically, school-based healthcare was limited to vaccinations and vision screening, but many poor or "working-poor" families in poverty lacked adequate health insurance and had inconsistent access to quality, primary care services. The population—poor adolescents—had a "staggering litany of health issues," Cohall recalls, so these comprehensive clinics quickly became quite popular.
"When the test for HIV became available in the early '90s, we thought we'd offer that, as well," he recalls. "We were already testing for other sexually transmitted diseases, so we thought it important to add this new service. In the first 10 kids we tested with STDs, we found four were positive, also for HIV.
"It blew us away. We never expected that level of disease burden. Never. At the time, common wisdom was that you found the disease among homeless 'street' youth. Yet here we were with four positive tests, all in students who lived at home and attended school. They were going to go to math first period and then, second period, learn that they were HIV-positive."
Cohall initially referred these patients to programs throughout the city, which offered either adult or pediatric HIV-care. Neither addressed these adolescents' concerns.
"You provided our care before the diagnosis; why can't you continue with us now?" they asked him.
He did, joining Columbia's School of Public Health, where he finds the research, teaching, and service components fit with his model of comprehensive healthcare, and under whose auspices he set up Project STAY.
Young adults need special attention, he says. "They are juggling adolescence, relationships, and school—and trying to incorporate an HIV-positive identity, wondering if they will have a future. Now, with advances in medical treatment, we can say with more confidence, yes, you will have a future. The key, though, is to help motivate them to believe that their future will be better than their present." One of Cohall's patients, a young man in his late teens now in college, recalls the help provided by Project STAY. "At first, it seemed as though time was short and I had all this energy, so I'd better live faster. Now, every morning I ask myself, 'What are you doing today to build your tomorrow?'"
The personal touch is key in Cohall's medical practice. Stowing his soft-sided briefcase in the corner of the room, he tells us, "I remember getting a lot of my medical care here when I was a kid. I remember waiting five or six hours to see someone, and then it was a different person each time. It was very brusque, impersonal treatment. I wanted to change that." And he has. In recognition of his efforts, in 2005, the American Academy of Pediatrics honored him with their Founder's Award for Outstanding Community Leadership and Service.
While he acknowledges that many health providers don't warm to adolescents ("they are not cute and cuddly"), he disputes the notion that their attitudes and behaviors are already set. Adolescence is precisely the time young people are developing the sexual and reproductive health habits that they will take into adulthood, he maintains.
Furthermore, adolescents are able to seek care themselves, even traveling for it, albeit for their own peculiar reason: "Adolescents are always slightly paranoid; they walk into a neighborhood clinic and think everyone knows their business; they want to go where they won't run into someone they know." Cohall wants to make sure that when they find his clinic, they will return.
"My pet peeve at the moment is an ad," he says, and quotes: "'You already have a teenager who doesn't listen to you. You need a broker who does.' Although tongue-in-cheek, it reinforces the impression that youth are obstinate and rebellious. In reality, most young people are personable, considerate and want to hear what key adults in their lives have to say?as long as they are not being preached to or disrespected.
"When I take medical history for a physical, I ask, 'How are you doing in school? When's the last time you went to the library?' That kind of input makes a difference because it shows an interest in the adolescent as a person, not just a patient." Cohall attended the public schools until a minister in his church steered him to apply for a scholarship at a private school in upstate New York. From there, he went to Wesleyan, and after that, medical school.
In the same way that his minister found him a scholarship program, he finds mentors, after-school programs, and sports activities for young people among his friends, colleagues, and former patients, broadening horizons beyond their neighborhood.
He is seeking social capital for them: individuals and institutions providing guidance, a wider range of experiences, as well as encouragement. As a youngster, he found his social capital in the church and in the library: he and his sister would fill up a shopping cart of books each week. The library, he says, offered them "glimpses of worlds and possibilities" beyond their neighborhood.
Libraries and the Web access they provide are a critical source of health information for adolescents. Unfortunately, all too frequently, libraries are the first casualty in poor communities when budgets need to be balanced. This is particularly problematic when one looks at the key role libraries play in supporting learning through technology. In many low-income communities, Internet access is only available in the libraries, Cohall notes. When their hours are limited, or support staff cut, the 'digital divide' (the gap in access to technology between the affluent and the poor) widens.
Through his role as director of the Harlem Health Promotion Center, one of 33 national prevention research centers established by the Centers for Disease Control and Prevention, Cohall is keenly concerned about providing digital 'equity' to residents of low-income communities. High-quality, culturally-relevant material that is of appropriate literacy level is also of concern. Cohall and colleagues are working with consumers to develop and pilot a Web portal that will provide Harlem consumers with health information and supportive services.
Emergency contraception is yet another aspect that Cohall champions in his effort to "level the playing field" and reduce health disparities. In October, Cohall was anticipating the upcoming over-the-counter availability of the "morning after pill."
"Our research suggests that many young people hadn't heard of it," he says. "We want to provide them with correct and clear information." With a grant from the New York City Department of Health and Mental Hygiene, Cohall's group is working with young people to develop print, video, and Web-based materials to both educate and link young people to user-friendly resources, like Project STAY.
The importance of investing in youth is illustrated by one of Cohall's favorite anecdotes: "One day when I was on the Columbia campus, a young woman called out to me. She was carrying an armful of books and came over, asking, 'Dr. C., don't you remember me?' It took me a moment but I realized that I did know her; I'd taken care of her at one of the local high schools. 'You, the nurse practitioner, and the social worker helped me get through my depression, my suicidal tendencies, my STDs,' she told me." Now she was at Columbia, getting her law degree.
"We showed her, 'Okay, you fall down seven times, but, like the Japanese proverb, you get up eight times.' With persistence can come change. That's the kind of success story we want to make routine, not unique. But it takes a great deal of resources to correct the social inequalities."
In his decades of experience, he says, one thing has become clear about adolescents and health care: "If you set things up the right way, they will respond."
For further information on Majora Carter's work at Sustainable South Bronx, please see www.ssbx.org/.
Download a PDF of the complete article HERE
For further information on Dr. Alwyn Cohall's work, please see www.healthyharlem.org.