HISTORICAL ROW: LIONS, AND TIGERS, AND BEARS… OH MY!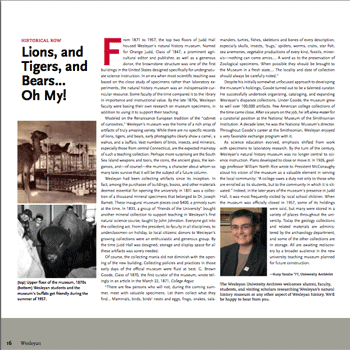 From 1871 to 1957, the top two floors of Judd Hall housed Wesleyan's natural history museum. Named for Orange Judd, Class of 1847, a prominent agricultural editor and publisher, as well as a generous donor, the brownstone structure was one of the first buildings in the United States designed specifically for undergraduate science instruction. In an era when most scientific teaching was based on the close study of specimens rather than laboratory experiments, the natural history museum was an indispensable curricular resource. Some faculty of the time compared it to the library in importance and instructional value. By the late 1870s, Wesleyan faculty were basing their own research on museum specimens, in addition to using it to support their teaching.
Modeled on the Renaissance European tradition of the "cabinet of curiosities," Wesleyan's museum was the home of a rich array of artifacts of truly amazing variety. While there are no specific records of lions, tigers, and bears, early photographs clearly show a camel, a walrus, and a buffalo. Vast numbers of birds, insects, and minerals, especially those from central Connecticut, are the expected mainstay of such a teaching collection. Perhaps more surprising are the South Sea Island weapons and tools, the coins, the ancient glass, the kangaroos, and—of course!—the mummy, a character about whom so many tales survive that it will be the subject of a future column.
Wesleyan had been collecting artifacts since its inception. In fact, among the purchases of buildings, books, and other materials deemed essential for opening the university in 1831 was a collection of a thousand mineral specimens that belonged to Dr. Joseph Barratt. These inaugural museum pieces cost $400, a princely sum at the time. In 1833, a group of "friends of the University" bought another mineral collection to support teaching in Wesleyan's first natural science course, taught by John Johnston. Everyone got into the collecting act. From the president, to faculty in all disciplines, to underclassmen on holiday, to local citizens: donors to Wesleyan's growing collections were an enthusiastic and generous group. By the time Judd Hall was designed, storage and display space for all these artifacts was sorely needed.
Of course, the collecting mania did not diminish with the opening of the new building. Collecting policies and practices in those early days of the official museum were fluid at best. G. Brown Goode, Class of 1870, the first curator of the museum, wrote tellingly in an article in the March 22, 1871, College Argus:
"There are few persons who will not, during the coming summer, meet with valuable specimens. Let them collect what they find? Mammals, birds, birds' nests and eggs, frogs, snakes, salamanders, turtles, fishes, skeletons and bones of every description, especially skulls, insects, 'bugs,' spiders, worms, crabs, star fish, sea anemones, vegetable productions of every kind, fossils, minerals—nothing can come amiss?. A word as to the preservation of Zoological specimens. When possible they should be brought to the Museum in a fresh state?. The locality and date of collection should always be carefully noted."
Despite his initially somewhat unfocused approach to developing the museum's holdings, Goode turned out to be a talented curator. He successfully undertook organizing, cataloging, and expanding Wesleyan's disparate collections. Under Goode, the museum grew to well over 100,000 artifacts. Few American college collections of the time came close. After six years on the job, he left alma mater for a curatorial position at the National Museum of the Smithsonian Institution. A decade later, he was the National Museum's director. Throughout Goode's career at the Smithsonian, Wesleyan enjoyed a very favorable exchange program with it.
As science education evolved, emphasis shifted from work with specimens to laboratory research. By the turn of the century, Wesleyan's natural history museum was no longer central to science instruction. Plans developed to close or move it. In 1926, geology professor William North Rice wrote to President McConaughy about his vision of the museum as a valuable element in serving the local community: "A college owes a duty not only to those who are enrolled as its students, but to the community in which it is situated." Indeed, in the later years of the museum's presence in Judd Hall, it was most frequently visited by local school children. When the museum was officially closed in 1957, some of its holdings were sold, but many were stored in a variety of places throughout the university. Today the geology collections and related materials are administered by the archaeology department, and some of the other collections are in storage. All are awaiting rediscovery by a broader audience in the new university teaching museum planned for future construction.
—Suzy Taraba '77, University Archivist