HISTORICAL ROW: INAUGURATING A WESLEYAN PRESIDENT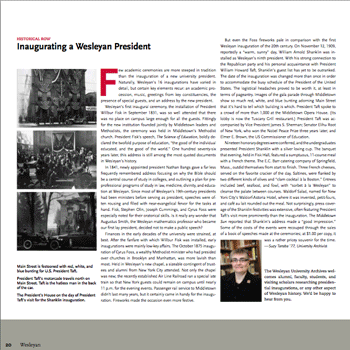 Few academic ceremonies are more steeped in tradition than the inauguration of a new university president. Naturally, Wesleyan's 16 inaugurations have varied in detail, but certain key elements recur: an academic procession, music, greetings from key constituencies, the presence of special guests, and an address by the new president.
Wesleyan's first inaugural ceremony, the installation of President Willbur Fisk in September 1831, was so well attended that there was no place on campus large enough for all the guests. Fittingly for the new institution founded jointly by Middletown leaders and Methodists, the ceremony was held in Middletown's Methodist church. President Fisk's speech, The Science of Education, boldly declared the twofold purpose of education, "the good of the individual educated, and the good of the world." One hundred seventy-six years later, this address is still among the most quoted documents in Wesleyan's history.
In 1841, newly appointed president Nathan Bangs gave a far less frequently remembered address focusing on why the Bible should be a central course of study in colleges, and outlining a plan for preprofessional programs of study in law, medicine, divinity, and education at Wesleyan. Since most of Wesleyan's 19th-century presidents had been ministers before serving as president, speeches were often rousing and filled with near-evangelical fervor for the tasks at hand. Fisk, Stephen Olin, Joseph Cummings, and Cyrus Foss were especially noted for their oratorical skills. Is it really any wonder that Augustus Smith, the Wesleyan mathematics professor who became our first lay president, decided not to make a public speech?
Finances in the early decades of the university were strained, at best. After the fanfare with which Willbur Fisk was installed, early inaugurations were mainly low-key affairs. The October 1875 inauguration of Cyrus Foss, a wealthy Methodist minister who had presided over churches in Brooklyn and Manhattan, was more lavish than most. Held in Wesleyan's new chapel, a sizeable contingent of trustees and alumni from New York City attended. Not only the chapel was new; the recently established Air Line Railroad ran a special late train so that New York guests could remain on campus until nearly 11 p.m. for the evening events. Passenger rail service to Middletown didn't last many years, but it certainly came in handy for the inauguration. Fireworks made the occasion even more festive.
But even the Foss fireworks pale in comparison with the first Wesleyan inauguration of the 20th century. On November 12, 1909, reportedly a "warm, sunny" day, William Arnold Shanklin was installed as Wesleyan's ninth president. With his strong connection to the Republican party and his personal acquaintance with President William Howard Taft, Shanklin's guest list has yet to be outranked. The date of the inauguration was changed more than once in order to accommodate the busy schedule of the President of the United States. The logistical headaches proved to be worth it, at least in terms of pageantry. Images of the gala parade through Middletown show so much red, white, and blue bunting adorning Main Street that it's hard to tell which building is which. President Taft spoke to a crowd of more than 1,000 at the Middletown Opera House. (Its lobby is now the Tuscany Grill restaurant.) President Taft was accompanied by Vice President James S. Sherman; Senator Elihu Root of New York, who won the Nobel Peace Prize three years later; and Elmer E. Brown, the US Commissioner of Education.
Nineteen honorary degrees were conferred, and the undergraduates presented President Shanklin with a silver loving cup. The banquet that evening, held in Fisk Hall, featured a sumptuous, 11-course meal with a French theme. The E.C. Barr catering company of Springfield, Mass., outdid themselves from start to finish. Three French cheeses, served on the favorite cracker of the day, Saltines, were flanked by two different kinds of olives and "clam cocktail a la Boston." Entrees included beef, seafood, and fowl, with "sorbet a la Wesleyan" to cleanse the palate between courses. Waldorf Salad, named for New York City's Waldorf-Astoria Hotel, where it was invented, petit-fours, and cafe au lait rounded out the meal. Not surprisingly, press coverage of the Shanklin festivities was extensive, often featuring President Taft's visit more prominently than the inauguration. The Middletown Sun reported that Shanklin's address made a "good impression." Some of the costs of the events were recouped through the sales of a book of speeches made at the ceremonies; at $1.00 per copy, it was a rather pricey souvenir for the time.
—Suzy Taraba '77, University Archivist
The Wesleyan University Archives welcomes alumni, faculty, students, and visiting scholars researching presidential inaugurations, or any other aspect of Wesleyan history. We'd be happy to hear from you.