JENKINS' DRAGON VISITS NYC MUSEUM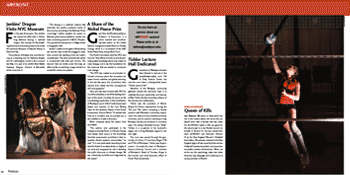 For the past three years, Ron Jenkins has shared his office with a 10-footlong Balinese barong, a mythical dragon. But recently, his fire-breathing friend has found a temporary home inside the American Museum of Natural History in New York City.
The professor of theater, who uses the barong as a teaching tool for Balinese theater, lent his mythological model to the museum last May. It is part of an exhibit titled Mythic Creatures: Dragons, Unicorns & Mermaids, which closed Jan. 6.
"The barong is a mythical creature that embodies the positive protective spirits of the universe, according to the Balinese Hindu cosmology," Jenkins explains. An expert on Balinese performance traditions, Jenkins has been conducting research in Bali for 30 years. He acquired the barong from a village artisan in Singapadu, Bali.
Jenkins' creature is brought to life by having two dancers step inside the shaggy fur body. One controls the clacking of the red mask's movable jaws. The other works the tail, which is ornamented with bells and mirrors. The dancers' feet are visible under the body, an effect similar to watching a stage animal in a vaudeville routine, he explains.