The Race to Cover Politics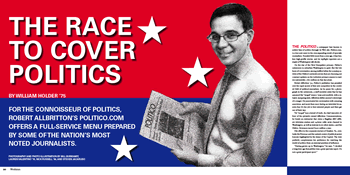 BY WILLIAM HOLDER '75 · PHOTOGRAPHY AND PHOTO ILLUSTRATION BY BILL BURKHART, LAUREN VALENTINO '10, NICK RUSSELL '08, AND STEVEN JACARUSO
THE POLITICO, a newspaper best known to ardent fans of politics through its Web site, Politico.com, is a hot new entry in the ever-expanding world of specialty journalism. Founded little more than a year ago, it has broken high-profile stories, and its topflight reporters are a staple of Washington talk shows.
On the day of the New Hampshire primary, Politico's newsroom in suburban Washington is quiet. But the low hum of conversation among staffers belies the nonstop activity of the Politico's network servers that are churning out constant updates on the turbulent primary season to readers nationwide&emdash;two million on that day alone.
Robert Allbritton '92, Politico's publisher, has presided over the rapid ascent of this new competitor in the crowded field of political journalism. As he poses for a photograph in the newsroom, a staff member jokes that he has assumed the "mogul" stance. Lean and youthful, with a relaxed, easygoing style, Allbritton defies anyone's stereotype of a mogul. He punctuates his conversation with amusing anecdotes, and more than once during an interview he asserts that it's his job to hire talented people and then get out of their way.
Yet "mogul" has a kernel of truth. As chief executive officer of the privately owned Allbritton Communications, he heads an enterprise that owns a flagship ABC affiliate television station and 24-hour cable news channel in Washington, as well as stations in six other states&emdash;and the Politico. Revenues exceed $200 million a year.
His office in the corporate enclave of Rosslyn, Va., overlooks the Potomac and the nation's center of political power beyond, highlighted by the dome of the Capitol. The view perfectly complements his preference for watching the world of politics from an external position of influence.
"Having grown up in Washington," he says, "I decided a long time ago that politics was a great spectator sport. It's not a great participant sport."
JOURNALISM AND BUSINESS are in Allbritton's blood. His father, Joe Allbritton, a Texan, came to Washington in 1975 when he acquired the now-defunctWashington Star, then a leading daily newspaper. With the Star came channels 7 and 8, which blossomed into Allbritton Communications. Robert joined the family business after graduating as a government major from Wesleyan. Perhaps influenced by time spent in the newsroom of the Star when he was growing up, he confesses that he loves the world of journalism for its inquisitive, opinionated, "intellectually stimulating" people.
But he is an entrepreneur, not a journalist.
"The question in life," he says, "is whether you can put yourself in a position where you can afford to learn something new&emdash;financially and mentally. That's a tough thing to do. But once you do it, if you are that kind of person, it's pretty addictive."
He has launched several television stations and an Internet hosting business. None of his other ventures, however, so quickly attained anything like the cachet of the Politico.
The Politico grew out of an effort to leverage the Allbritton investments in communications. Prohibited by FCC cross-ownership regulations from entering the Washington market with a daily newspaper, Allbritton focused instead on the niche market of Capitol Hill specialty newspapers, namely the Hill and Roll Call. He considered acquiring one of those, a prospect that revealed itself to be too expensive after he considered the numbers. Would the market support a third publication? After all, wealthy corporations and lobbying organizations have a huge desire and willingness to spend advertising dollars to get their messages across to the centers of power on Capitol Hill.
"We started off thinking that we would produce a nice Capitol Hill newspaper," he says. "I woke up in the middle of the night and realized that there was no way this would ever be successful."
Advertisers might pay, but the paper would be competing for a relatively small group of readers already served by the two established publications.
At almost the same time, Allbritton had a conversation with two top political reporters at the Washington Post. John Harris and Jim VandeHei wanted to start a Web site that would cover nothing but politics and would be fueled by journalists so highly esteemed that they would be considered "must-reads" inside the Beltway. The only hitch was that previous efforts to establish similar sites had failed.
Allbritton reasoned that the combination of a print product to generate revenue and a Web site to create national readership could succeed. He and his Postcolleagues hired several other established journalists, including Mike Allen fromTime magazine and Roger Simon from Bloomberg News, plus some younger up-and-coming talent. They launched Politico.com at 5:07 a.m. on January 23, 2007. On its first day, the site had nearly 270,000 visitors.
Jane Eisner '77, a former editor at the Philadelphia Inquirer who is now with the National Constitution Center, says that not only was the Politico launched with the strategically smart marriage of Web and ink, but also with a high standard from the outset.
"To start anything new in this media environment is difficult," she says, "especially something of high quality. They hired very good people, and there is still an appetite for quality journalism. They are looking to produce the best journalism they can without pushing a particular agenda. It's very exciting to see a product like this emerge."
The Politico's staff also opted to build the Web site with in-house talent, relying on Dan Kunitz '92, who has overseen its design and development. Having spent 13 years working with Allbritton, he's participated in other start-up ventures, but never, he says, one that is such a "roller coaster ride" as Politico.
"We've been nimble about making adjustments on the fly," he says. The result is a stable site with a rich mix of hard news, video, blog commentary, and reader interaction. Traffic is heavy, even on weekends.
That the Politico gets noticed is no accident. One of the early hires was Kim Kingsley, who had established a stellar reputation at the Washington Post for promoting top journalists and securing spots for them on influential television and radio shows. Politico reporters soon began turning up in these same desirable venues.
Such a high profile, however, comes with a downside. When Politico.com reported erroneously that John Edwards was suspending his presidential bid due to a recurrence of his wife's cancer, the Post declared in a headline: "PoliticoRushes to Crack the Story And Ends Up With Egg on Its Face."
The reporter, Ben Smith, had an excellent source for the story, but the source was wrong, says Allbritton. Even though Smith corrected the error within minutes of its posting, cable news channels carried his assertion nationwide. The incident was a stinging reminder to the entire staff of the Politico that, notwithstanding the constant deadline pressure of the Web site, important stories must have at least two sources.
In conversation at the annual White House Correspondents' Dinner, Allbritton asked Smith whether the error would hold him back as he sought to break future stories. Smith said no, the answer Allbritton wanted to hear. Soon after, Smith broke the story that Rudolph Giuliani had billed tens of thousands of dollars in travel expenses to little-known New York City agencies as he was beginning an extramarital affair. Although Giuliani denied any financial impropriety, the story attracted immediate attention and coincided with the beginning of Giuliani's slide in the polls.
"I heard from the McCain camp that when they read the story, they decided to hang on for at least a couple more weeks," Allbritton says.
THE LAUNCH of the Politico comes at a time of ferment, when many people are struggling to find models for Web-based journalism, according to Alberto Ibarguen '66, chief executive officer of the John S. and James L. Knight Foundation.
Accurate information, he says, is an essential requirement in a democracy. Newspapers once filled that need, but as budgets, staffs, and news coverage have shrunk in recent years, daily papers have handed over a major opportunity to Web publications. Ibarguen says that Web journalists can improve the flow of information on which political discourse rests.
"I think this is a critically important time," he says. "Anybody who cares about the health of communities in a democracy knows that the kind and quality of information on which we've relied in the past is less and less available."
Eric Newton, vice president for journalism at Knight Foundation, likens the environment for journalism to an ecosystem in which "a lot of new life is springing up." Which ventures will take hold and thrive is unclear and probably will remain so for years to come.
Traditional boundaries between media outlets are dissolving, he points out. Television stations, newspapers, and magazines routinely put audio and video content on the Web. The flow of information is ceaseless and overwhelming. Journalism's old maxim of shining a light in the darkness has given way to an environment in which the spotlight is always on, whether the target is an important national policy issue or a drunken celebrity's escapades.
"Now we have to hand out sunglasses," he says. "You have to be able to penetrate the glare."
In this environment, as consumers of news are presented with more and more choices, news providers will have to be adroit in order to thrive.
Knight Foundation itself has entered this chaotic universe by promoting the development of Web publications that focus on local news through the Knight Citizen News Network. This emphasis arose from the recognition that local events coverage has suffered as newspapers have slashed budgets to meet corporate goals for profitability. The Foundation sponsors an annual competition for innovative projects with awards up to $5 million. Current projects include the Chi-Town Daily News, aimed at training 75 citizen journalists to report on Chicago neighborhoods; Citizen Journalist Resources,intended to develop online resources for citizen journalists; and Rising Voices, which is introducing readers worldwide to the voices of bloggers from developing nations.
All Web-based publications, from the smallest grant-funded start-up to an ambitious well-funded venture such as Politico.com, face a similar challenge. Their products do not arrive on the front porch each day; readers have to seek them out. Individuals who want a heavy dose of political news have abundant choices among Web sites of major newspapers and cable news stations, blogs of all persuasions, and specialty sites such as thehill.com.
Little wonder, then, that Allbritton continues to seek out top talent for thePolitico. Or that he is focused less on quick profitability and more on building the Politico's brand with initiatives such as the new Campus Politico and co-hosting presidential primary debates. As head of a privately held company, he has considerable flexibility to invest more in the venture as he sees opportunities.
"There's no reason to declare victory and stop the forward attack," he says.
Allbritton participates in all major decisions affecting the Politico, but he doesn't dictate a single management style. He gave his senior editors leeway to establish a small bureau on Capitol Hill when they insisted that the subway ride from Rosslyn meant that Politico reporters were too removed from the center of action. Subsequently, he gave them the go-ahead to pull the reporters back to Rosslyn.
The episode underscored the importance of a physical connection in an electronic world. "It does help to bring everyone into one location and look each other in the eye, to have editorial meetings where everyone is tossing out ideas," Allbritton says. "It's a basic function of how human beings operate. We've sped up our lives with widgets and gizmos, but people don't evolve that quickly. You still have to take time out of your day to stop and think and talk face-to-face."
The success to date of the Politico underscores his belief, derived from Peter Drucker, that in the Internet age the power of the press is shifting from those who own the presses or the television transmitters to star reporters with great sources. Whether (or perhaps when) Web-oriented publications will become a viable source of employment for significant numbers of journalists remains an open and pressing question, particularly with frequent layoffs as newspapers downsize to protect their bottom line. If Allbritton's experience is any guide, younger journalists will encounter a more entrepreneurial environment as journalism remains in flux.
Allbritton enjoys the unpredictable nature of a startup. "When we first started talking to Jim (VandeHei) and John (Harris), I said, 'You are going to love this. You will be exhausted, you will be beat up, there will be days when you wonder why in god's name did you sign up. But you will love doing it.'
"I was trying to explain the energy and the pride of authorship in starting something from scratch. I got back a blank stare.
"They told me a couple of days ago that now they get it. There's an exciting, challenging, and steep learning curve that's a surprise every single day."
The long-term success of the Politico is not assured. The excitement of the presidential election will fade after this year, and politics will slip back into the routine of governance. But ambitious young journalists will no doubt be watching to see whether the Politico might be just the place to launch their careers.