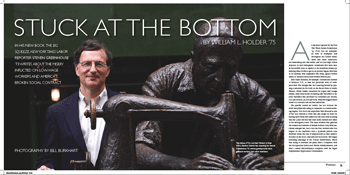 As the labor reporter for the New York Times, Steven Greenhouse '73, P'08, has an unimpeded view of workplace hell throughout the United States. More and more Americans are descending into this realm, and not just high school dropouts or new immigrants. Americans who were once in the middle class or aspired to the American dream are learning what it's like to get by on poverty wages, with little or no benefits, with employers who cheat, ignore worker safety, or demand extra hours worked without pay.
Take Kathy Saumier, for example. Greenhouse traveled to Syracuse, N.Y., to hear her particular story of workplace hell. She thought she was bettering herself by quitting a janitorial job for work on the factory floor at Landis Plastics, which makes containers for yogurt and cottage cheese. After three hours of training, she was asked to operate machines that produced 10 containers per second, 600 per minute, 36,000 per hour, while she lugged heavy boxes to a conveyor belt ten feet behind her.
She quickly soured on Landis, but not because the work was physically taxing or repetitive to a mind-numbing degree. Nor was it the supervisor who shouted at one of her best friends at work that she might be fired for leaving early when she rushed out the door after learning that her 3-year-old son had been badly scalded and taken to the emergency room. The male workers who grabbed the breasts and behinds of female workers busy with machines enraged her, but it was the four workers who lost fingers in the machines over a 13-month period—one hundred times the rate of amputations at other plastics factories in the state—that sent her into action. She began attending meetings of the United Steelworkers, which was trying to unionize the plant, filed a complaint with the Occupational Safety and Health Administration, and filed a sexual discrimination complaint with the Equal Employment Opportunity Commission.
Landis struck back. Managers falsely accused her of sabotaging an anti-union worker's car, assigned her to work by herself in an isolated room, stood by while she was taunted and harassed by an anti-union worker, and ultimately accused her, ironically and absurdly, of sexually fondling two male workers. Then she was fired.
Saumier won a victory, of sorts. Her story became a local cause célèbre and reporters began referring to her as "the Norma Rae of Syracuse." Six months after she filed her complaint, OSHA levied a substantial $720,700 fine against Landis Plastics. A federal district court judge issued an injunction ordering that she be reinstated, and an NLRB judge later ruled that the company's decision to fire her constituted illegal retaliation for supporting a union.
Three weeks after she returned to the factory, she fell while trying to catch plastic containers backing up from a jammed injection molding machine. After working several months with excruciating pain, she was diagnosed with a torn rotator cuff and injured disks in her neck. Her desire to better herself did have a happy ending; she became an administrative assistant in a law office and began studying to be a paralegal. The factory she left behind, however, was still not unionized. Of the 100 workers who had signed pro-union cards, only 15 remained. The rest had been replaced by immigrants from Latin America, Vietnam, Bosnia, and Sudan.
Greenhouse tells this story in his new book, The Big Squeeze: Tough Times for the American Worker (Knopf, 2008). The rough outlines of the squeeze are well known: median household income has declined this decade, tens of millions of people have inadequate or no health insurance, Americans work longer hours than just about anybody. The squeeze falls hardest, of course, on those least able to cope. Some 33 million workers—almost one-fourth of the American workforce—toil for less than $10 an hour as fast food workers, cashiers, childcare workers, hotel staff, and nurse's aides. The work they do is essential for our way of life; as individuals in the workplace, they are sadly fungible. For them, Greenhouse says, "The promise of America has been broken: the promise that if you work hard, you will be rewarded with a decent living."
Though the statistics are not new, Greenhouse imbues them with particular human suffering. His narrative unfolds with the crisp objectivity one might expect of a seasoned reporter, but the broad vision of workplace hell that he reveals underscores his outrage.
His early experiences nudged Greenhouse toward a concern for the dispossessed. Grandparents on both sides worked in the apparel industry on the Lower East Side before moving to factories further uptown. One was a presser at Max Udell & Sons on West 23rd Street and a member of the Amalgamated Clothing Workers of America. Another was a cutter and patternmaker on West 36th Street and a member of Local 10 of the International Ladies Garment Workers Union. He's quick to point out that they did not work in brutal sweatshops, yet their lives made him conscious of labor issues. His father was a member of the teachers union on Long Island, his mother was a social worker, and they would take him to civil rights marches when he was young.
At Wesleyan, he was editor-in-chief of the Argus. His double major in government and College of Letters exposed him to professors such as Paul Schwaber, Norman Rudich, Richard Vann, and Clement Vose, who pushed him toward a nuanced and sophisticated understanding of the world, even as the campus was seized by the passions of the Vietnam War era.
"I tell people I learned at Wesleyan how to write, how to analyze, and how to think," he says. "I learned many different ways of seeing the world. Those are extremely useful abilities, pivotal for a journalist."
Greenhouse might have been primed to work as a journalist, but his path wasn't completely straightforward. After graduation and a brief stint in construction, he was hired as a copyboy at the New York Times.
"I would fetch coffee and sort mail. Reporters would type a page of a story and shout "copy!" I would literally run to the reporter's typewriter and then take the page to an editor. When the editor was done with the page, I would put it in a pneumatic tube and send it to the composing room."
After graduating from Columbia Journalism School, he worked for two weeklies in Manhattan and then at the Bergen Record in New Jersey for three years, covering economics and labor. His next move, after six months of living in Barcelona to learn Spanish, was to NYU Law School. He made law review and secured a clerkship with a federal judge, Robert L. Carter, who was known as a civil rights judge and earlier in his career had helped Thurgood Marshall argueBrown v. Board of Education before the U.S. Supreme Court. Before long Greenhouse concluded that "the process of law was not as much fun as the process of journalism."
The Times hired him as a reporter in 1983. He covered basic industries, mainly steel, at a time when foreign competition had hobbled the domestic steel industry. Soon he was the paper's Midwest business correspondent, based in Chicago. But labor reporting would have to wait. He spent five years as a foreign correspondent based in Paris, covering economic issues and the fall of communism in the Soviet Bloc states. A move to the Washington, D.C., bureau had him covering the State Department and following the shuttle diplomacy of former Secretary of State Warren Christopher. Although he might have angled for other plum assignments reporting on the pinnacles of governmental power, he missed writing about people.
In late 1995 he asked to have the labor beat. In some respects, it was an odd choice. The heyday of unions had long since passed. In the 1940s, the Times had four full-time labor reporters. Unions were big and powerful; strikes could command sustained front-page attention. When Greenhouse wrote his first labor story about the election of John J. Sweeney to head the AFL-CIO, unions were struggling with greatly diminished membership and influence, as well as a sense that their time had passed in a more entrepreneurial "ownership" society. Nonetheless, Greenhouse believed the beat had a lot of promise.
"There are 140 million workers in the nation," he says, "and there are lots of interesting stories to tell from the mean streets of the country's workplaces—whether it's fingers being amputated or elite software engineers seeing their jobs shipped to India."
Asked why he decided to write a book, Greenhouse cites the encouragement of his daughter, Emily '08, also a COL major. As if on cue, Emily called during an interview. She was in Paris, working as an intern for the Times, and had just attended a joint press conference for Barack Obama and France's president, Nicolas Sarkozy. She couldn't wait to tell her father. After the call, Greenhouse said that Emily had suggested that he consider bringing his expertise about the nation's workplaces to a potentially wider and different audience by writing a book.
He had other motivations. "My sense was that in many ways things have become worse for the nation's workers. I thought that the news media and politicians were ignoring what was happening; wages were flat, job security was going down the drain, health and pension benefits were getting worse, immigrant workers were being exploited horribly. People were being locked in at night or being made to work off the clock. As a reporter concerned about truth and justice, I thought I should write a book and let the world know.
"It's amazing," he adds, "that from 2000 to 2006 there was so little discussion at the national level about what was happening to workers."
The book gave him an opportunity to delve much more deeply into personal stories than he can in the newspaper, where few stories run more than 1,200 words. He traveled across the country, interviewing individual workers for four hours, six hours, sometimes a whole day. In his narrative, he tries to let people speak for themselves.
They include Chuck Moehling, a strapping six-foot-three high school graduate who earned $13.10 an hour after 22 years of working at a pepperoni plant in Jefferson, Wisc., where his job required him to lift 65-pound racks of pepperoni 600 times a day. Moehling didn't complain about the hard work because he and his working wife were able to live a middle-class life. His six a.m. to two p.m. shift meant that he could coach his sons' Little League teams and his daughter's soccer and basketball teams. They ate out once a week and took an annual vacation.
Then Tyson Foods acquired the plant. Management presented the workers with a list of demands: a freeze on wages and a lower scale for future hires, a health plan that would increase employee premiums from $360 to $1,400 per year and reduce coverage, a freeze on pensions, and cutbacks in vacation and sick days.
The 413 workers voted almost unanimously to strike, the first strike since the plant opened in 1876. The community supported the strikers, and the union persuaded other unions to donate hundreds of thousands of dollars. Tyson Foods, however, could afford to hold out. Ten months after the strike began, union leaders felt they had no choice but to resume negotiations because Tyson had brought in replacement workers who, at the one-year mark of the strike, could vote to get rid of the union. Moehling and his fellow strikers were forced to cave on every point.
Tyson also eliminated a productivity incentive that had increased Moehling's pay by as much as $10,000 in some years. Afterward, productivity at the plant plunged, but so did his pay. Now he works a second job, coaches only half as much as before, and the family hardly ever eats out or takes an annual vacation.
Moehling is an example of a disturbing trend: workers who believed they were solidly in the middle class who, through no fault of their own, find themselves descending the economic ladder. The pepperoni plant was not losing money. As Greenhouse notes, Tyson Foods wanted to send a message throughout the corporation that it would adhere to a low-wage standard.
Tyson Foods did not have to look far to find the model for this practice. Wal-Mart, the nation's largest private-sector employer, with 1.4 million workers in the United States, has led the trend for low-wage jobs. Greenhouse devotes an entire chapter to this company, which has been heavily criticized for forcing employees to work off the clock, locking them in at night, violating child labor laws, making illegal immigrants work seven days a week, and buying goods from Chinese sweatshops. His interest in Wal-Mart, however, is not limited to the company's unethical practices (which have moderated somewhat as of late) but extends to its pervasive influence on American corporate behavior.
Few companies have been the object of so much scrutiny for their social impact. Norman Lichtenstein, who teaches U.S. labor history at the University of California, Santa Barbara, and is at work on a book about Wal-Mart, calls it a "template firm," one that sets the standard for many other companies. The company overturned the consensus view that it was inefficient to pay workers so little that annual turnover becomes huge. Wal-Mart hires roughly 600,000 workers every year into jobs that require no experience and almost no training. Most of the jobs are 28 to 35 hours a week, pay barely above minimum wage, and offer minimal benefits. Employees are forced to work second jobs just to survive.
In an interview with Frontline, Lichtenstein said,  "That is eroding what we had thought of as sort of the standard of living of Americans which had been achieved in the mid-20th century. The idea of two jobs, of temporary employment, of a very weak relationship to the employer—that is, you may get fired at any moment or just quit—that becomes the norm, and there are lots of social pathologies generated by that."
Greenhouse also believes there is a social price to be paid when workers earn no more than $18,000 or so a year. "It makes it hard for them to be good parents, to put food on the table. You meet a lot of people out there who have two jobs or couples with three jobs; they can't afford childcare, so the husband will work 7 a.m. to 3 p.m., and as soon as he gets home, the wife works 4 p.m. to midnight. It makes it hard to get to PTA meetings or go to college to improve yourself."
For the tens of millions of people who work in the low-wage economy, the social contract has been broken. That contract had its origins after WWII when Walter Reuther, president of the United Auto Workers, was able to leverage post-war prosperity to win a series of contract breakthroughs with GM. Employees received significant wage increases, much improved health insurance, fatter pension contributions, and most important, a second pay increase over five years that was based on productivity increases and that steadily improved their standard of living. The contracts proved to be a bellwether for auto companies and other industries.
It was, as Greenhouse notes, an era of exceptional job security and stability. One-third of corporate executives worked for one company throughout their whole careers. America came to be seen as a land of prosperity where those who worked hard and played by the rules would be rewarded with a middle-class life and a secure old age. The Arab oil embargo of 1973 and subsequent inflation delivered the first hard blow to workers. After that, global competition, surging imports, deregulation, the outflow of manufacturing jobs, and labor unions' loss of members and bargaining clout all took heavy tolls. By the 1990s, Wall Street pushed companies to shed jobs ruthlessly to improve the bottom line. With the high-tech revolution and continued global competition, white collar and blue collar workers have suffered. The social contract is in tatters.
All of which leads to a conundrum: Given the deplorable state of low-wage workers and the spread of abuses described in The Big Squeeze into moderate-to-high-wage jobs, why aren't workers up in arms?
Greenhouse recalls a book he read while a student at Wesleyan, Philip Slater'sPursuit of Loneliness: American Culture at the Breaking Point (1970). Slater's central point is that social solidarity in America has declined.
The sense of shared purpose and destiny that came out of World War II, says Greenhouse, has given way to a country where people spend a lot more time by themselves watching television, Web surfing, or playing Xbox. "People feel that if they aren't doing well, it's their fault, it's not the boss's fault," he notes. "People have lost the muscle memory for how to pull together."
Yet pervasive inequalities may be building a level of resentment that could spill over into action. Richard Kahlenberg, a senior fellow at the Century Foundation, pointed out in Washington Monthly that 53 percent of nonmanagerial workers said in a 2007 poll that they would most likely vote for a union if they could—up from 30 percent in 1984. Kahlenberg, who reviewedThe Big Squeeze, argues that the labor movement needs to recast itself as engaging in a fight for basic human dignity, akin to the Civil Rights Movement.
The workplace landscape that Greenhouse sees in his travels and from theTimes's new building in midtown Manhattan is not entirely bleak. Costco, for example, is recognized for having the best wages and benefits of any general retailer in the United States. Workers earn an average of $17.92 an hour, 70 percent more than full-time workers at Wal-Mart. The company is the nation's fourth-largest retailer and is highly competitive. Timberland, the boot company, gives its workers 40 hours of paid leave each year to do community service. Patagonia, the outdoor apparel company, encourages employees to go surfing or cycling during extended lunch hours. All of these companies have shown that it's possible to make money and treat employees well. Nor are all unions in decline. Thanks to the Culinary Workers Local 226, workers in the casino and hotel industry in Las Vegas make far better money than their counterparts elsewhere.
But workplace hell remains much more common than workplace nirvana. Greenhouse has a number of prescriptions that range from raising the minimum wage and earned income tax credit, cracking down on employer theft of wages, guaranteeing that every American can obtain healthcare coverage and retirement security, to obligating unions to spend more on organizing and getting unions to appeal to a better-educated work force. In addition, he urges the nation's politicians and news media to treat workers with newfound respect, not just once every four years when presidential candidates tour labor states with television cameras in tow.
"We've lost more than one-fifth of our manufacturing jobs over this past decade, 3.7 million good middle-class jobs," he says. "That's scary, but it's hardly discussed. Income inequality is growing worse, and not enough is being done to help schools in low-income areas. We're seeing in this campaign that the candidates are addressing some of these issues. I think we as a nation are finally waking up and starting to face some of these serious challenges."