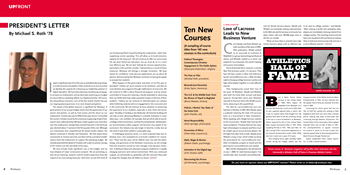 Chris Meade and Matt Wheeler are both members of the class of 2005. After graduation, Meade worked as an associate at Cushman & Wakefield in a group representing top financial clients, and Wheeler worked as a senior risk analyst for Guy Carpenter, the world's leading reinsurance intermediary.
The tie that binds them, however, is not the New York business world—it's lacrosse. They have left their careers in New York behind to launch LacrosseRecruits.com, a Web site dedicated to bringing college lacrosse coaches and high school players together in a more efficient manner.
Their backgrounds reveal their love of the sport. At Wesleyan, Meade and Wheeler were both four-time letter winners and team captains. During their senior year, Wesleyan received its first-ever bid to the NCAA tournament, advancing to the quarterfinals.
The idea for LacrosseRecruits.com was hatched in October of 2007 after Meade spent a weekend coaching the Utah U19 lacrosse team at a tournament in New Hampshire. While speaking with college lacrosse coaches at the tournament, Meade kept hearing the same complaints. Primarily, there are too many high school players to evaluate and there must be a better way to recruit lacrosse players. On the flight from New York to Utah, Meade wrote Wheeler a long e-mail, which ended up being the groundwork for LacrosseRecruits.com. Matt immediately jumped on board and the planning for LacrosseRecruits.com started.
After months of preparation, the site went live on July 1, 2008, for male lacrosse players. Five months later, they launched LacrosseRecruits.com for female lacrosse players. Meade and Wheeler are constantly making improvements to the Web site and the lacrosse community has taken notice, with over 100,000 page views in the first six months.
"What we have done is provide every high school lacrosse player with an efficient way to be seen by college coaches," said Meade. "After creating a profile and uploading video, players are immediately receiving interest from college coaches. The coaching community has been very receptive to the tool because it allows them to find and communicate with recruits in a more efficient manner."