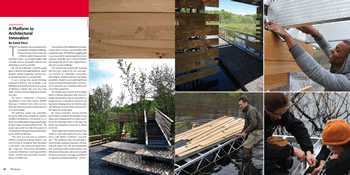 The designers were presented with a considerable architectural challenge. Create a structure to fit a unique site —a former cranberry bog covered in three feet of water—on a modest budget, make it durable and use sustainable materials and technology as much as possible.
Oh, and most important: it must be a good place to observe red-winged blackbirds, scarlet tanagers, hooded mergansers, and the occasional great blue heron or painted turtle.
It was a charge that would challenge seasoned architects, but to design it the Mattabeseck Audubon Society chose a group of Wesleyan students who were only a few weeks into their second college-level architecture class.
The result is "SplitFrame," a bird-viewing platform in the Helen Carlson Wildlife Sanctuary in Portland, Conn., that is at once fresh and welcoming without being obtrusive in its surroundings.
The ambitious project was undertaken during the 2008 spring semester by students enrolled in Architecture II, the second in a sequence of undergraduate design studios taught by Elijah Huge, assistant professor of art. The project was carried out under the auspices of The Architecture Research-Design-Build Studio, a new initiative at Wesleyan.
"The class was basically an academic triathlon composed of design research, real world testing of conceptual work developed in the studio, and community-based learning," Huge says. "The process exemplified a successful collaboration involving wonderful clients, talented and committed students, and an incredible site."
The president of the Mattabeseck Audubon Society, Alison Guinness, says the platform fills a significant need: "We had been struggling with a way to provide an optimal experience at our sanctuary, especially since a colony of beavers had changed the site to such a degree that access was a serious challenge."
The structure was created after meetings with the client, study of the site, and extensive research on sustainable construction technologies, building materials, and design precedents. Students constructed SplitFrame using only hand-held power-tools, and all on-site construction was completed without the use of heavy equipment.
The finished work consists of two integral pieces, a floating observation deck and an elevated viewing station, that are connected by a hinged staircase. It provides an immersive site experience, bringing visitors out onto the water, and offering an overview of the sanctuary from the maple tree canopy above.
By using an innovative, pre-cast concrete pin-foundation system for the elevated viewing station and a floating aluminum frame assembly for the observation deck on the water, the project was designed to minimize its impact on the site.
"Elijah Huge and his students have not only created a sustainable project but put in long hours under adverse conditions," Guinness says. "The architecture class was knee deep in mud and water, swatting mosquitoes, and dripping with sweat or rain. We were impressed by their architectural skills, professionalism, and dedication to the project, and we are very grateful that our sanctuary is once again available for a unique environmental experience."