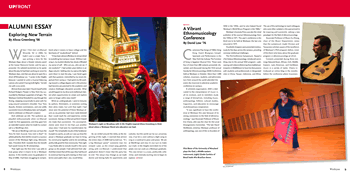 Cantonese Pop Songs of 1960s Hong Kong. Czech Bluegrass Gospel. Spectacle and Performance in the New York City Subway. The Function of Song in Egyptian Musical Film. These were four of more than 400 subjects presented, dissected, and discussed during the 53rd annual Society for Ethnomusicology (SEM) Conference held at Wesleyan in October. More than 1,000 scholars, musicians, students, and administrators from around the world attended the event, the most ever to attend an academic conference on campus.
A scholarly organization, SEM is dedicated to the interpretation of music in all its contexts, and its members study a range of disciplines, including music, anthropology, folklore, cultural studies, linguistics, and education to encourage multidisciplinary cooperation.
"It was significant to have the conference at Wesleyan this year because of its strong connection to the field of ethnomusicology," says Associate Professor of Music Eric Charry, who was the chair for the Local Arrangements Committee. "The late David McAllester, emeritus Wesleyan professor of anthropology, was one of the co-founders of SEM in the 1950s, and he also helped found Wesleyan's World Music Program in the 1960s."
Wesleyan University Press was also the initial publisher of the journal Ethnomusicology from the 1950s to 1971. This year's conference is the third one to be held at Wesleyan; the last one occurred in 1975.
Hundreds of papers were presented continuously for five days across the campus, providing nonstop intellectual challenges.
The Pre-Conference Symposium, Toward a 21st-Century Ethnomusicology, introduced something new to the annual SEM program—webcasting and videoconferencing that enabled participants in Middletown to have live discussions with students and professionals in designated sites in China, Taiwan, Indonesia, and Africa. The use of this technology to reach colleagues who were often isolated in the past proved to be inspiring and successful, setting a new paradigm for the field of ethnomusicology.
Associate Professor of Music Su Zheng, chair of the Music Department, notes that the symposium made Chinese and Taiwanese scholars aware of the excellence of Wesleyan's PhD program; before, most of the them only knew about the graduate program in ethnomusicology at UCLA.
Concerts presented during three evenings featured Asian, African, Irish, Middle Eastern, Latin American, and Caribbean music in a variety of styles. Charry introduced an online blog in the months before the conference where musicians could sign up to perform in concert. The performances allowed musicians to hear each other's music and play with each other. Adjunct Professors of Music Abraham Adzenyah and B. Balasubrahmaniyan were among the more than 100 performers. One of the concerts featured the rare opportunity to hear a number of Ghanaian drummers who are teaching across the United States perform together.
Faculty and alumni joined in offering workshops, including South Indian Solkattu with Artist in Residence David Nelson PhD '91, Javanese Gamelan with Artist in Residence I. Harjito, Shape Note Singing with Professor of Music Neely Bruce and current ethnomusicology graduate student Tim Eriksen MA '91, Peking Opera Percussion with PhD candidate Po-wei Weng, and Hollywood Film Music with Professor of Music Mark Slobin and Corwin-Fuller Professor of Film Studies Jeanine Basinger.
"One of the things participants liked most were the concerts and workshops," says Professor Zheng. "They found it stimulating, refreshing, and endearing to play music together."
Rob Lancefield '82, who received a PhD in ethnomusicology from Wesleyan in 2005, has been regularly attending SEM conferences since 1990. "For me, the best thing about being at each SEM meeting is the opportunity it provides to have informal, face-to-face conversations with other scholars working on topics of shared interest," he says.
Slobin comments, "I talked to one veteran ethnomusicologist who has been to many conventions who said that this was the best meeting she had been at anywhere, ever."
And Charry adds: "The introduction of teleconferencing and the amazing variety and number of concerts and workshops contributed fresh elements to the program. Having the conference at Wesleyan renewed our status as a leader and an innovator in the field."