Rise of Retail, Thai Style
BY ERIC GERSHON '98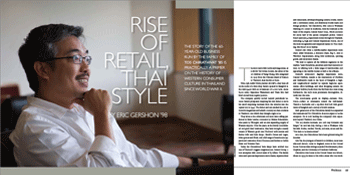 THE STORY STARTS WITH BOOKS AND MAGAZINES, as it did for Tos' father, Samrit, the eldest of the 26 children of Tiang Cheng, who emigrated in 1927 from the Chinese island of Hainan to Thailand, then known as Siam.
Time, Life, Ladies' Home Journal, McCall's—they were all on the racks of a little shop Samrit opened in Bangkok in the mid–1940s with an investment of 2,000 baht, about $900 today. Expatriate Westerners and Thais who had lived abroad were regular patrons.
The company quickly moved beyond periodicals because Samrit prospered, inspiring his own father to move his small importing business from the suburbs into the capital city in 1947. The father and son studied the ads in Samrit's magazines and beheld a bounty not then available in Thailand—but which they thought ought to be.
They wrote to the advertisers and soon were selling perfumes by Estee Lauder, cosmetics by Helena Rubenstein, blue jeans by Wrangler, and an ever–expanding supply of Western imports. Over the years, as the family consolidated and grew their businesses, they have brought a steady stream of Western goods into Thailand: bell–bottoms and Barbie dolls and hula hoops, Rubik's Cubes and Legos, video games and iPods, and a full range of brand–name apparel and cosmetics, from L'Occitane and Revlon to Calvin Klein and Vivienne Tam.
Today the Chirathivats' little shops have evolved into one of Thailand's biggest conglomerates, Central Group, a vast enterprise with annual sales of $3 billion. The family owns and operates department store chains, supermarkets and restaurants, develops shopping centers, hotels, resorts and a convention center, and distributes locally made and foreign products. Tos Chirathivat, who came to Wesleyan thinking of a career in medicine, runs the business at the heart of the empire, Central Retail Corp., which accounts for about half of the parent company's profits. Central Retail operates 34 department stores throughout Thailand, including 14 high–end Central Department Stores, one of the most recognizable and respected names in Thai retailing, like Macy's in its heyday.
Central also owns a middle–market department store chain called Robinson, a discount chain, Big C, akin to Wal–Mart Supercenters, along with bookstores, sporting goods, and electronics chains.
"We tried to capture all the different segments in the market," says Chirathivat, president and chief executive officer, by offering both a wide range of merchandise and appealing to the middle classes as well as the affluent.
Central's seven–story flagship department store, Central Chidlom, stands at the intersection of Chidlom and Sukhumvit roads in the heart of Bangkok, a high–end neighborhood marked by upscale high–rise apartments, office buildings, and other shopping centers. An elevated walkway leads from the SkyTrain that runs along Sukhumvit, the city's most prominent thoroughfare, directly into the store.
The brand–name goods on display—Armani, Dior, Gucci—reflect an orientation toward the well–heeled. There's a Starbucks and a top–floor food hall with grand views of Bangkok and a survey of world cuisines.
Each generation of the Chirathivat family has expanded the business and Tos Chirathivat does not expect to be the exception. He is now leading the company's first expansion beyond Thailand, into China.
"For any sizable business, you can't stay domestic any longer," he said last July, during a visit to Wesleyan with his wife, Sookta, mother, Vanida, and sons, Arcan and Rit. "You have to be international."
As a clan, the Chirathivats have been globetrotting for decades.
Like Tos, the youngest of Samrit's 10 children, most were educated abroad, some in England, some in the United States. Various older siblings attended Northwestern, Johns Hopkins, and the University of Southern California.
Chirathivat first home in the United States was Miami, where in 1979 he went to live with a sister who was working as a physician. During high school in Florida, he came upon Wesleyan in a college guide and liked its New England location, small size, and commitment to the liberal arts. He arrived on campus in the fall of 1981.
Chirathivat recalls being Wesleyan's only Thai student then, a distinction he noticed but says didn't bother him. In retrospect, he says, "It would be good to have had college friends from home."
Today, the Freeman Asian Scholar Program alone annually brings dozens of students from any of 11 Asian nations to Wesleyan including eight Thais currently enrolled. In all, about 200 Freeman scholars have graduated from Wesleyan since the program began in 1999.
Despite initial preparations for medical school, he majored in economics at Wesleyan and spent his junior year at the London School of Economics. Upon graduation, he began training for a life in the family business: His first job was at the Herald Square Macy's in Manhattan.
"At the time, Macy's was known to be the best training ground for department store retail," he says.
Chirathivat worked in women's wear and electronics sales, though he really wanted a position as a buyer, because in the retail department store, he says, "buying is pretty much the heart of it."
Told he would need to wait two years, he instead applied to business school, enrolling at Columbia in 1986 and graduating two years later with a MBA. After nearly a decade of life in the United States, the world's most developed consumer society, he returned to Thailand as an investment banker with Citibank.
It was all preparation for an executive role at Central.
Over the years, he has worked in several divisions, developing condominiums and shopping centers and launching the Big C Supercenters, as well as a sporting goods chain called Supersports. In 2002 he became Central Retail's top executive.
While the grand American department stores of the mid–20th century—Macy's and Bloomingdale's especially—served as the early sources of inspiration for the Chirathivat clan, those stores have become "tired" though lack of innovation, market fragmentation, and intense competition, leading to an uninspiring homogeneity, Chirathivat says.
"They need renovation and new energy," he adds. "Stores must be fashionable and exciting."
To keep its own stores lively, Central has for decades placed a premium on style and presentation and sought to engage consumers with live events related to its wares. To highlight Italian products, it hired glass blowers from Murano to give demonstrations; to highlight the United States, it once installed a NASA lunar rover. Central offers crafts workshops in knitting and floral arrangement, and hosts an annual fair for watchmakers and a flower show.
The close attention paid to design is reflected in details such as hip product displays, loft–like exposed beams, and hanging lanterns. These help create a relaxed atmosphere in which affluent shoppers mingle among university students, tourists, and locals escaping from Bangkok's heat. Besides clothes and cosmetics, the store's departments include electronics, home goods, sporting goods and, of course, books and magazines.
The goal now is to bring that same liveliness to China, where the company expects to open its first department store outside Thailand in late 2009, near Shanghai. Thereafter, Central plans to open four stores a year for about 10 years.
Like businessmen worldwide, Chirathivat has his eyes on China's vast population, more than 1.3 billion as of July, and its fast–growing cities and rising prosperity.
Other foreign department store retailers already have footholds in China, but Chirathivat views them as "underdeveloped" and says they emphasize clothing apparel. Besides private–label, Thai and Western products, Central will offer home wares and other traditional department store goods, as well as arts and cultural events.
With Central's strong contingent of ethnic Chinese in its management ranks, he believes the company will be able to capitalize on an intuitive feel for China to replicate Central's variety and pizzazz in the country.
"It's so large, it's unimaginable," he says of China's economic and infrastructure growth. "Every month you go, there's something new. You think it's gong to crash, but it doesn't. China now has more highways than America. And they're all new."
Even as Central Group has expanded—it employs about 63,000 people—and taken on outside investors, it has largely remained a family enterprise. Chirathivat is one of about 160 close relatives who work in various roles within the conglomerate, including seven of his nine siblings. The eldest family member still working for the company is 82 years old. The youngest is 22. Samrit, his father, died in 1992.
Family members typically get their start in the business as children, as Chirathivat did, at age 10, working in toy department sales. "We competed on making the highest sales," he says.
When he came to Wesleyan last July, he brought 30 books about Thailand. He expressed a great deal of interest in the Freeman Asian Scholars Program.
"I think it is a very honorable program," he says. "For Thai students, most of whom come from families who are still financially weak, it is the chance of a lifetime to study in America and especially at Wesleyan, a top university. For American students it is great exposure for them to meet people from around the world, since, as we know, the big issue facing the world is communication, respect, and understanding between people of different backgrounds."
Eric Gershon '98 is a business writer for The Hartford Courant. Joel Gershon '94, a freelance journalist, contributed reporting from Thailand. They are second cousins.