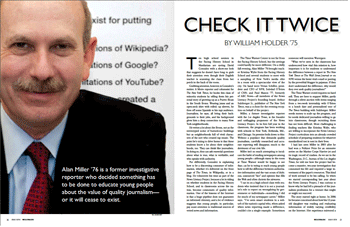 Ten high school seniors in the Facing History School in Manhattan are eyeing David Gonzalez with a show–me look that suggests he doesn't have long to grab their attention even though their English teacher is scanning the class from her perch in the back of the room.
Grabbing attention, however, is Gonzalez's metier. A Metro reporter and columnist for The New York Times, he hooks this class of minority students by telling them his personal story of growing up as a Puerto Rican in the South Bronx. Wearing jeans and an open–neck shirt with rolled– up sleeves, he fires off some Spanish to his rapt audience. Journalists, he says, all bring their backgrounds to their jobs, and his background gives him a deep connection to many New York neighborhoods.
He writes a lot about the Bronx, not as the stereotyped scene of burned–out buildings but as neighborhoods full of vivid characters of the sort who created rap music. The point he's trying to drive home is that these students know a lot about their neighborhoods, too. They can think like journalists. In doing so, they can ask essential questions about what is true, what is verifiable, and who speaks with authority.
Put differently, Gonzalez is explaining how to be a discerning consumer of information, whether it's delivered on the front page of The Times, in Wikipedia, or in a blog. He volunteers his time as part of the News Literacy Project, because a lot is riding on whether students in the Facing History School, and in classrooms across the nation, become consumers of quality information. One of the lessons of the Internet is that a huge pipeline does not guarantee an informed citizenry, and a lot of evidence suggests that young people, in particular, pay scant attention to traditional sources of vetted news and information.
The Time Warner Center is not far from the Facing History School, but the settings could hardly be more different. On a chilly fall evening, Alan Miller '76 brought teacher Kristina Wylie from the Facing History School and several students to meet with a sampling of New York's media elite in a room with a spectacular view of the city. On hand were Vivian Schiller, president and CEO of NPR; Soledad O'Brien of CNN; and Paul Mason '77, formerly of ABC News—all members of the News Literacy Project's founding board. Arthur Sulzberger Jr., publisher of The New York Times, was a co–host for the evening reception on behalf of the project.
Miller, a former investigative reporter with the Los Angeles Times, is the founder and unflagging proponent of the News Literacy Project. In its first full year in the classroom, the program has been working with schools in New York, Bethesda, Md., and Chicago. Its premise boils down to this: Without a populace that demands quality journalism, carefully researched and accurate reporting will disappear, much to the detriment of our civic life.
Miller isn't so much attempting to inculcate the habit of reading newspapers among young people—although many in the room at Time Warner would be happy to see that—as he is trying to teach young people how to tell the difference between authoritative information and the vast ocean of dubious, unsourced "fact" and opinion that fills the Web and often clutters the airwaves.
"I sat in on a high school class with students who insisted that it is not a journalist's role to report on wrongdoing by government or individuals—something I did for much of my newspaper career," Miller says. "I've seen smart students in a suburb of the nation's capital who, when asked when news reporting made a difference, couldn't cite a single example. Sometimes someone will mention Watergate.
"What we've seen in the classroom has underscored how vital this mission is, how important it is for students to understand the difference between a report in The New York Times or The Wall Street Journal or on NPR versus the latest viral e–mail or posting by the proverbial blogger in pajamas. If they don't understand the difference, why would they ever seek quality journalism?"
The Time Warner crowd requires no hard sell. They are here to support Miller, partly through a silent auction with items ranging from a two–week internship with O'Brien to a lunch date and personalized tour of The Times building with Sulzberger. Miller needs money to scale up the program, and he needs dedicated journalists willing to go into classrooms, though recruiting them has not been difficult. More challenging is finding teachers like Kristina Wylie, who are willing to incorporate the News Literacy Project curriculum into an already crowded schedule of preparing students for whatever standardized test is next in their lives.
I had last seen Miller in 2003 after he had won a Pulitzer Prize for an extensive series on the Marine Corps Harrier jet and its tragic record of crashes. As we sat in the Washington, D.C., bureau of the Los Angeles Times, he told me how the project had become a massive, two–year investigation that consumed his life and required a large investment of the paper's resources. This kind of work seemed to be his calling. So when we started corresponding last year about the News Literacy Project, I was curious to know why he had left a pinnacle of the journalism profession for a venture that might or might not succeed.
The story started right at home. In 2006 he became concerned about how his 12–year–old daughter was reading and evaluating information of widely varying credibility on the Internet. Her experience mirrored a larger trend in society—young people were turning to the Web for information without much understanding of how to judge quality. They have little regard for newspapers, and Miller doesn't fault them. "I had long felt," he says, "that the news business did not do a good job of telling the public what we do, how we do it, and that we are on the public's side."
He was invited to speak to 175 sixth graders in his daughter's Bethesda middle school. He received thank–you notes from nearly all of the students for his discussion of his work and why journalism matters—and a hug from his daughter. Two weeks later, at Wesleyan, he joined a panel discussion with Ethan Bronner '76 of The New York Times, moderated by Alberto Ibarguen '66, president and CEO of the Knight Foundation, to discuss the imperiled news business. Afterward, he broached his idea for a nonprofit to Ibarguen, who encouraged him to pursue it. Knight subsequently became the project's initial funder.
Miller was on leave from the Los Angeles Times in March of 2008 when Sam Zell, owner of the paper and other media assets in the Tribune Company, announced that he intended to decimate the D.C. bureau. That day, Miller submitted his application for a buyout and ended a 29–year career as a reporter. He has not looked back.
"Journalism to me has always been a calling, not just a craft. I view the News Literacy Project as my second journalistic mission," he says.
This mission might be a lot harder than finding out why the Harrier jet was so deadly. Aside from the difficulties of introducing the News Literacy curriculum into classrooms, Miller is pushing against a cultural phenomenon that has devastated the newspaper industry, including the staff of the Los Angeles Times, and sent many seasoned, insightful reporters of his caliber into alternative careers or retirement.
It's not just that credible news has to compete with shrieking heads and the endless supply of information on the Internet. Many young people are not convinced that one source of information is necessarily better than another or that mainstream media occupy a place of privilege in the hierarchy. Indeed, for some the opposite is true.
"There's quite a bit of skepticism about what's known as the mainstream media," Miller says. "At the high school level, students sometimes view everything with a jaundiced eye. They might feel that all news is driven by bias, whether commercial, political, or personal. If all information is created equal, then there's no need to differentiate between a news story, with sources and documentation; or opinion, raw information; or propaganda, which may have been created with an entirely different purpose and a different level of credibility.
"It is a revelation for students to hear journalists talk about what it takes to get a story into a newspaper or onto a network news broadcast—the reporting, the verification of information, the vetting through editing and the production process, the concerns with fairness and bias, and the accountability for mistakes."
The problem of assessing quality in news and other information may be most acute in young people, but it's hardly limited to them. In an opinion piece published this past April in USA Today, Miller and a co–author noted that 70 percent of respondents in a Pew survey reported feeling overwhelmed by the amount of news and information from different sources, and 72 percent think most news sources are biased.
"If all information is created equal, as the flattened informational landscape sometimes suggests, why will anyone seek out quality journalism—especially if we think it's all driven by bias anyway?" he asks.
Mason, a member of the News Literacy Project Board, says that although young people may have difficulty judging quality, they are not disengaged. They want to understand how to participate in significant conversations and how to add value whether they are blogging, texting, or e–mailing. In this respect, he finds Miller's program to be particularly timely.
"Alan has a vision and he believes in it," Mason says. "He's tenacious and infectious." Addressing the demand for quality news and information, he adds, is a novel idea that cuts across all means of delivery—from newspapers to iPads.
The informational landscape is likely to remain flat, crowded, and full of interesting new experiments, particularly as more Americans acquire access to high–speed Internet access through the Federal Communication Commission's National Broadband Plan. The only way to avoid feeling overwhelmed by news, short of going off the grid, is for individuals to develop their own skills for sorting value from verbiage.
News organizations could make it easier for individuals to discern quality. In aColumbia Journalism Review article published in the summer of 2009, writer Megan Garber suggested that news literacy "has the potential to transform itself from the cause of a committed few into a powerful national movement." The opportunity is for news organizations to "re–brand themselves" as providers of public–service journalism rather than purveyors of content that is based on focus groups. The challenge, she said, is that this transformation will require news organizations to join the effort in a big way.
And what if that doesn't happen? Already, three–quarters of high school students believe flag burning is illegal, according to a 2005 Knight Foundation report, and half believe the government has the power to censor the Internet. If we spiral downward into what some have called a post–fact society, civic discourse faces a bleak future.
After a session at Facing History School, Miller walks up 50th Street, suitcase in tow, searching for a Starbucks before catching a train at Penn Station. Over a quick lunch, he talks about the first full year of the News Literacy Project, and he is full of optimism.
In July CBS News and Reuters became the 16th and 17th news organizations to join the News Literacy Project, and in April the Ford Foundation awarded the organization a $150,000 challenge grant in support of its work (Ford's second grant to the project in two years). In the past school year, the project worked with 17 teachers in seven middle and high schools in New York City, Bethesda, and Chicago, reaching about 1,200 students. More than 75 journalists spoke to students or worked with them on projects. The program will be adding new schools in all three locations in the fall.
The educators who have participated in the program are enthusiastic.
"Virtually all the outside programs that seek to come into our school claim that they build critical thinking skills," says Gillian Smith, principal of the Facing History School. "The difference is that the News Literacy Project actually helps students to achieve these skills. It is a program that is rich in experience and rich in education.
"In a short time we have seen the project make a difference in students' writing, in their attention to detail, in how they read and how they react to and understand a text. We've also seen a noticeable impact on students' self–esteem when accomplished journalists take time from their busy schedules to come to our school to speak to and work with our students."
Miller and his associates make sure that journalists are well prepared to take on classrooms, which present challenges far different than newsrooms. The results can be eye–opening for students. In an article he wrote for Nieman Reports, based at Harvard, Miller described how Washington Post reporter James Grimaldi quizzed students on what they knew about a shooting that had occurred near the school the previous evening. He pressed them on how they had learned about it, whether they believed what they had heard, and why.
Brian Rokus, a CNN producer, showed students video excerpts from a report he did with Christiane Amanpour about the New York Philharmonic's trip to North Korea in 2008—giving the class a firsthand account of a country with no First Amendment protections and national media that caters to every whim of the Stalinistic leadership.
NPR ombudsman Alicia Shepard asked students to find out everything they could about her in advance of her visit. One named the street where she lived, another said she taught at American University, and a third said she had attended her high school reunion. All were wrong, which provided a pointed lesson in checking the accuracy of information.
As vivid as these experiences may be, the News Literacy Project could not make a serious dent in public education with many times the number of journalists it enlists. This is particularly true since the growing emphasis on test scores, standards, and the No Child Left Behind Act has constrained the ability of many teachers to incorporate a curriculum of the sort Miller offers. As he finishes his sandwich, he says that a different model will be needed to scale up the program—one that relies more upon delivery of content online. That's a work in progress.
"We're just completing our first full year in the classroom," he says. "We've demonstrated considerable initial impact and great promise for the future. We're seeing growing demand. One of our biggest challenges is to raise the resources to meet the demand and to bring the project to scale through the use of digital platforms.
"But I think there is now a growing recognition of the need to give students the tools to evaluate and utilize the vast array of digital information to which they are exposed."
He likes to quote two students, Colin Mealey and Adam Schefkind, who clearly got the message of the program, as revealed in the final project they wrote and performed: "Wikipedia Rap."
It's really important to know what to believe.
You gotta know where and why and what to read.
Search your information and check it twice.
'Cause getting it wrong will come at a price.
http://www.thenewsliteracyproject.org/