By Katherine Jamieson '96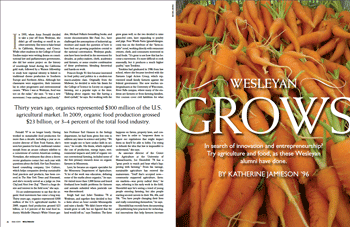 In 1995, when Anya Fernald decided to take a year off from Wesleyan, she didn't go off traveling or enroll in another university. She went to bake bread in California, Montana, and Greece. While other students in the College of Social Studies major were writing theses on constitutional law and parliamentary government, she did her senior project on the history of sourdough bread during the California gold rush, followed by a Watson fellowship to study how regional identity is linked to traditional cheese production in Southern Europe and Northern Africa. Although her classmates were supportive, their interests lay in other progressive and environmental causes. "When I was at Wesleyan, food was not on the radar," she says. "It was a new movement. I was casting about, and lonely."
Fernald '97 is no longer lonely. Having worked in sustainable food production for more than a decade, including a year as executive director of Slow Food Nation, she's seen her passion for local, traditional cuisine morph from an arcane culinary sideline to a cornerstone of current American cooking. Nowadays, she estimates that about a dozen recent graduates contact her each year with questions about the field. Her San Francisco–based consulting company, Live Culture, which helps companies develop sustainable food practices and products, has been covered in The New York Times andNewsweek, and she's recently served as a judge on Iron Chef and Next Iron Chef. "There's a huge desire and interest in the field now," she says.
It's an understatement to say that the organic food movement has come a long way. Thirty years ago, organics represented $300 million of the U.S. agricultural market. In 2009, organic food production grossed $23 billion, or 3?4 percent of the total food industry. Michelle Obama's White House garden, Michael Pollan's bestselling books, and recent documentaries like Food, Inc., have challenged the assumptions of industrial agriculture and made the question of how to best feed our growing population central to the national conversation. Wesleyan graduates have been involved in the movement for decades, as policy–makers, chefs, academics and farmers, or some creative combination of these professions, blending theoretical and hands–on work.
Prescott Bergh '81 first became interested in food policy and politics in a student–run macro–analysis class. Originally from the Midwest, he decided to write his thesis for the College of Science in Society on organic farming, not a popular topic at the time. "Talking about organic was like having a third eyeball," he says. But working with the late Professor Earl Hanson in the biology department, he had been given free rein to address any issue in science and policy. "We were taught not to have undue faith in science," he recalls. His thesis, which explored the cost of production, energy input, environmental impacts and yield of organic versus conventional farming, included some of the first primary research done on organic farmers in Minnesota.
Later, he became an organic specialist for the Minnesota Department of Agriculture. "A lot of the work was education, defusing some of the myths about organics," he says. He visited more than 1,000 farms and heard firsthand how health problems for farmers and animals subsided when pesticide use was discontinued.
Bergh had met Juliet Tomkins '78 at Wesleyan, and together they decided to buy a farm about an hour outside Minneapolis and raise a family. "We didn't know what we would grow or sell, but we figured that the land would tell us," says Tomkins. The farm grew grass well, so the two decided to raise grass–fed cows, later expanding to poultry and pigs. Four Winds Farm (grassfedangus.com) was on the forefront of the "farm–to–table" trend, working directly with restaurant owners, chefs, and consumers interested in local foods. "It's great to see how this has become a movement. It's more difficult to cook seasonally, but it produces a much higher quality," says Tomkins.
Tomkins had graduated in 1986 from law school, where she became involved with the Farmers Legal Action Group, which represented small family farmers against the federal government. She now teaches undergraduates at the University of Wisconsin, River Falls campus, where many of the students are farmers or from farming families. Her courses cover civil liabilities for what happens on farms, property laws, and contract laws in order to "empower them to figure out regulations that might impact them so they'll be able to lobby. I'm trying to debunk the idea that law is impossible to understand," she says.
As associate director of the Center for Agriculture at the University of Massachusetts, Joe Shoenfeld '78 has a "great perch to watch and hear what's happening with farming." From his vantage, sustainable agriculture has entered the mainstream. "Stuff that's accepted now—community supported agriculture, farmers markets—was pretty radical then," he says, referring to his early work in the field. Shoenfeld says he's seeing a trend of young people entering farming, but also people starting second careers in their 30s, 40s, and 50s. "You have people changing their lives and really committing themselves," he says.
Shoenfeld has recently been documenting and publicizing best practices for technological innovations that help farmers increase sales. Farmers who use Twitter or other social media to let people know that the peach crop is in have been particularly successful. "Farms in New England are really connected to communities, so it's the perfect vehicle to reach customers," he says. He's also observed that farms are posting videos on YouTube, like the fruit growers he worked with who put up demonstrations on how to prune orchards. "The use of social media has helped attract more people in their 20s and 30s to get involved."
A professor of design and communications at DePaul University, Jason Greenberg '88 has been teaching about sustainable agriculture in a highly urban setting. Greenberg developed an innovative freshman honors program class titled, "Green Design/Bicycle Chicago," in which students bike all over the city visiting "sustainable urbanism" sites. "I love the idea of using biking and sustainability as a pedagogical model. There's something very physical and tangible about putting yourself on a bicycle and being in the world," he says. Greenberg's class spends a good deal of time visiting community gardens, including Ginkgo Organic Gardens, which is the oldest continually operating community garden in Chicago. The garden produces more than 1,500 pounds of vegetables, herbs, fruits, and flowers each year for local nonprofit organizations, including a hospice serving people with HIV and AIDS.
Although they were both in the creative arts programs at Wesleyan, it wasn't until he moved to Chicago that Greenberg met his life partner, Vicki Walden '90. Greenberg's pedagogy has also influenced their personal life. Several years ago they started a small–scale organic farm behind their single–family house in the Logan Square neighborhood of Chicago. Greenberg says he was amazed by the results, which included enough vegetables to feed his family of four, and a two–thirds reduction of the waste stream from his house. His young children, Maci and Meka, who garden as part of the curriculum in their Chicago Waldorf School, also got into the game, digging, seeding, planting, and weeding to maintain the gardens. An English and studio arts major, Greenberg says that his experience at Wesleyan inspired him to integrate non–academic sources and applied experiences for knowledge and learning, and to "make the transition from the ivory tower to the real world. The model of the university is not just that you do your homework and go party, but you do it and think about how it applies to the world, and do something about it," he says.
Simon Frost '99, an anthropology and architecture major at Wesleyan, says that his motivation to go into agriculture was spurred by the realization that people are lacking a sense of place in modern society. "I thought, maybe this is why I don't know where I belong. I'm eating food from God knows where when I should be eating food my neighbors or I are growing. I was horrified about what people were eating, and the situations animals were living in, eating grain shipped across the world. It's totally different from how food should be," he says.
Frost began his work on a biodynamic farm in upstate New York. Biodynamics, a style of farming developed by philosopher Rudolf Steiner, is based on the principle that a farm should be a self–sustaining entity and avoid the use of commercial fertilizer and pesticide as much as possible. Frost learned how to manage the nutrient flow of the land by using manure on the soil and growing cover crops. When he and his wife, Jane, bought their own land in Whitefield, Maine, several years later, they committed to using many of the same principles in their own growing. "Our belief is that every piece of land can be used for the production of food, but that all land is unique and has different attributes that need to be harnessed to make a viable farm business," he says.
The Frost's land demanded a complete transformation. It hadn't been tilled in 80 years and had returned to hardwood forest, the only evidence of its past incarnation as a farm the miles of stone walls marking the borders. The couple used pigs, chickens, and goats to reclaim about eight acres of the land, and established four acres of gardens. Initially, the Frosts were selling their vegetables at local farmers markets, but found that they couldn't produce enough income during Maine's short growing season. After harvesting 1,000 pounds of cabbage, they decided to explore fermentation as a way of preserving their vegetables and increasing the potential for wholesaling. Using lacto–fermentation, they transformed the cabbage into sauerkraut, with caraway and juniper berries, and started retailing it around the state.
In the past several years, the Frost's farm (thirtyacrefarm.com) has more than quadrupled in size and their products have diversified. Frost says that the niche aspect of their business has helped enormously. "We don't have to grow and sell at the same time, and we have time in the winter to market and figure out distribution." Although he's found a way to make his farm viable, Frost recognizes the enormous pressure that most small farmers feel. "There are a lot of social issues that need to be addressed in terms of keeping small farms vibrant in this country? this is a more pressing concern than people realize," he adds.
Just down the road from the Frosts in Warren, Maine, another Wesleyan farmer, Reba Richardson '98, has created a viable farm using the Community Supported Agriculture (CSA) model. CSAs run as a kind of cooperative business, in which families or individuals invest in small–scale farms in return for a share of the crops. Richardson's farm has 135 families in its CSA, including 60 members from a local Unitarian church, and wholesales the equivalent amount to food cooperatives. The families are supplied with vegetables from Hatchet Cove Farm (hatchetcovefarm.com) for six months of the year, and partnerships with local cheesemakers and blueberry farmers have allowed them to expand their offerings.
Richardson, whose "major food group in college was Pop–Tarts," became interested in agriculture after working in the labor movement, where she met her husband. They soon realized that labor organizing wasn't conducive to raising a family and switched to farming. "A lot of our peers are first–generation farmers, many of them college–educated, and are coming to farming from an environmental and political angle. It's definitely a new perspective," she says. The farm hires four apprentices at a time for stays of two weeks to six months, and they're now getting more than 200 applicants. "It's definitely the hot thing right now," she says.
Hatchet Cove also focuses on sustainable growing practices, and Richardson has started to use farm implements from previous eras to support her small–scale business. She says she finds the best ones at garage sales.
Recent Wesleyan graduates who are interested in farming often struggle with the idea of pursuing such a financially uncertain path. Emily Palmer '08, who was originally studying to be a veterinarian, says she came to farming through her experience treating livestock. "It was hard to reconcile getting an expensive education and simultaneously realizing that I wanted to be a farmer," she says. Fortunately, Palmer's family has been very supportive. While at Wesleyan, she climbed the ranks in farming by interning, apprenticing, and leading field crews. After graduation she worked as a farm manager for an organic farm dedicated to community supported agriculture.
Palmer says that the transition from a conventional career path has been challenging. "I've worked really hard in an academic context, and I'm used to having life be very linear," she says. But an agricultural career is far from linear, and young farmers can apprentice for years before getting the opportunity to start their own businesses. Young farmers don't typically have the financial capital to buy land. "There's no infrastructure for this. I could get hired as an apprentice anywhere, but when you say, 'I'm ready, I want my own show,' it's like falling off a cliff—there's just no place to go." Palmer sees it as a bottleneck: with a groundswell of interest from young farmers and proven consumer demand, more farms need to be established. This past year she found space in Vineyard Haven, Mass., and now is growing food for a local restaurant. "At last, I found my own show," she says.
Wesleyan students can now get involved with farming while still on campus. Long Lane Farm, located on almost two acres of the former school grounds near the athletic center, has been producing crops of chard, kale, corn, tomatoes, bok choy, peppers, peas, garlic, and carrots since 2004. Alex Ketchum '12, who helps run Long Lane and manages "Farm House," a new specialty housing option focusing on food politics, says the goal of the farm is educational as well as practical. The annual Pumpkin Festival and a May Day event bring out the Wesleyan and Middletown community for music, arts and crafts, and farm tours. Long Lane also donates to local food pantries, and sells produce along with other local producers at the weekly farmers market on campus. Ketchum emphasized that the farm is non–hierarchical and encourages involvement, at any level, from the student body. "It's everybody's farm," she says.
As popular as the sustainable agriculture movement has become in recent years, graduates in the field stress that much more education and advocacy is necessary to create lasting change. "A lot of nonprofits are good at explaining what's wrong with our food system, but it's not clear how that's going to make a difference," says Fernald. Recently, her consulting firm began work with a chain of restaurants in Alabama, which buys five million pounds of pork per year. The owner had tried the pork at a farm market and wondered why it tasted so much better than the factory–farmed pork they were getting from suppliers. Fernald's company is laying the groundwork for them to procure their meat locally. "People want to do the right thing, but they don't know how and they need to make money. We have to get beyond the idea that everyone has to be a martyr to produce small–scale food," she says.
Regardless of the challenges, graduates agree that agriculture is overall an incredibly rewarding field. "I see it though the lens of what the farm means to the community. It links back to all the things I cared about in college," says Richardson. And Palmer's dedication to her work echoes other graduates: "I can't imagine doing anything else."
Katherine Jamieson '96 is a freelance writer and professor of literature and communications in western Massachusetts.
Stepping Stones Between Farms and Kitchens
By Melissa Pasanen
On a late spring day, Martin Kemple '83 leads a quick tour of the small central Vermont farm run by his nonprofit Food Works at Two Rivers Center. He points out where high school students will soon plant potatoes and explains that the thousand new trees along the river's edge will help stabilize the bank. In the historic farmhouse, Kemple shows off a recently completed 12,000–square–foot root cellar, which will store locally farmed food destined for area food shelves, senior meal sites, and schools.
After Kemple majored in religion at Wesleyan, the New York State native earned a Watson fellowship to investigate modernization in rural Africa. "I thought we had something to learn from those communities," he recalls, "that we should recreate a way of thinking that values agricultural traditions." In 1987, he co–founded the award–winning Montpelier–based Food Works to fight hunger and broaden access to local foods through a diversity of services from gardening and cooking camps to connecting farmers with programs that serve the needy. "We're rebuilding a regional food system," Kemple says, "making sure farmers are paid a fair price, restoring the soil as we grow the food, and giving more people the tools to get fresh food and better nutrition."
The 1836 farmhouse will become the organization's heart, a hands–on food and agricultural center with the goal of educating and empowering people to provide their own food from soil to table. The next major piece is renovating the first floor into a community teaching kitchen and food processing center, a design developed in collaboration with students at the nearby New England Culinary Institute (NECI), co–founded in 1980 by Fran Voigt '62.
Voigt came to Wesleyan from rural Iowa and was in the first class of the College of Social Studies, where he thrived under its intimate, rigorous, interdisciplinary approach. "That program shaped me," he says. He went on to become a college educator and administrator and pulled from his Wesleyan experience to develop NECI's academic philosophy. The school has been widely recognized for its small classes, hands–on approach, and cultivating the connection between local food and caring for the land. It was honored as Cooking School of the Year by the International Association of Culinary Professionals and was called "one of the nation's finest culinary schools" by Saveur magazine. Food Network star Alton Brown is among its high–profile and supportive alumni.
Tristan Toleno '93 was a NECI student in 1996 when the culinary school and the Vermont Department of Agriculture co–founded the nonprofit Vermont Fresh Network (VFN), which supports local agriculture by connecting chefs with farmers and food producers. "It is our responsibility to educate our students from the ground up—from the garden to the plate," Voigt said at the time. This was a lesson not lost on Toleno, who had decided to pursue his love of food and cooking as a career after studying philosophy and religion at Wesleyan—where he also cooked a lot. "The farm issue mattered to me," he says. "I grew up in a small Vermont town and I have a deep appreciation for that connection to the land. Active farming keeps the state's rural character. For that to stay alive, an agricultural economy has to be viable."
While at NECI, Toleno worked on creating an enrichment and community service option for students and was invited to join the VFN planning meetings. After stints at two upscale Manhattan restaurants, he came home to southeastern Vermont to create Riverview Cafe in Brattleboro. Toleno just completed a two–year term as VFN board president and, as if his restaurant, volunteer commitments, and two young sons don't keep him busy enough, he is also pursuing a sustainability–oriented MBA.
Sitting in the restaurant with its striking view of the Connecticut River, Toleno offers a sample of his velvet–smooth maple creme brulee "with real Vermont maple syrup—no extract," he promises. One of his pleasures, he explains, has been co–hosting a series of affordable dinners at local farms. "It isn't about me and the food," he says "The point is to reach out to the community. It's about getting people out there. When they're sitting in a beautiful field, eating the food from those fields, people get it. It makes the argument so clear. This farm has to stay. We need it."
While support of local food and agriculture is their clear common ground, these three alumni share more than that. At Wesleyan, each explained, they honed an interdisciplinary approach to wrestling with big ideas and to effecting change. Whether they are planting trees along a river, teaching culinary students about farming, or serving food in a field, their actions reflect, as Kemple puts it, "a refusal to compartmentalize the world, a commitment to transcend disciplines. . .We don't like living in boxes."
Melissa Pasanen is food editor of Vermont Life magazine. She also writes forEatingWell magazine and other publications.