HISTORICAL ROW: A PASSION FOR POETRY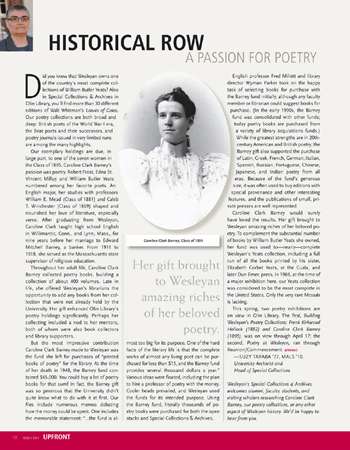 Did you know that Wesleyan owns one of the country's most complete collections of William Butler Yeats? Also in Special Collections & Archives in Olin Library, you'll find more than 30 different editions of Walt Whitman's Leaves of Grass. Our poetry collections are both broad and deep: British poets of the World War I era, the Beat poets and their successors, and poetry journals issued in very limited runs are among the many highlights.
Our exemplary holdings are due, in large part, to one of the seven women in the Class of 1895. Caroline Clark Barney's passion was poetry. Robert Frost, Edna St. Vincent Millay, and William Butler Yeats numbered among her favorite poets. An English major, her studies with professors William E. Mead (Class of 1881) and Caleb T. Winchester (Class of 1869) shaped and nourished her love of literature, especially verse. After graduating from Wesleyan, Caroline Clark taught high school English in Willimantic, Conn., and Lynn, Mass., for nine years before her marriage to Edward Mitchell Barney, a banker. From 1911 to 1918, she served as the Massachusetts state supervisor of religious education
Throughout her adult life, Caroline Clark Barney collected poetry books, building a collection of about 400 volumes. Late in life, she offered Wesleyan's librarians the opportunity to add any books from her collection that were not already held by the University. Her gift enhanced Olin Library's poetry holdings significantly. Perhaps her collecting included a nod to her mentors, both of whom were also book collectors and library supporters.
But the most impressive contribution Caroline Clark Barney made to Wesleyan was the fund she left for purchases of "printed books of poetry" for the library. At the time of her death in 1948, the Barney fund contained $65,000. You could buy a lot of poetry books for that sum! In fact, the Barney gift was so generous that the University didn't quite know what to do with it at first. Our files include numerous memos debating how the money could be spent. One includes the memorable statement: "…the fund is almost too big for its purpose. One of the hard facts of the literary life is that the complete works of almost any living poet can be purchased for less than $15, and the Barney fund provides several thousand dollars a year." Various ideas were floated, including the plan to hire a professor of poetry with the money. Cooler heads prevailed, and Wesleyan used the funds for its intended purpose. Using the Barney fund, literally thousands of poetry books were purchased for both the open stacks and Special Collections & Archives.
English professor Fred Millett and library director Wyman Parker took on the happy task of selecting books for purchase with the Barney fund initially, although any faculty member or librarian could suggest books for purchase. (In the early 1990s, the Barney fund was consolidated with other funds; today poetry books are purchased from a variety of library acquisitions funds.) While the greatest strengths are in 20th-century American and British poetry, the Barney gift also supported the purchase of Latin, Greek, French, German, Italian, Spanish, Russian, Portuguese, Chinese, Japanese, and Indian poetry from all eras. Because of the fund's generous size, it was often used to buy editions with special provenance and other interesting features, and the publications of small, private presses are well represented.
Caroline Clark Barney would surely have loved the results. Her gift brought to Wesleyan amazing riches of her beloved poetry. To complement the substantial number of books by William Butler Yeats she owned, her fund was used to—nearly—complete Wesleyan's Yeats collection, including a full run of all the books printed by his sister, Elizabeth Corbet Yeats, at the Cuala, and later Dun Emer, press. In 1966, at the time of a major exhibition here, our Yeats collection was considered to be the most complete in the United States. Only the very rare Mosada is lacking.
This spring, two poetry exhibitions are on view in Olin Library. The first, Building Wesleyan's Poetry Collections: Frank Kirkwood Hallock (1882) and Caroline Clark Barney (1895), was on view through April 17; the second, Poetry at Wesleyan, ran through Reunion/Commencement.
Suzy Taraba '77, MALS '10,
University Archivist
Wesleyan's Special Collections & Archives welcomes alumni, faculty, students, and visiting scholars researching Caroline Clark Barney, our poetry collections, or any other aspect of Wesleyan history. We'd be happy to hear from you.