Digging for Local History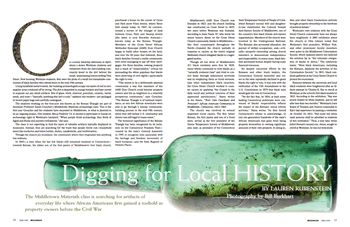 ON A SUNNY SATURDAY AFTERNOON in April, about a dozen Wesleyan students and volunteers from the surrounding community kneel in the dirt behind the small, unassuming homes dotting Vine Street. Now housing Wesleyan students, they were the pride of a small but remarkable community of black families who owned them in the mid-19th century.
Using handheld metal trowels, the budding archaeologists scrape out layers of soil in rectangular areas cordoned off by string. The dirt is deposited in orange buckets and later sieved to separate out any small artifacts. Bits of glass, brick, charcoal, porcelain, ceramic, metal, seeds, and nuts—"basically, anything that isn't a rock," explains one student—are packaged in brown paper bags and carefully catalogued.
The students working on the four-acre site known as the Beman Triangle are part of Assistant Professor Sarah Croucher's Middletown Materials archaeology class. This is the first year Croucher and her students have excavated in Middletown, in what is planned to be an ongoing project. One student, Becca Fredrick '14, is excited to participate in hands-on archaeology right in Wesleyan's backyard. "When people think archaeology, they think of Egypt and Rome and ancient civilizations," she says.
The class is not expecting to find the types of valuable artifacts typically displayed in museums. Instead, they are searching for the trash that people threw out—household items like medicine and lotion bottles, dishes, candlesticks, and toothbrushes.
Though the objects are mundane, the community where they originated was anything but ordinary.
In 1843—a time when the last few blacks still remained enslaved in Connecticut—Leverett Beman, the eldest son of the first pastor of Middletown's first black church, purchased a home on the corner of Cross and Park (now Vine) streets, where Neon Deli stands today. In 1847, he commissioned a survey of the triangle of land between Cross, Park, and Swamp streets (the latter is now Knowles Avenue)—known today as the Beman Triangle. Members of the Cross Street African Methodist Episcopal (AME) Zion Church began to build other houses on the land, and over the 40 years that followed, these black families formed a stable community, with most managing to pay off their mortgages. For these families, owning property was a mark of "respectability," critical for persuading the white populace that blacks were deserving of civil rights—particularly the right to vote.
"This seems to be a deliberately planned community; a way that members of the AME Zion Church could become property owners and live as neighbors in a relatively prosperous community," says Croucher. "The Beman Triangle is of national importance, as very few African Americans were able to go through a similar community-building process in the mid-19th century, when they still lacked U.S. citizenship and slavery was still legal in many states."
The historical significance of the Beman Triangle has been recognized by its inclusion on the Connecticut Freedom Trail—created by the state's General Assembly in 1995 to recognize sites associated with the heritage and freedom movement of black residents—and the State Register of Historic Places.
Middletown's AME Zion Church was founded in 1823, and the church building was constructed on Cross Street in 1829, two years before Wesleyan was founded. According to Jesse Nasta '07, who wrote his senior honors thesis on the Cross Street Church community, blacks in Middletown—like their counterparts throughout the North—founded the church partially in response to racism, as the town's original Methodist church relegated blacks to a segregated section.
Though all but three of Middletown's 211 black residents were free by 1820, many whites continued to view blacks as a "naturally enslaved class" and tried to control them through indentured servitude and by employing them as hired servants. Like other independent black churches, the Cross Street Church worked to counter racism by applying "the Gospel to the daily social and political concerns of their oppressed parishioners," Nasta writes in his thesis, "Their Own Guardians and Protectors": African American Community in Middletown, Connecticut, 1822–1860. 
The church was involved in several important social causes. The Rev. Jehiel Beman, the first pastor and son of a freed slave, served as the first president of the Home Temperance Society of Middletown and, later, as president of the Connecticut State Temperance Society of People of Color. Jehiel Beman's second wife and daughter-in-law established the Colored Female Anti-Slavery Society of Middletown, one of the country's first black female anti-slavery organizations. Members of the church were involved in the Underground Railroad. The Bemans also promoted education, the pursuit of skilled occupations, and—critically—property ownership among church members to demonstrate independence and respectability. In many cases, black families purchased homes despite having scant financial resources.
Yet despite concerted efforts by the Bemans and other black leaders, the Connecticut General Assembly and voters in the state repeatedly declined to grant blacks the right to vote. It was only with the ratification of the 15th Amendment to the U.S. Constitution in 1870 that black men would gain the vote in Connecticut.
"Yet the fact that, by 1854, at least some leading Connecticut politicians were convinced of blacks' respectability reflects the impact of the Bemans' moral reform activism," Nasta writes. "As they forced Connecticut's whites to acknowledge, in just one generation hundreds of the state's African Americans had gone from being property themselves to owning significant amounts of their own property. In doing so, they and other black Connecticut activists brought property ownership to the forefront of political debate."
Wesleyan's own relations with the Cross Street Church community have not always been neighborly. A 2001 exhibition about the church at Olin Library noted that Wesleyan's first president, Willbur Fisk, and other prominent faculty members were active in the Middletown Colonization Society, which opposed slavery but believed the solution lay in "the voluntary emigration of blacks to Africa." The exhibition states: "Most black Americans, including the Bemans, deplored the activities of the Colonization Society." In 1831, black residents gathered at the Cross Street Church to protest the movement.
Tensions between the university and local black residents were heightened after an ill-fated attempt by Charles B. Ray to enroll at Wesleyan as the school's first black student in 1832. According to the exhibition, "Ray was poorly treated by white students, and he left after less than two months." Wesleyan's Joint Board of Trustees and Visitors responded to Ray's bad experience by passing a resolution on October 10, 1832, "that none but white male persons shall be admitted as students of this institution." Thus, a year later, when Jehiel Beman's second son, Amos, sought to enroll at Wesleyan, he was not welcomed.
A Wesleyan student and dedicated abolitionist named Samuel P. Dole, class of 1837, tutored Amos Beman regularly on campus. But after six months, Beman received a threatening letter from a group of anonymous Wesleyan students, ordering him to desist from his studies. Samuel Dole showed this letter to members of the Wesleyan faculty, but nothing was done.
The resolution banning black students at Wesleyan was rescinded on August 25, 1835, but no black students enrolled at the school for nearly two decades after that.
Much later, relations between Wesleyan and the church community improved significantly. Beginning in the 1960s, Wesleyan professors served alongside church members on the board of directors of the Greater Middletown Negro Youth Scholarship Fund, founded by a former pastor of the church to help black high school students go to college. In 1965, Wesleyan began to actively recruit black students.
In 2010, Wesleyan formed the Beman Triangle Advisory Committee as part of its Making Excellence Inclusive initiative, which seeks to identify ways to further institutional diversity and inclusion. The committee—co-chaired by the Cross Street Church's present-day pastor, the Rev. Moses Harvill, and Professor Douglas Charles—provides support for preservation of the site and research on its history. Committee members also are working to have the Beman Triangle placed on the National Register of Historic Places.
According to Charles, professor and chair of anthropology and professor of archaeology, the Connecticut Historical Commission in 2002 commissioned two local historians, Elizabeth Warner and Janice Cunningham, to produce a research report on the Beman Triangle community. Their report advised, "An archaeological investigation may reveal more about the daily lives of the people in this neighborhood."
In 2005, Wesleyan hired a specialist to conduct a geophysical survey of the land to identify underground anomalies—specific areas on the Beman Triangle where artifacts may be buried. In 2006 and 2007, Charles and his students excavated several trenches on the site, which revealed a trash pit, a possible filled-in privy, and the foundation of a shed. After Sarah Croucher—who specializes in the archaeology of recent history—was hired in 2007, she took over the Beman Triangle project and began preparing for the excavation conducted on the site last spring, using the findings from Charles' test dig for guidance.
Croucher hopes to continue exploring the site in years to come. She plans to apply for grants to conduct a much larger excavation over the course of several weeks.
A few weeks after the April dig, back in the Cross Street Archaeology Lab located in the basement of the former AME Zion Church on Cross Street, Croucher and her students carefully scrub dirt off the artifacts using toothbrushes. Those objects that can stand exposure to water are washed in plastic basins and laid out to dry on mesh trays. The work is tedious, but the pop and R&B hits from the '90s—earlier than most of the students in the room can remember—playing on the laptop make it go quickly.
The excavation yields a number of recognizable objects, including a small glass ink bottle labeled "Carter's"; a green bottle thought to have held whiskey; most of a white ceramic tea cup, painted with gold, pink, and green flowers; a piece of stoneware with blue painted designs; and numerous small glass tubes, possibly used in pharmaceuticals.
Though the discovery of these objects is exciting, Croucher cautions, "Archaeology can take you on strange routes. The things that look most visually impressive coming out of the ground are not necessarily those that will tell you the most about how people lived."
Croucher will spend the coming months researching the objects to determine their date ranges, sources, and types of materials. This research ranges from standard reference work on historical materials to investigating local companies such as pharmacies and stoneware ceramic producers.
She also plans to display selected artifacts from the dig at the Middlesex County Historical Society and Middletown's library in spring 2013 and hopes to receive feedback from visitors. "If you put the artifacts out on exhibit, people sometimes recognize them based on items they have lying around their homes." If certain artifacts defy identification, Croucher can post them to a historical archaeological listserv on the Internet for other archaeologists to weigh in.
Through this process, Croucher says, "You start to get a picture of what people were doing every day. When you look at a clay pipe in the lab, you can imagine someone sitting and talking while he or she smoked. These little everyday habits, which just don't get written about, give us a window into people's social lives. This is of particular importance in filling in the blanks in African American history, where written documentation is limited to begin with."
In planning the Beman Triangle excavation, Croucher and her colleagues have taken care to work in tandem with the church community's interests and concerns. Croucher is approaching the project through a "community archaeology" model, in which the archaeologists collaborate equally with members of the community.
Croucher describes community archaeology as "a process of engaged scholarship in which archaeologists try to cede authority over their excavations and interpretations to stakeholder communities. Historical archaeologists often find that the communities we collaborate with have more interesting questions than scholars do in shaping projects. We continually share with our community partners what is going on—from the questions we formulate to the excavations, lab analysis, and public presentation."
She adds, "Hopefully, the end product is research that is much more engaging to the communities we're working with and that ties in with present-day interests. We as scholars also end up learning more overall by listening and being directed by community members."
In speaking with Pastor Harvill and members of the congregation, Croucher learned that they were interested in exploring the ways in which the Beman Triangle's historical residents might have viewed the importance of faith and their vision for the future. They also wished to investigate the issues of gender and of the Underground Railroad.
"We'll try to make sure that we use these questions to structure how we analyze our findings from the site and present them to a wider public audience," Croucher says.
LaNell Williams '15, one of Croucher's students who participated in the dig, says, "For me, this project is more than an excavation. It's a way to bring the Wesleyan and Middletown communities together."
Williams believes that a university has a res-ponsibility to support its surrounding community. But she feels there is a dis-connect between Wesleyan and many Middletown resi-dents. Williams hopes to involve high school students in the Beman Triangle project to help bridge that gap.
Cross Street Church members also have taken a hands-on part in the project. On April 14, the first day Croucher and her students take shovels to dirt, they are joined by a handful of volunteers from the church, as well as some other local residents.
Lucia LaBella of Cromwell, a member of the Cross Street Church, says she became interested in the excavation after attending a symposium at Wesleyan about community archaeology in February. "It just sounded very intriguing to me to look at history in its natural surroundings. I'm curious to see what we do find and how to piece it together," she says.
LaBella grew up in Middletown but always felt separated from Wesleyan. Her family and friends spoke of "those Wesleyan students," and though she felt uncomfortable with this us-versus-them mentality, she never had any real reason to disagree with it. After spending days working side-by-side in the dirt with the archaeology students, LaBella tells them, "You have totally created a paradigm shift in my thinking."
Joaney Campbell of Middletown, whose family has belonged to the Cross Street Church for decades, brings her 14-year-old son Mark out to the excavation. Examining a small piece of glass unearthed by the archaeologists—possibly part of a dish or candlestick holder—Campbell expresses her excitement to learn more about the history of her community.
"You can't move forward until you know your past," she says. By uncovering artifacts from the historical church community, she hopes, "I can look back, I can learn, and then I can pass that on to my children. And, prayerfully, they can pass it on to their children."
For more information about the Beman Triangle archaeology project, please visit the website created by Chelsey Cho '13 at beman-triangle.research.wesleyan.edu/.