JOHN FRANK '78, DIANN KIM P'12 GIFT TO FUND WRITING CERTIFICATE PROGRAM DEVELOPED BY ANNE GREENE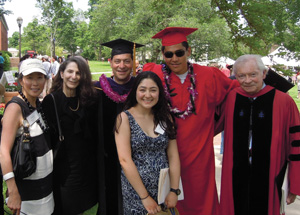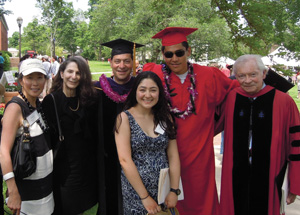 John Frank '78 P'12 believes in the power of a well-written sentence. So much so, he will tell you, that knowing how to write can make the difference between success and failure in life. He will also tell you that he learned to write, and write well, at Wesleyan. 
To Frank, a lawyer and investor in California, and his wife Diann Kim P'12, it was critical to ensure continued success for Wesleyan's writing instruction, especially the Writing Certificate launched and overseen by his sister, Director of Writing Programs Anne Greene (between Frank and Kim). Their gift of more than $2 million will fund Writing at Wesleyan's Writing Certificate program, which allows students from any major to earn the equivalent of a minor in writing.
"Now that I look back with a 35-year perspective…the thing that I think equipped me was how much writing I had to do at Wesleyan," Frank said. "You can't really write well without thinking well."
Kim noted: "This gift is a grateful acknowledgement of what a difference Anne has made. I am incredibly impressed by the number of people who tell me that Anne was their life-changing teacher."