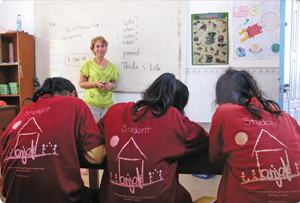 It happened quite by surprise—I fell in love with a place I knew nothing about. In 2006, we went on a family trip to Cambodia. We did volunteer work, crisscrossing the country's dirt roads by bus, building houses in poor villages and working with children. It was meant to be one of those "learning experiences" for our teenage son, but I was the one whose life was changed. 
I was writing my first novel and had no idea that I would ever want to write about Cambodia. But after Tangled Roots was published, the idea for A Clash of Innocents popped into my head. Fast forward to 2010 and you will see that novel being published. I am a writer. I write stories about people I make up. So that should have been the end of it, right? Wrong.
This is meant to be a "Letter Home," but I'm stuck even before I begin, daunted by the question, Where is home? I grew up in New York. I spent five years at Wesleyan, four as a student, one as a writer in the Public Information Office. I moved to North Carolina, then Boston, and eventually found myself living my adult life and raising my family in London where I am writing this now. But for a growing part of me, Cambodia is now home. Cambodia is where my most important work is done, both as a writer and a teacher. Cambodia is where I feel I do the most good and am, in many ways, more myself.
After A Clash of Innocents was published, I knew that I wanted to use the fruit of my inspiration to help the people who inspired me. I was told about a shelter for street kids in Siem Reap called Anjali House (anjali-house.com). I knew enough about the country to know that facility with English is the key to employment. I thought I could set up a workshop to teach those kids to write poems and stories in English. The director of the shelter thought I could, too, but with one caveat. I couldn't come once, show the kids a different world and then turn my back on them. Starting this program would be an ongoing commitment.
Without even realizing what I was committing to, I said yes. I have now returned to the kids at Anjali House three times. Each time I stay longer and longer. Each time I have to drag myself away.
What do I actually do there? I teach the kids to write creatively in English, we publish a literary magazine, and then we hold a party where they stand in front of a room of supporters and read from their work. But all that is a pretext. What I'm really doing is giving permission—to think, to imagine a life beyond selling flutes at the temples, to believe they can and must play a part in the reconstruction of their country. 
Cambodia is still scarred by the 1970s genocide led by Pol Pot and the Khmer Rouge. Fifty percent of the population is under the age of 25; 32 percent under 15. Imagine taking the characters from The Lord of the Flies and asking them to create a country—that would be Cambodia today and that is what my novels are now about. That is also what my workshop aims to address.
Through writing, I am helping the children of Cambodia find their places in the future, find a future for their country, find their own self-esteem and exercise their otherwise untapped abilities in conceptual thinking. I believe these are the antidotes to poverty and corruption. 
The first time I ran the workshop, the stories were all about ghosts in the forest. The poems were about the beauty of Angkor Wat. And that was fine. But if you look at a copy of this last magazine (at anjali-house.com), you'll see something different. Now the kids are writing about fathers getting angry and drunk, mothers being worn out by work, grandmothers dying of broken hearts. 
There are poems filled with empathy responding to photos I've shown of troubles existing outside their borders, things like the aftermath of Hurricane Katrina, poverty in Africa, forest fires in Australia. Their world is a bigger place. They are beginning to see that language can help them understand and affect that world.
Believe me, I don't take credit for all this. But I do believe that the work we do together is making a difference. I know it's made all the difference to me.
The first novel in Sue Guiney's Cambodian trilogy, A Clash of Innocents, is available in stores and on the Web. The second novel, Out of the Ruins, will be published in January 2014. For more information on her writing and teaching, go to sueguiney.com