SCHOLAR ATHLETE JORDAN SCHILDHAUS '15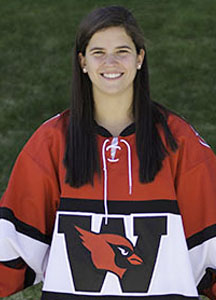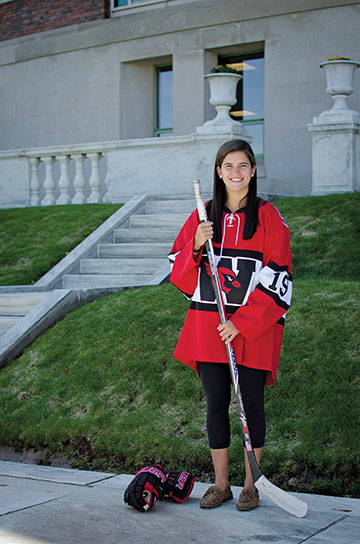 Team player: Next to those words in the dictionary there should be a picture of Jordan Schildhaus '15, a women's hockey forward and a huge contributor to the Cardinals' success on the ice.
A three-time all-NESCAC honoree, (and a multiple-repeat on the conference all-academic roster) Schildhaus has tallied 27 goals and 22 assists in three seasons, and her 19 junior-year points helped power Wesleyan women to an 8-11-6 record and a NESCAC playoff appearance.
Schildhaus, who has had a stick in her hand since she was 7, attributes her successes to the team.
"Everything that I've been fortunate enough to be recognized for, it's completely because of them—due to their support," she says, describing the team dynamic as overwhelmingly positive. "The fact that I came into school having 20, 25 immediate friends was absolutely incredible. I couldn't have asked for any better teammates and, at this point, they've become my family."
Off the ice, Schildhaus is a dedicated psychology major and has already completed the requirements for graduation. Her studies include developmental, positive, and social psychologies, as well as psychological measurement.
Schildhaus also spent her freshman and sophomore years learning sign language. "Sign language is definitely something that I did not realize would be such a big part of my life." To keep her skills fresh, she's spent the past two summers working at a sign language camp near her Long Island home.
Senior year, Schildhaus will live with three friends, two of them teammates. The nine-person 2015 women's ice hockey class is the largest in recent years and is full of leaders. Schildhaus notes the depth and skill of Cardinal hockey, including "the freshman class that came in this year and made the team so whole and brought everyone together."