TED SHAW '76 REMEMBERS MLK ADDRESS: 'DON'T WAIT TO CHANGE THE WORLD'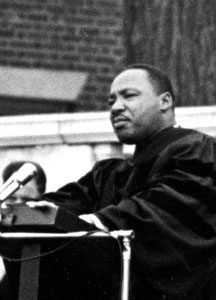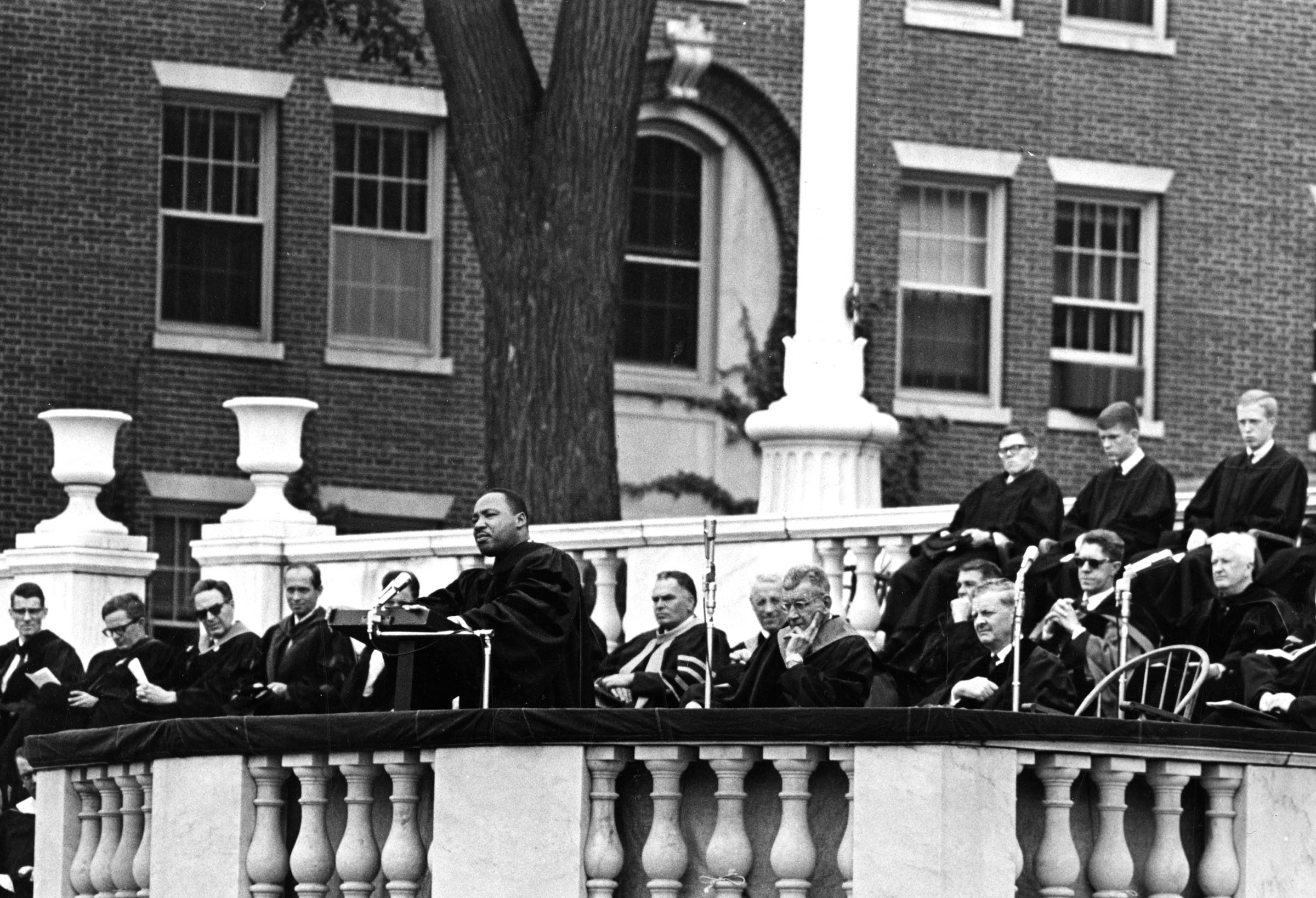 Fifty years after Dr. Martin Luther King Jr. delivered a powerful baccalaureate speech at Wesleyan calling on the graduating class to move on from the "mountains" of ethical relativism, indifference to poverty, racial segregation, physical violence, and corroding hatred, civil rights was once again the topic of a Commencement speech delivered this time by a distinguished alumnus and advocate for affirmative action.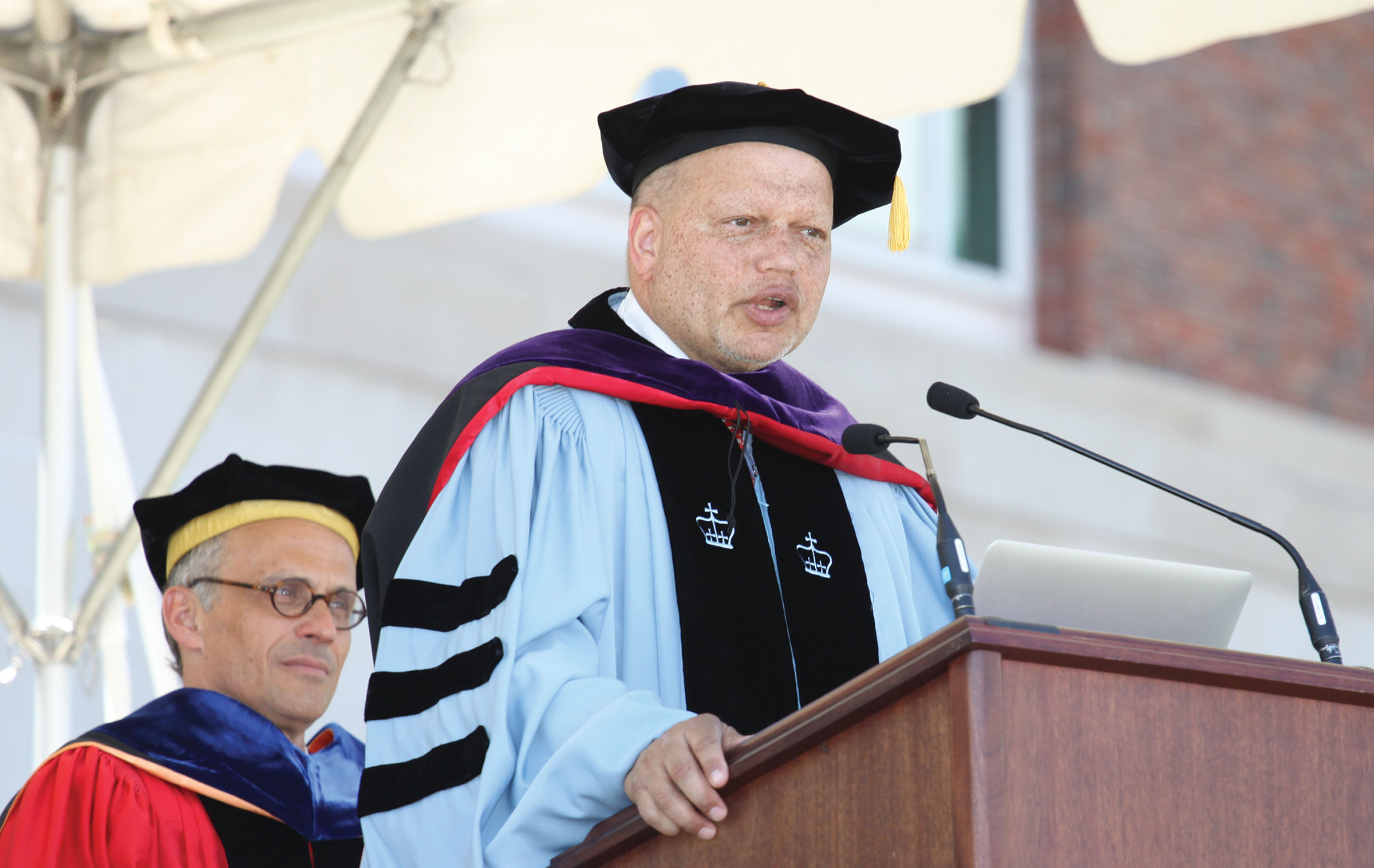 "Don't wait to change the world," Theodore M. Shaw '76 told the Class of 2014 in his Commencement address on May 25.
Just as Dr. King advised the Class of 1964 to "go out with a determination to work against this evil system and to work hard in order to rid our nation of the injustices and the indignities that have clouded our days," Shaw implored the graduates to tackle today's pressing challenges, from global warming to income and wealth inequality to religious intolerance and ethnic hatred.
Shaw has argued cases in courts across the nation, including the Supreme Court, involving voting rights, education, housing discrimination, capital punishment, and civil rights. He has been named the Julius L. Chambers Distinguished Professor of Law and the director of the University of North Carolina Center for Civil Rights, after having served as professor of professional practice at Columbia University School of Law, and he is "of counsel" to Norton Rose Fulbright. For nearly a quarter century, he served as an attorney with the NAACP Legal Defense Fund, concluding as director-counsel and president from 2004–08.
Wesleyan conferred an honorary doctor of laws upon Shaw at the Commencement ceremony, which was held on a brilliant, clear spring day. Also honored were Helena Chmura Kraemer, a preeminent authority in evidence-based medicine and the use of statistical analysis for answering pressing questions in public health, and Hayden White, who is widely regarded as one of the most important theorists of history of the last half-century and who is a former director of Wesleyan's Center for the Humanities. They were awarded an honorary doctor of science and an honorary doctor of humane letters, respectively.
This year, Wesleyan conferred 733 bachelor of arts degrees, 26 master of arts degrees, 44 master of arts in liberal studies degrees, three master of philosophy in liberal arts degrees, and 14 doctor of philosophy degrees.
Shaw spoke of how far Wesleyan, and the country, have come since Dr. King's baccalaureate address.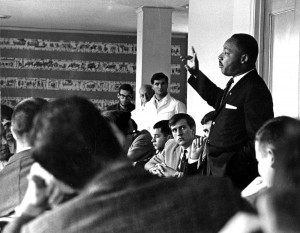 "In 1964, when Dr. King spoke here at Wesleyan, it was a monochromatic, single sex institution, in which anyone other than straight, white males was either absent or an aberration. Change did not come accidentally, or even serendipitously. It came about as the consequence of deliberate, conscious decisions that were manifested in affirmative deeds," he said.
Shaw recalled how he first came to Wesleyan as a prospective student in 1972 accompanied by Father John T. Meehan, a priest from Harlem who helped Shaw and countless other young African Americans gain admission to some of the country's best colleges and universities.
"I am unapologetically, unashamedly, and unabashedly a beneficiary of affirmative action. If affirmative action meant shining the light of opportunity into places where it had not been shown before, in an effort to find capable and qualified students, I am a product of affirmative action," said Shaw, who would go on to play an integral role in drafting the admissions policy that was upheld by the Supreme Court in a landmark case on affirmative action.
Yet Shaw dismissed any claims that we have "graduated into a post-racial America," reminding graduates that the gains that have been made are tenuous, with new threats to the protections of the Voting Rights Act and public school integration, and continued "racially disproportionate, massive over-incarceration of millions of people for nonviolent offenses."
"There is work to do if we are to continue the task of becoming 'a more perfect union,'" he said.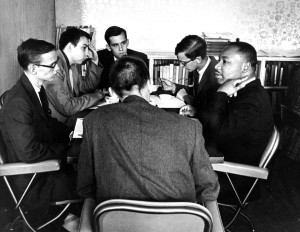 And so, Shaw urged the Class of 2014, "Don't wait to change the world. Martin Luther King Jr. was 26 when he led the Montgomery bus boycott. In 1963 children, some as young as 5 years old, filled the jails of Birmingham, Alabama, protesting against segregation. School children marched against apartheid in Soweto in the 1976 uprising. College and university students in the 1960s marched against the Vietnam War and for women's rights. Don't wait for the generation ahead of you to pass the baton to you … after they have run their leg of the race…Take the baton."
Wesleyan President Michael S. Roth '78 also spoke at Commencement about the critical importance of ensuring educational access to all, regardless of race, sex, or means: "The founders of this country and many of its most important thinkers have seen education as the great weapon in the struggle against economic injustice and political tyranny," he said, adding that education is a "fundamental human right" that is worth struggling for wherever it is threatened.
The weekend also saw hundreds of alumni flock to campus for Reunion festivities that included WESeminars, academic department open houses, and an all-campus party featuring mamarazzi and Illegalize, two bands with a core of alumni musicians. A concert by Randy Newman P'14—in the signature series of events supporting Wesleyan's This Is Why campaign—raised money for financial aid. Additional highlights included talks by Wesleyan's two alumni who are sitting governors: Peter Shumlin '79 of Vermont and John Hickenlooper '74, MA '80, Hon. '10 of Colorado.