THE SHASHA SEMINAR ON THE ROAD: ALUMNI IN FILM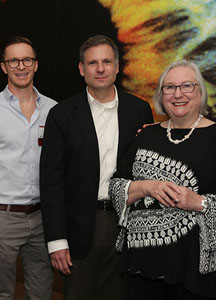 Nearly 200 Wesleyan alumni and friends gathered June 7 in Los Angeles to glean industry insight from noted alumni in the movie and television business.
The Shasha Seminar on the Road, held at the famed William Morris Endeavor Entertainment headquarters in Beverly Hills, featured luminaries including David Kohan '86, Paul Weitz '88, Bradley Whitford '81, and Jan Eliasberg '74.
"How lucky am I that all I have to do is pick up the phone and ask, and 11 of the top names in the film and television business automatically say 'yes' to serving on a panel discussion on a Saturday afternoon in June," said Corwin-Fuller Professor of Film Studies Jeanine Basinger "Not only were the panelists fabulous, but the room was packed with smart, committed, and enthusiastic alumni. I thoroughly enjoyed seeing everybody, and it was a great day for Wesleyan and the College of Film and the Moving Image."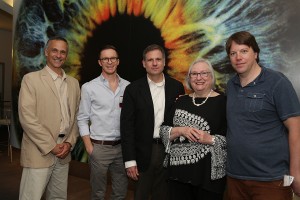 Three panels—on women in film, writing and acting for television, and the business of film—accompanied a talk by Basinger, who is chair of Wesleyan's new College of Film and the Moving Image, celebrating its first academic year.
President Michael S. Roth '78 also attended and addressed the crowd—in addition to live Tweeting the event.
Other panelists included: Liz Garcia '99; Jane Goldenring '77; Jessica Sanders '99; Dan Shotz '99; Bill Wrubel '85; Brad Fuller '87, Matthew Greenfield '90, and Marc Shmuger '80.
David Stone '04 and Rick Rosen P'08 hosted; Stephen Collins '96, an assistant professor of film studies and Scott Higgins, associate professor of film studies, also participated.
The Shasha Seminar is an educational forum for Wesleyan alumni, parents, and friends that provides an opportunity to explore issues of concern in a small seminar environment. Endowed by James Shasha '50, P'82, the Shasha Seminar supports lifelong learning and encourages participants to expand their knowledge and perspectives on significant issues.