IMPROVISING A LIFE IN MUSIC: TAYLOR HO BYNUM '98, MA'05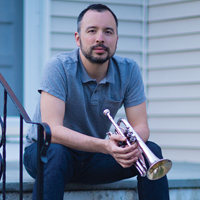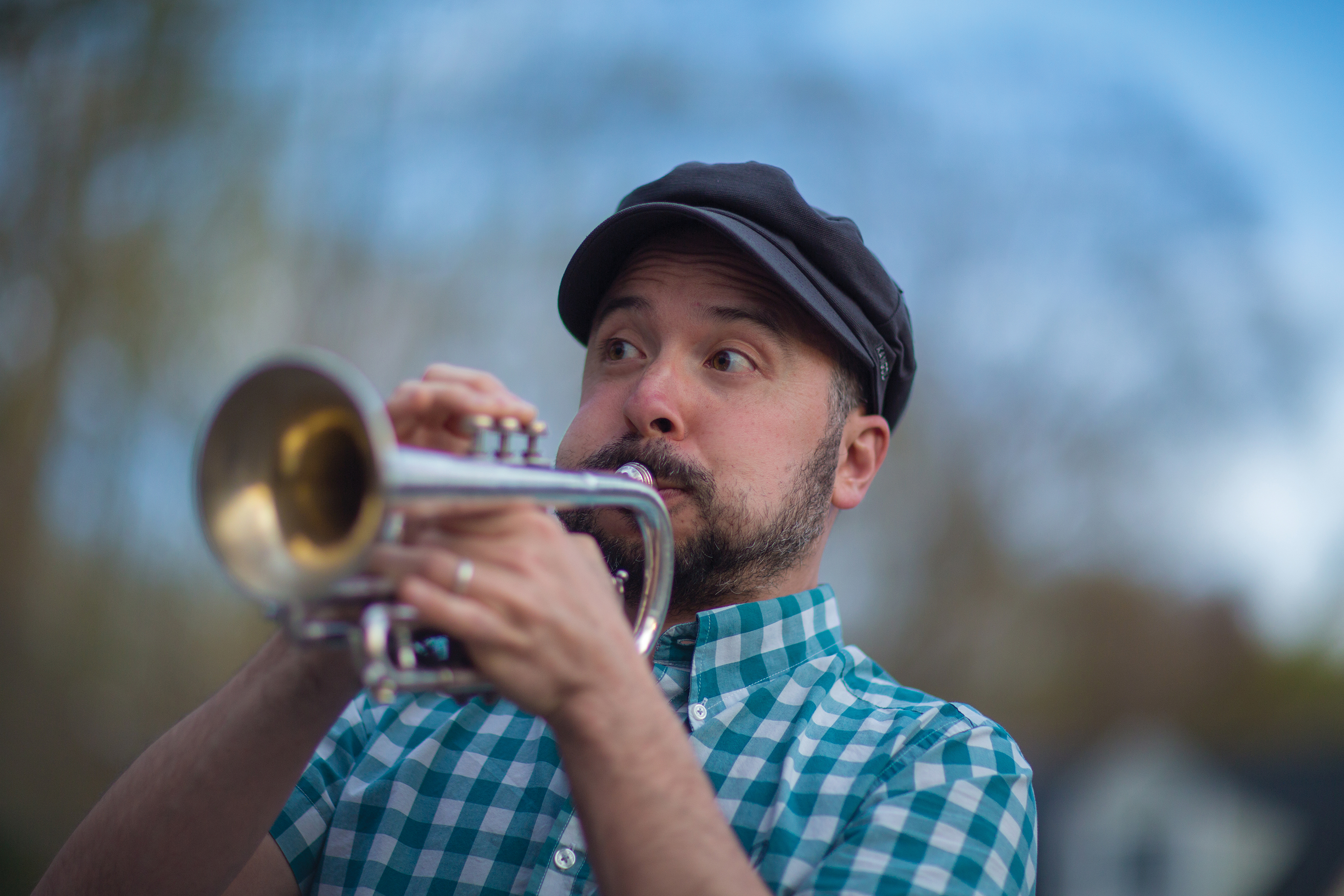 Musicians of the 21st century face unique challenges. For better or worse, affordable home recording, digital distribution, illegal downloading, and low-paying streaming services have irreversibly changed the business. Recorded music is no longer a significant source of income. The old rules no longer apply, but new ones have not yet been written. It can be scary for those who depend on the industry to make a living, but some are embracing the opportunity to redefine what it is they actually do as working musicians.
Technology has been a double-edged sword in the eyes of cornetist Taylor Ho Bynum '98, MA'05. It has returned creative control to the artists from the hands of the profit-seeking labels and producers that used to pull the strings. That's a good thing. But now, without management, the artists need to attend to every disparate matter of business related to what they do in order to survive. They must book their own shows, run promotional campaigns, create artwork and packaging, seek funding, write grants, and generally be sitting behind a (computer) keyboard for long periods of time. It can be overwhelming and distracting from the goal at hand: to actually make music. Bynum seeks to pare away a good portion of the technology that intrudes on his time and his connection with the listener.
"Being wired in all the time is detrimental," he says. "I think you need some space and solitude to create."
To this end, Bynum embarks on bicycle tours. It's just him, his cornet, a bicycle, and the open road. His first such excursion was in 2010 when he played every state in New England over the course of two weeks. His most recent, in late summer of 2014, spanned the entire West Coast, starting in British Columbia and ending in Tijuana.
"I wanted to do an artistic project that engages the audience in a completely different way than the way that you're supposed to," he says. "I'm on a bike, getting there on my own power and meeting people on the road, having conversations about the art. That, for me, feels like a more in-depth way to connect with somebody. You can't do that in 140 characters."
With the traditional, unsustainable touring model, Bynum occasionally finds himself flying to storied cities like Paris, Zurich, London, and Madrid, but seeing nothing of them save for the airport, the hotel, and the venue before departing for the next gig. His bike tours are a direct response to the inevitable disappointment of that experience.
"You don't necessarily take a long bike ride to get to where you're going. You do it to have the experiences you have along the road," he says. "The surprise view at the top of a hill, the wildlife you see crossing the street—it's about the process and not the destination. Driving there will get you there faster, yes, but you won't have the same kind of experiences. There are other kinds of music that are more easily digestible, but the added investment that the creative music demands of the listener offers similar rewards."
Bynum plays a decidedly noncommercial genre, if you can even identify it as a genre of its own. It's been referred to as free jazz, or experimental jazz, but he prefers "creative music." It involves loose modular structures and themes that set a foundation for a healthy dose of improvisation. His playing is inspired by Duke Ellington, Miles Davis, and Ornette Coleman, but also Charles Ives, Prince, and Bjork.
"I'd rather have a deep engagement from a narrow audience than a really shallow engagement from a wide audience," he says. "I don't want a million people listening to a three-minute single—I want 1,000 people listening to a four-hour composition."
Bynum was raised by musically minded parents. His father volunteered for the Handel and Haydn Society in Boston. His mother was a volunteer for the Metropolitan Opera.
"My mother ended up housing a lot of opera singers," says Bynum. "I was raised by opera singers in some ways, which is a lot like being raised by wolves—but very melodious ones."
He picked up the trumpet when he was 10, and was an organizer right from the start. While working at an ice cream shop in Boston when he was 16, he used the shop to host a jazz series. "I literally paid the musicians in ice cream," he says.
Bynum attended Wes as an undergrad, dropped out, toured the West Coast, lived in a vegan commune in San Francisco, and enrolled in the buttoned-up New School conservatory in New York City before eventually settling back at Wes to finish what he started, with a new, wider perspective.
"The most I got out of Wesleyan was being given an area where I could successfully experiment doing my own things," he says.
Upon earning his master's degree (also from Wes) in 2005, Bynum was searching for a label on which to release his recordings, but wasn't finding an ideal fit. His childhood friend Nick Lloyd was in the process of opening a recording studio/bar in New Haven at the time, Firehouse 12, and the two teamed up to launch their own label, Firehouse 12 Records, using the venue as their home base.
"You can imagine the experimental jazz independent record label scene is often somewhat fly-by-night," says Bynum. "I really wanted to work with someone who would do it correctly. The thing that we wanted to commit ourselves to was making sure that we were producing work that was really forward thinking, really kind of exciting."
Their first wildly ambitious project was a nine-CD box set made from live recordings by composer and Wes professor Anthony Braxton at New York's Iridium jazz club. (During Bynum's grad school years, Braxton had become his mentor and close friend. Braxton retired in 2013.)
"As insane as that was to start with, it established what we wanted to do and set a template for what we were trying to work with," says Bynum.
Since then, the label has released works including Bynum's own albums (the most recent is a four-album set called Navigation), one of the final releases by the late and well-respected trumpeter Bill Dixon, and projects by Mary Halvorson '02, another Wes-nurtured rising star in improvised music. The Firehouse 12 complex now thrives, a combined bar, recording studio/performance space, apartment ,and home to an avant-garde record label, having found its success through inspired diversification. The limited cash flow from the free jazz end of the business was offset by profits from the bar, and all the different facets of the business were elegantly woven together to create a seamless whole.
In recent years, Bynum has stepped back some from the day-to-day operations of the label to focus his nonperforming energy on his work as executive director of the Tricentric Foundation, a reboot of the nonprofit originally started in 1994 by Braxton to support large-scale works and to help cultivate emerging artists.
"If you're a non-marketplace artist, there are few avenues of support to do large-scale projects," says Bynum. "I find this in my own career. Whether or not it's economically viable, it's creatively essential to get the opportunities to think big. To think large scale. To challenge yourself in different ways. We've used Tricentric as a means to help artists do that."
If there's one lesson to be learned from Bynum's musical adventures, it's one of insistently creating one's own path with focus not only on the end goal, but also on the context. The old models can serve as a suitable foundation or reference, but they are only there to be used as launching pads.
"That's what you do in life," he says. "Life is not through-composed. Life is not through-improvised. Life is a navigation of those two forms."—MIKE SEMBOS
Mike Sembos is a writer and musician living in New Haven.