WRITING THE UNTOLD STORIES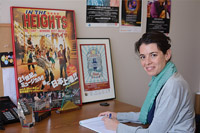 Pulitzer Prize-winning playwright Quiara Alegría Hudes, who teaches writing at Wesleyan, talks about how her diverse family, roots in Philadelphia, and musical background have inspired her creative work.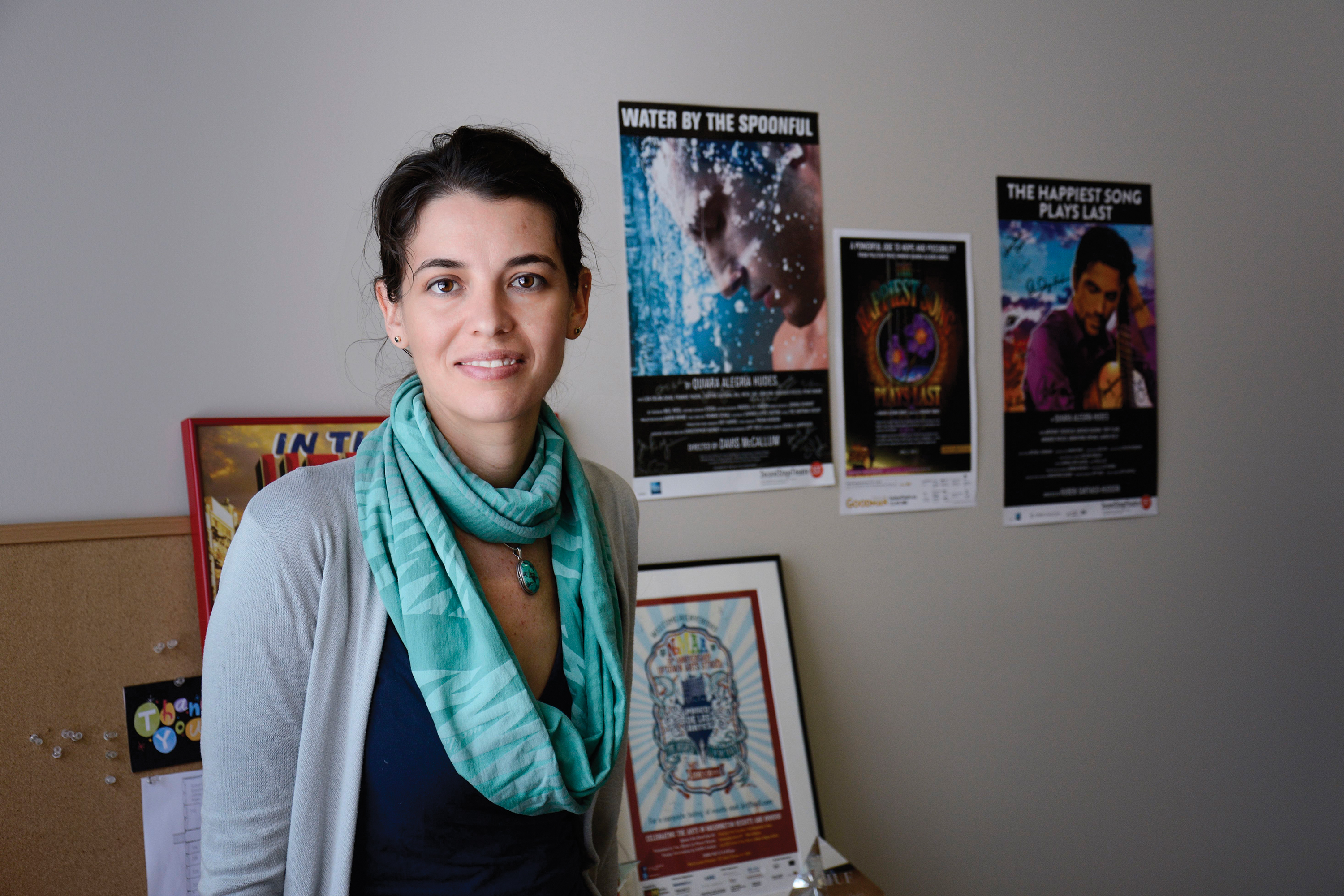 As a child, Quiara Alegría Hudes, currently the Shapiro Distinguished Professor of Writing and Theater, never suspected that she would grow up to write professionally but it was something she did naturally from an early age.
"I always wrote," she says. "It was just one of the ways I grew up playing—kids play around by picking up stories; it's one of our natural instincts. My dad would teach me how to hit a whiffle ball, and then I would write poems. By high school, I was writing plays and writing for the literary magazine and for the weekly newspaper. It wasn't until my mid-20s that I had the notion that it would be something I would pursue in earnest to earn a living. But once I had that notion, it seemed quite natural because I had been doing it all of my life."
Hudes is now a nationally recognized playwright, and for the past three years she has taught playwriting to beginning and more advanced writers at Wesleyan. Her plays include 26 Miles, Yemaya's Belly, the children's musical Barrio Grrrl!, and the acclaimed Elliot Trilogy, named after a recurrent character who served as a Marine and is based on the author's cousin. The first in the trilogy, Elliot, A Soldier's Fugue, was a 2007 Pulitzer Prize finalist, while the second installment, Water by the Spoonful, was awarded the 2012 Pulitzer Prize for Drama. Hudes also wrote the Tony Award-nominated book for In the Heights, which won the Tony Award for Best Musical (with a score by Lin-Manuel Miranda '02 and directed by Thomas Kail '99) and was also a Pulitzer Prize finalist.
In his Chicago Tribune review of The Happiest Song Plays Last, the third part of the Elliot Trilogy, critic Chris Jones says, "Hudes now is a very accomplished storyteller, a playwright with an emergent, fulsome American narrative, a young writer who knows her best material is not so far away, as long as she is willing to put her family out there."
Hudes has memories of her mother, also a writer, introducing her to the magic of words when her family lived for about three years on a horse farm an hour outside of Philadelphia.
"I was around kindergarten age, and she would take me out to the backyard and read me poetry that she had written in Spanish, and it was before I was fluent [in the language]. I remember the sound of it being very evocative and beautiful, even though I didn't understand every word."
Besides writing, music was also a large part of Hudes's life and it would become an element of her playwriting. She was exposed to several musical traditions growing up, thanks to her diverse background; her mother and stepfather, who raised her, are from Puerto Rico, and her father and his family, with whom she is still close, are Jewish.
She remembers waking up in the morning with her mother playing records of Afro-Caribbean drumming. On the weekends, she saw her Aunt Linda, a classical composer and pianist who composed the score for the Big Apple Circus for 20 years. Before Hudes took formal classical piano lessons, her aunt was her piano teacher.
"She would teach me how to play Bach and how to listen to different kinds of music—anything from New Orleans greats like Champion Jack Dupree and Doctor John to the Bach cello suites. As she rehearsed her new score every year with the Big Apple Circus, I would sit next to her on the bandstand. She would ask me to turn the pages, and sometimes she would ask me to copy her music charts. I would be there with the clowns and the elephants and the horses and the band."
Hudes wrote musicals in high school for fun. As an undergraduate at Yale University, she majored in musical composition. She wrote two musicals and a score for a student production of Tom Stoppard's Arcadia. (Her playwright friend Amy Herzog acted in that production.) While composing musicals she had to write scripts, so playwriting was a natural progression.
Hudes's mixed heritage has influenced and inspired her writing. Growing up, she observed educational and economic differences among her relatives.
"I found myself in this strange situation of being at Thanksgiving dinner and to my left is a cousin who is on food stamps and struggling in severe poverty and on my right is an aunt who is a city councilwoman and across from me is another cousin who didn't finish middle school or is illiterate," she says. "And here I am, with a degree from Yale and another from Brown. I think about that—it has found its way into my writing, the kind of crackling mixture of who we are and who we relate to in our family lives and communities."
Several of Hudes's plays draw upon autobiographical material. Interviews with her relatives have inspired characters, incidents, and dialogue, particularly in the plays in the Elliot Trilogy. Hudes finds it more productive not to stick too closely to the facts. Though transforming the truth into fiction can be daunting, Hudes finds creating plays from scratch an even bigger challenge. However, using material about people she knows does pose some ethical questions.
"In terms of writing a play, the language everyday people use and the experiences everyday people have are extraordinary," she comments. "But it's still very hard to structure a compelling play. I've definitely learned some tricks, and one of them is to be pretty transparent in my process with my relatives, to tell them what I'm writing about, why I'm interested in writing about it, to show them drafts along the way, to bring them to previews of shows. I'm not interested in airing any family skeletons."
Her relatives' reactions to her plays have been positive but also very emotional. For instance, her cousin Elliot went to Armenia to attend a big theater festival where Water by the Spoonful was being done in Armenian. He talked about his military experiences and seeing his story transformed in a different way.
"I saw some of the interviews he did and he tells it like it is," Hudes comments. "He said it was hard seeing some of the things, but all in all he felt really honored that his story seemed to have some value for other people. I think he feels very positive that maybe his story is an important part of a conversation about veterans who have left Iraq. We're still a nation trying to find our way through that right now."
Hudes's plays experiment with structure, particularly Elliot, A Soldier's Fugue, which is in part inspired by the musical structure of a fugue, in which tunes are repeated in complex patterns. In this play, a family with three generations of men have all fought in armed conflicts and go through rough times. Yet writing the play, Hudes wondered why these men didn't talk to each other about the effects of war on their lives.
Hudes started writing Elliot, A Soldier's Fugue as an MFA student at Brown University. Taking walks near the campus, she began imagining three soldiers' individual boot camp situations, the first time they fired a weapon in battle, and other such experiences, as if they were happening simultaneously. The playwright started visualizing the scenes of a play like a fugue  that would be laid out on a page. She was excited to write a play about Puerto Ricans and was also inspired by Bach's music.
When it opened at Culture Project in New York City in 2006, critic Phoebe Hoban in The New York Times wrote that "Elliot, a Soldier's Fugue is that rare and rewarding thing: a theater work that succeeds on every level, while creating something new … a deeply poetic, touching and often funny indictment of the war in Iraq."
In the Elliot Trilogy, Hudes deals with varied modes of communication, and in the other two plays in the series, characters talk to each other via the Internet, cell phones, and video conversations. The plays switch locales from scene to scene, from realistic settings to cyberspace chat rooms, and characters in a single play can live in different countries. Music continues to play an integral role, with American jazz, especially John Coltrane's music, serving as inspiration for Water by the Spoonful, and Puerto Rican and Middle Eastern folk music showcased in The Happiest Song Plays Last. In the latter two plays, we see Elliot struggle with the after-effects of his Iraq war experience and his search for a purpose in life. Another recurring character in these two plays is Elliot's older cousin Yaz, a highly educated music professor who could in part be inspired by Hudes's own experiences.
When Pulitzer Prize-winner Water by the Spoonful had its New York premiere at Second Stage Theater in 2013, critic Charles Isherwood of The New York Times praised the work: "Almost all the characters in this moving collage of lives in crisis have a grim history … of substance abuse. … yet for a drama peopled by characters who have traveled a long way in the dark, Water by the Spoonful gives off a shimmering, sustaining warmth. Ms. Hudes writes with such empathy and vibrant humor about people helping one another to face down their demons that regeneration and renewal always seem to be just around the corner."
Philadelphia, particularly North Philly where Hudes grew up, serves as the setting for several of Hudes's works. She understands the locale very well and can write about it with a real clarity and a sense of place and of confidence. And because she now lives in New York City, she has a sense of distance, too, and can look at it from the outside.
"In North Philly, and the neighborhood where my family lives, there's a sense of serious isolation," she comments. "There are no subway lines going through and not a lot of back and forth. I realized growing up that was a very important story to tell. There are these isolated pockets throughout this country that don't have the through traffic, that are a world unto themselves and are really essential to the fabric of this nation, but in some ways are invisible."
One project Hudes worked on which she didn't originate was In the Heights; she wrote the book, working with composer  and Wesleyan '02 graduate Lin-Manuel Miranda. She found Miranda a joyous and generous collaborator. But it was a singular and sometimes difficult challenge, because she had never come late into a project and been given the task of building it from the ground up. Miranda gave her a 120-page script and she worked with him on reshaping the book, wrestling with such questions as: Do we really need this character? Why is this love triangle so important?
"We kept a lot of the songs and characters. We kept the tone that was about joy and celebration," she says. "But over the course of the three or four years, the basic situation of the story changed—which characters were more central and what happened to them altered. By osmosis, at the end, Miranda said, 'You wrote the book, it is your book, it is no longer mine.' Ultimately, I felt that the book really did service this beautiful vision he had of his community and this musical tapestry and also told a story we both felt really good about."
Two important influences in Hudes's life are her mother and her playwriting professor at Brown University, Paula Vogel.
Hudes describes her mother as a deeply spiritual person, and she admits that she is in many ways nothing like her.
Her mother worked with the Quakers and the American Friends Service Committee in Philadelphia, doing outreach to teenagers of color around the country. Hudes attended Quaker meetings with her for several years. During Hudes's teenage years, her mother became a Santera, which is like a priestess in Santería, an Afro-Caribbean syncretic religion that is practiced in Puerto Rico, Cuba, and a number of areas in Brazil. This is a practice without churches; while growing up, Hudes witnessed a lot of religious ceremonies and rituals, with other people gathered in her living room, that would provide her with future writing material and influence her aesthetics on a deep level.
"I've never had that sort of vision of life, like my mother's," Hudes admits. "But I think she saw something in the role of the writer that related to my own interests—telling a story that's not been told before. When I was in my mid-20s, she said, 'Look, I love the music that you're doing, I think you're a great musician, but I think a lot of people can do the music you're doing, I think the things you write about, there are actually not many people who could do that, and maybe it's important and has some value.'"
Following her mother's advice, Hudes decided to study playwriting seriously at Brown University with Vogel, the revered playwright who won the Pulitzer Prize for How I Learned to Drive. Vogel was an inspiring and nurturing teacher and mentor.
"She shared with me who she was as a human being, and that was the biggest teaching gift of all," Hudes says. "She shared her relentless hope that each play will reveal itself and bring new gifts into your life. Unyielding insistence that you can pay your bills by writing a play. She's an older woman, she's a matriarch, but she's young. She's still playing make-believe. And that energy is infectious.
"I left Brown feeling ready to dedicate my life to make-believe and playwriting. There are so many times in which it's hard and unmerciful, and Paula helped me get past those moments. And when I struggle, when I get a bad review or have a challenging collaboration, I call her because I just need that hope, that lift."
In a 2014 interview in Time Out Chicago, Hudes said: "[Writers] get to be curators of culture, curators of reality." She finds that new plays can illuminate parts of American culture whose stories have yet to be told. She mentions the Oregon Shakespeare Festival, which is overseeing a huge, ambitious project, commissioning 37 playwrights, including herself, to write American history plays. This will be a playwright-curated view of what constitutes this nation's history.
"I think that part of the responsibility of a playwright is deciding, 'Okay, what do I think has value and what am I going to put onstage?'" she says. "And specifically, what hasn't been written about before?"
In fall 2014, Hudes taught Contemporary Plays: Writing and Reading at Wesleyan. Her students had taken a workshop before but none of them were experienced playwrights. She appreciated the mix of students with various majors, who brought a wide range of interests to the classroom.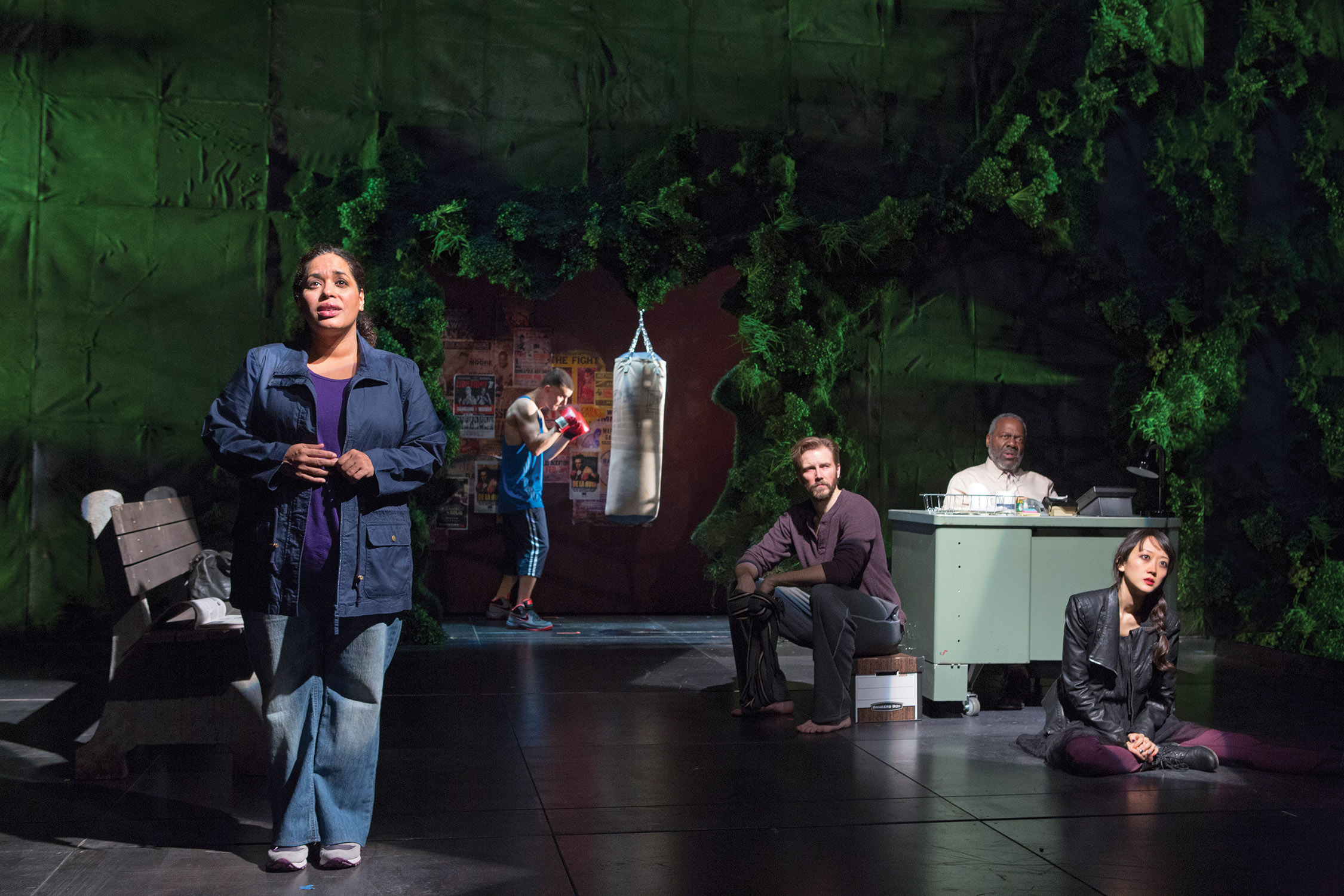 "It's so unusual for me to read a play or to be in the theater and not find value in a piece," she says. "Ultimately I want to create lovers and understanders of art. If one or two of them become playwrights, that's fantastic, that's icing on the cake, but that's not necessarily my goal. I don't think of it as vocational teaching that I'm doing."
Hudes is rigorous with her reading assignments. She wants her students to learn about theater history and a breadth of the various styles of the best writers alive. Her classes cover aesthetics and the different ways to dramatically structure a play in a meticulous way. Once her students understand story and dramatic structure, they can transfer this knowledge to other art forms and fields of study.
"As a humanities endeavor, it actually prepares you for all sorts of work— creativity is creativity," she comments. "It's important to scientists, and it's important to doctors. I hope to teach students to really push themselves to think outside their boundaries, to challenge themselves to articulate ideas in different ways. And to also be asking, 'Well, what is my idea? What is important to me?'"
One of her students, English major Margaret Curtis '16, admires Hudes's passion for contemporary playwriting and found it refreshing and inspiring to study new work written by women and people of color rather than just plays by the often-taught "greats" such as Arthur Miller, Oscar Wilde, and Shakespeare.
"Professor Hudes's critiquing style pushed us but never forgot to find some element of beauty in our pieces," Curtis says. "She asked us, 'Why does this story need to be written?,' a question that kept us grounded and thinking big."
When Hudes received the Pulitzer Prize for Drama in 2012, she was a visiting professor at Wesleyan, and her award was announced during her afternoon Advanced Playwriting class. She discovered the news after her class ended. The prize has been helpful to her career, and she now serves on the Pulitzer Prize Board, which allows her to read some of the best writing in the country.
"Getting the Pulitzer was wonderful," she says. "I'm not going to lie, and I'm not going to say that it didn't matter at all to me—my mom was shedding tears of joy and we were jumping up and down. And on a particularly bleak or dark day, my husband and I will say, 'Well, that was a nice thing that happened.' But you definitely can't get too caught up in it, because it will give you some sort of false illusion about what this is really all about, which is just waking up and writing plays."
Since receiving the Pulitzer, Hudes has been writing continuously. She has been collaborating with singer-songwriter Erin McKeown on a musical to be presented at the La Jolla Playhouse. She is excited about her new play, Daphne's Dive, set in North Philly, about seven friends who meet at a bar over the course of 20 years. She also has a commission with Lincoln Center Theater.
In March of this year, Hudes joined the prestigious Residency Five program at the Signature Theatre in New York City, which provides five-year residencies for multiple playwrights, guaranteeing three full productions of new work over the course of each playwright's residency.
Though she certainly enjoys teaching, Hudes admits that it does take precious time out of her writing weeks. Working on musicals takes even more time than plays. She finds herself thinking about her work even while driving the two hours from New York to Middletown.
"I may stop at every rest stop because as I drive, I am writing in my head," she says. "I'm having an idea—'Oh my God, what if this character says this in a scene, that's how to make it more present, how to make it more urgent.' So I pull over at the rest stop and write it down."
Sometimes the best ideas for plays may simply come from daydreaming.
"The playwright Sarah Ruhl talks about daydreaming in her new book, 100 Essays I Don't Have Time to Write," Hudes says. "It's a great book. I had daydreams so much as a kid growing up waiting for the subway, waiting for the bus. And these bus rides, these sector bus rides in Philly, they just take forever. And I'd just think or read, that's all I'd do. So yes, daydreaming is an important part of writing—absolutely."
The Play's the Thing
Hudes's class reading list includes plays from around the world, several of them among her favorites. Some of the plays are sprawling epic works, such as Passion Play by Sarah Ruhl, about three communities attempting to stage the death and resurrection of Christ; Angels in America; A Gay Fantasia on National Themes by Tony Kushner, a seven-hour play that deals with AIDS in the age of Ronald Reagan; and Death and the King's Horseman by Nobel Prize-recipient Wole Soyinka, based on actual events in Nigeria during British colonial rule. Others on the list are more intimate in scale, such as Annie Baker's The Flick, which focuses on three underpaid workers in a run-down movie theater; German impressionist Franz Xaver Kroetz's Through the Leaves, about a female butcher in an abusive relationship; and Bonjour, Là, Bonjour by Canadian Michel Tremblay, a chamber piece about a dysfunctional family, which, in part, inspired Elliot, a Soldier's Fugue.