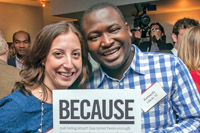 It's likely that very few college fund-raising campaigns began at a more inauspicious time than Wesleyan's THIS IS WHY campaign. The opening bell had barely sounded when financial markets collapsed in the Great Recession, and it was far from clear that Wesleyan's donors would have the wherewithal to support the campaign's ambitious goal of $400 million—much more than the university had ever raised before.
President Michael Roth '78 likes to tell a story about the chair of the campaign, John Usdan '80, P'15, '18, '18, who said it was the best time to start a campaign—no irony intended. John is a pretty steady guy, not given to wild pronouncements, so that kind of bold assurance suggested an ability to look further down the road than most people were looking at that moment of national angst.
Time has borne out his confidence. The THIS IS WHY campaign closed on June 30 with a record-smashing $482 million. Nearly 80 percent of alumni joined in this historic effort, and many joined a gala celebration in June at Grand Central Terminal in New York. The close of the campaign was eye-popping—more than 3,400 gifts in June and pledges of $30 million received in the last five days!
As an alumnus and a Wesleyan parent (three times over), I'd like to give a shoutout to the nearly 5,000 non-alumni families of Wesleyan students, past and present, who participated in the campaign with more than $51 million in gifts. Parents know from their children whether Wesleyan is delivering the goods, and their generosity is a great testament to the experiences of our students.
In this issue of Wesleyan magazine, we present a retrospective of the campaign that is more impressionistic than detailed, more pictorial than narrative. We highlight specific ways in which the campaign has had an impact on the university, knowing that the impact will be felt for many years to come, in varied and perhaps unpredictable ways. Of particular note is that donors have established 152 new endowed scholarships—and nothing is more important than ensuring that the students who are most able to take advantage of Wesleyan can attend, regardless of their financial circumstances. Also noteworthy throughout the campaign was the leadership and generosity that John Usdan, together with his brother, Adam '83, and the Lemberg Foundation provided.
The close of the campaign also coincides with a transition in leadership of the Board of Trustees: Joshua Boger '73, P'06, '09 became chair emeritus and Donna Morea '76, P'06 has assumed the role of chair. We look at highlights of Joshua's term as chair and the ways in which the Board has helped to lead change at Wesleyan.
The campus is quiet now, and I'm writing this not long after Reunion and Commencement Weekend, when we joyously celebrated the accomplishments of students in the class of 2016. They are what the campaign is all about.
William Holder '75, P'05,'05,'08, editor