ON THE ROAD TOWARD EQUITY & INCLUSION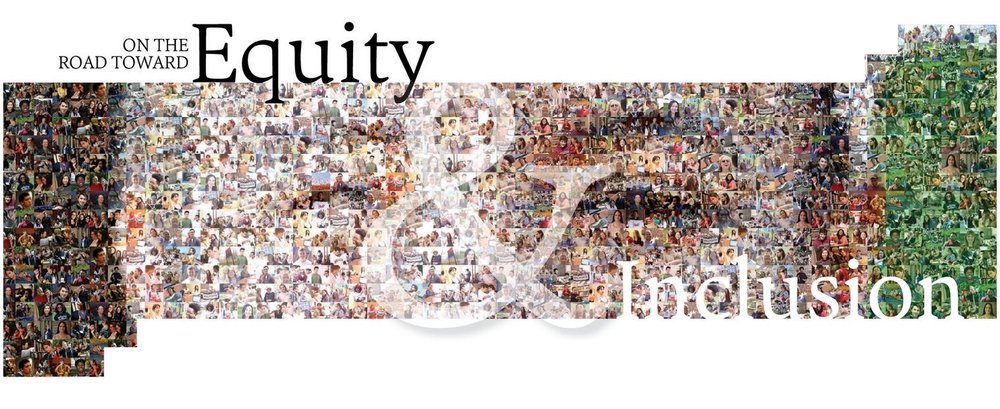 Wesleyan no longer stands out uniquely as "Diversity University," but discussions about how to become a more equitable and inclusive community have produced results—and challenges.
By 1964 the Civil Rights Movement had primed Wesleyan's campus for change. Dr. Martin Luther King Jr. Had spoken at Commencement against segregation and indifference to poverty, shortly before the Vanguard Class arrived. Wesleyan's first-ever class with students specifically recruited for academic excellence and diversity included one Latino and 13 African Americans. Up to that point, Wesleyan could count only a handful of students of color total among its ranks during its more than 130-year history.
John Hoy '55, MALS '61, had become dean of admission in 1964. He was a vigorous proponent of recruiting a more diverse group of students, and under his leadership, 400 African American high school students were contacted as possible applicants to the Vanguard Class—establishing Wesleyan as a leader in the effort to diversify. Hoy, however, was always quick to point out that the groundwork for this effort had been laid prior to his arrival. In the 1950s, for example, when both African American and Jewish students were rare on campus, two fraternities severed their relationships with their nationals over discriminatory policies, acts accompanied by considerable campus discussion.
Hoy and other administrators serving with President Victor Butterfield were, by their own admission, woefully unprepared for the consequences of their commitment to put Wesleyan at the forefront of the then-unprecedented effort of traditionally all-white elite colleges to march toward diversity. Those consequences have played out over time and have revealed a significant gap between institutional aspirations and the realities of campus life as experienced by historically marginalized students—a gap that continues to challenge us today, more than five decades later. The intensity of campus debate has waxed and waned through the years, the stridency of protest has sometimes surged and at other times diminished, but the core issues have demonstrated a dismaying staying power.
It's not just about numbers, although numbers do matter. A diverse campus community— students, faculty, and staff—produces a better educational experience, one that harnesses the productive synergies that arise when people leave their comfort zones and work with and learn from those who have different backgrounds, experiences, and points of view. Wesleyan looks far different today than it did in 1965. The presence of significant numbers of students of color—30 percent— has long since ceased to be remarkable, and the number of international students has been increasing—now 13 percent in the firstyear class. In 1993 Wesleyan had 18 faculty of color (tenure and non-tenure track); in 2016 the number was 41, thanks to vigorous efforts to make recruitment an institutional priority.
But that doesn't mean all is well. Wesleyan seeks to create and maintain a community that is both equitable and inclusive, one in which no student faces barriers to participation and all students have an equal opportunity to benefit from the institution's considerable academic and cocurricular resources. That lofty goal poses challenges. Dialogue between administrators and students is often fraught with difficulty and occasionally breaks down entirely. At times, students say they don't trust the administration. And there are other barriers to inclusion. The need to work multiple jobs, for example, can make participation difficult and diminish a sense of belonging for financially stressed students.
Wesleyan has been known, both positively and pejoratively, as "Diversity University," but that term has lost much of its currency. Many other institutions are now equally as diverse, if not more so. Conversation around race and ethnicity has changed as well, focusing more on the experience of being a student, faculty, or staff of color at Wesleyan and less on numbers. The most recent senior survey data show that 62 percent of seniors report being very or generally satisfied with the climate for ethnic/ racial minority students on campus (above the peer median), but that still leaves ample room for disaffection—38 percent reporting that they were generally or very dissatisfied. Trustees of color who have met with groups of faculty and students of color over the past year or more point to a consistent theme: all too often people of color on campus experience prejudice in classrooms and other spaces that further exacerbates the damaging persistence of the racism that afflicts the entire country.
"It was disturbing to discover that many students and faculty members of color are deeply concerned about the campus climate and are grappling with the same issues that we struggled with as undergraduates," says Trustee Saeyun Lee '93, former policy director at the Massachusetts Executive Office of Education. "But given the current national discourse about these issues, unfortunately it is not surprising."
Many of these issues are not new. When black students staged a takeover of Fisk Hall in 1969, they questioned the administration's "commitment to meaningful change." The same charge is leveled against the university administration today. Other than the numbers, what has really changed?
Wesleyan, of course, is far from alone in facing these issues. A wave of unrest swept across campuses nationwide in the previous academic year, inspired by the Black Lives Matter movement. At Wesleyan, a march of about 500 students, staff, and faculty in November 2015 ended with the release of demands from the #IsThisWhy? Coalition of student groups intended "to fight back against the daily effects of white supremacy in academia."
Scholars who study higher education say that colleges keep making the same mistakes as they respond to crises, according to The Chronicle of Higher Education. They tend to be reactive rather than proactive, planning is assigned to ad hoc committees, strategies are designed by small groups of people, and most people on campus are left out of the discussion.
"To diversify a campus means to transform it, experts say, and that sometimes also means throwing away long-held assumptions about how admissions, hiring, and curricular development function. And that," said the Chronicle, "is hard work."
President Michael Roth and Wesleyan's trustees have committed themselves to this hard work of addressing persistent racism cited by students, faculty, and staff of color. For its part, the Board is embedding equity and inclusion into its decision-making processes. Trustee Irma González '78, P'09, an expert in social justice advocacy at Zoen Resources, says that she and other current and former trustees of color, including Daphne Kwok '84 and Bobby Donaldson '93, held a series of discussions about how to get conversations about equity and inclusion on the Board's agenda. With the enthusiastic support of then Board chair Joshua Boger '73, P '06, '09 and vice-chair Ellen Jewett '81, P'17, in 2013 those discussion led to the creation of a Board of Trustees' Equity and Inclusion Task Force.
Trustee Al Young '88, professor of sociology at the University of Michigan, helped launch the task force with a talk urging Board members to look beyond diversity and focus on building an inclusive university community. The work of the task force, he says, has produced a marked change in Board conversations, but much remains to be done to figure out how to incorporate diversity and inclusion into areas such as finance and campus planning. He adds:
"Issues of diversity, equity, and inclusion are salient to everything the Board discusses."
In 2014, the task force brought its deliberations to the Board's annual September retreat. The two-day meeting included implicit association tests to help individual trustees understand their own assumptions and biases.
A strong statement produced by the task force, and adopted by the Board, committed trustees "to conversations regarding diversity, equity, and inclusion, and to monitoring progress in promoting equity and inclusion in all aspects of university life, including:
Eliminating the comparative disadvantages in educational experience that may separate student groups on the basis of race, ethnicity, socioeconomic status, sexual orientation, gender identity, gender expression, religion, political perspective, and/or other cultural norms or factors; and
Honest conversations, openness, and metrics regarding diversity, equity, and inclusion and evidence reflecting student success, faculty and sta. Recruitment and retention, and institutional performance."
"I am proud of our Board's deep commitment to the core value of equity and inclusion," says Donna Morea '76, P'06, chair of the Board. "We view progress in this area as fundamental to Wesleyan's educational mission and are sobered to hear that we still have much work to do. We have pledged to consider the ways that issues pertinent to equity and inclusion affect all aspects of life at the university, to weave this commitment into the entire fabric of our Board and committee work, and to monitor results. Our trustees of color have done a great service by encouraging us and leading us in this direction."
"Diversity has become more complicated over time," Young says. There is less concern about numbers and more discussion about recognition (or lack) of the contributions of many different groups, as well as structural problems often referenced as "who has a seat at the table?" and, consequently, influence over decision making. Students, faculty, and staff of color cite "exhaustion" stemming from efforts to bring about institutional change. Young says this complaint is relatively new, and he hears it on other campuses.
"We need to understand it better," he says. "The Board and administration need to grapple with it."
The term "diversity" also casts a wider net— undocumented immigrants, including those with DACA (Deferred Action for Childhood Arrivals) status; students with disabilities; first-generation students; LGBTQ students; and those coming from military service. Diversity of political viewpoints has entered the mix as well. These varied groups may have different interests and goals.
The national climate also reverberates through campus. Concerns voiced by the Black Lives Matter movement have been felt keenly here. At this moment, little is known about how the agenda of the new administration in Washington may affect individuals on campus or how guidance from the federal government on issues such as Title IX may change. President Michael Roth has been an outspoken defender of progressive educational values and last semester declared Wesleyan to be a sanctuary campus.
For some time Wesleyan has had a chief diversity officer, and in 2013 the university hired Antonio Farias as vice president for equity & inclusion, and Title IX officer. Farias has led a major effort to revamp policies and procedures with the aid of committees that gather several dozen faculty, staff, and students together to address issues. Much of this effort has been directed toward Title IX issues, and Farias notes that the processes and tactics developed are applicable to a broader array of issues pertinent to equity and inclusion.
"Inclusion is aspirational," he says, "and part of that aspiration is to engage people across campus, including individuals who might not normally get involved in thinking about equity and inclusion." In the wake of a tense campus climate and the #IsThisWhy protests, Roth commissioned a campus Equity Task Force, whose April 2016 report was titled "An Intervention in 185 Years of Wesleyan History." Led by tri-chairs Anthropology Professor Gina Athena Ulysse, Farias, and Shardonay Pagett '18, the authors of the report noted that the Wesleyan community needs to have a better sense of university history in order to move beyond "cycles in which crises are addressed with what in retrospect have been only temporary and incomplete measures."
"WESLEYAN IS COMMITTED TO INNOVATION IN CURRICULAR DESIGN AND PEDAGOGICAL APPROACHES," SAYS YOUNG. "WE UNDERSTAND, FOR INSTANCE, THAT DIVERSITY IS IMPORTANT IN SCIENCE."
At the risk of oversimplifying, Wesleyan's history shows that efforts to address racial discord on campus have been well-meaning, and although a great deal of progress has been made, much more remains to be done, particularly to put responsive institutional structures in place that will improve the educational experience for all.
The task force made three recommendations— with the caveat that all three would need considerable thought and effort to implement in order to move beyond a bandage approach. Roth endorsed the recommendations, the first of which calls for creation of a "Resource Center" (see sidebar) that has a clear, intellectually grounded mission in social justice and a focus on intercultural development and literacy. The Resource Center will serve as a nexus for activities that support equity and inclusion, and it will also provide a space for historically marginalized groups to meet.
The second recommendation calls on Wesleyan to commit the resources needed to address historical and structural conditions that produce cycles of student protest as well as retention issues among faculty and staff of color. Specifically, the recommendation is for a long-term, comprehensive initiative with concrete action plans incorporated into Wesleyan's strategic planning.
The third recommendation calls for the creation of an effective mechanism to support ongoing institutional change—a standing committee of faculty, staff, and students.
"It's vital that we seize this moment to improve the educational experience for all Wesleyan students, most especially those who have felt marginalized by practices of this institution, past or present," said Roth in announcing the report.
He pledged that the university would develop the Resource Center for opening in fall 2017, a year earlier than called for in the report. He also said the administration would add to the "considerable resources we have already dedicated to recruiting and supporting students, faculty, and staff from underrepresented groups." By replacing loans with grants for low-income students and improving employment terms for student workers, the administration is seeking to ensure that all students have ample opportunity to participate fully in the life of the university. He also endorsed the call for a standing committee, the Equity & Inclusion Steering Committee, to coordinate efforts and measure outcomes.
As a catchphrase, "Diversity University" may have faded into the background, but Wesleyan continues to have a leadership role in embracing equity and inclusion, by virtue of both its history and its commitment to curricular and intellectual boldness.
"Wesleyan is committed to innovation in curricular design and pedagogical approaches," says Young. "We understand, for instance, that diversity is important in science." Making classrooms more inclusive is a priority for the Center for Pedagogical Innovation (CPI), housed in the newly renovated Fisk Hall. With support from the Mellon Foundation, CPI is leading a five-year effort to ensure that pedagogical practices foster classroom cultures in which everyone feels included and can thrive. Amy Tang, associate professor of English and American studies, will begin this program with a seminar for faculty next fall titled Race and Pedagogy. The aims of the seminar are to help faculty across the disciplines generate concrete strategies for leading inclusive classroom conversations around race across the disciplines and, secondly, to provide an environment where faculty, many of whom are working independently toward this goal, can collaborate and share new approaches.
The CPI is also hosting an Active Learning Community this spring with a group of 10 faculty who have been meeting regularly to develop courses based on active learning concepts. Prominent in this approach is the notion of project-based learning, in which students learn through projects that require application of theory and principles. Active learning recognizes that an inclusive educational environment addresses different learning styles.
Universal design for instruction, another CPI initiative, also fosters inclusive learning environments by minimizing the need for special accommodations for students with disabilities. It operates on the premise that the planning and delivery of instruction, as well as the evaluation of learning, can incorporate inclusive attributes that embrace diversity in learners without compromising academic standards.
The Office for Equity & Inclusion coordinates five programs that make up "Pathways to Inclusive Excellence," says Farias. "These programs serve as incubators for testing ways to enhance our vibrant and inclusive community of scholars who will become the next generation of education leaders."
Pathways to Inclusive Excellence includes the Ronald E. McNair post-baccalaureate program, the Mellon Mays Undergraduate Fellowship, the Posse Veteran Scholars Program, the Upward Bound Math-Science program, and the newest—WesMaSS, the Wesleyan Mathematics and Science Scholars Program. This is a two-year program that begins the summer before matriculation. Student scholars participate in a variety of workshops and activities aimed at building sustained relationships with science faculty and peers, as well as developing the intellectual habits of successful science students.
David Westmoreland, associate professor of chemistry and director of WesMaSS, says the program is now serving 64 students in the first-year and sophomore classes, as well as maintaining connections with the first cohort, now in the junior class. Of these, 42 percent are students of color and 46 percent are first-generation at college; 48 percent are low-income. Early results are encouraging: almost all of the current sophomores are taking one or more math and science courses. In the first cohort, 13 of 15 WesMaSS scholars have declared a science or math major.
The full range of efforts to address equity and inclusion on campus goes well beyond the scope of this article, as do the critiques of administrative initiatives and the many voices that have protested inequities and institutional shortcomings.
Despite clear progress, it would be disingenuous at best to suggest that Wesleyan is somehow over the hump, that we can breathe a sigh of relief and move on to other matters. The very fact that we are still struggling with inclusion nearly half a century after the takeover of Fisk Hall is a powerful reminder that lasting institutional change requires a larger and more sustained effort than anything attempted in the past.
In a Huffington Post article, Ulysse spoke to the issue of institutional commitment: "In these times, students are demanding that administrations go beyond rhetoric and, in the process, engage with the structural history of inequity that is foundational to most institutions of higher learning in this country. From Mizzou to the latest, each new protest and demands list confirms that change must begin at home."
Changes large and small are underway at Wesleyan, with the hope that, by learning from the past, Wesleyan will succeed in creating a more equitable and inclusive campus for generations to come. The passion for improving the institution—for creating lasting structural change—is evident among the Board, the institution's leadership, faculty, staff, and students, and alumni. That alone should be celebrated, even if the way forward is not always clear.
"It's a fair question to ask: What does it really take?" says González. "Institutional transformation is not a simple thing. We're on the right path, but we could go faster. There is a lot left to do."
For more on the early days of diversity at Wesleyan, see Route to Diversity online.