MEET HAMILTON PRIZE WINNER AUDREY PRATT '21
When 18-year-old Audrey Pratt of Needham, Mass., received a ticket to see Hamilton for her birthday, she never dared dream that Lin- Manuel Miranda '02, Thomas Kail '99, and members of the all-alumni Hamilton Prize Selection Committee would soon be deliberating over her work, and the work of seven other finalists, in their search for the first-ever recipient of the Wesleyan University Hamilton Prize for Creativity. But on May 17, Pratt discovered that a dream she never dared dream could still come true, when her short story, "Thorns, Black and White," was announced as the winning submission for the four-year full-tuition scholarship.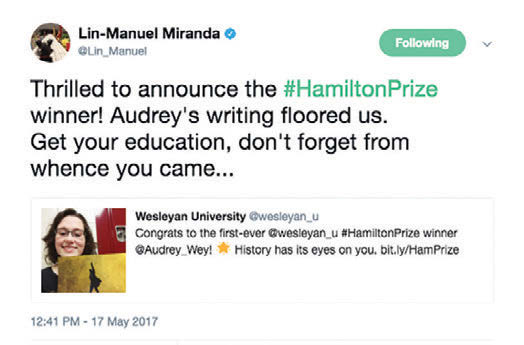 Pratt has been a writer ever since she can remember. At her home—where she lives with her parents, Betsy and James, her 15-year-old brother, Ian, and her 6-year-old yellow lab, Zoe—you might find her any day of the week working on any number of projects that might someday become novels, stories, or films.
For Pratt, it's the mental exercise of taking an idea and stretching it to its limits, and beyond, that quenches her writerly thirst. "There's always a seed somewhere," says Pratt. "I remember reading Everything's Eventual, by Stephen King, about a global conspiracy, and finding out that it was inspired by a dream he had about someone pouring money down a storm drain. The fact that he was able to pull it and stretch it and bubble it out into this fully formed story? That's what I love doing."
Pratt began working on her prize-winning submission—a dark coming-of-age fairytale set deep within a primeval forest—almost two years ago, after seeing a comic about how less than 5 percent of the ocean had actually been explored. "I remember thinking: What if, instead of going deeper and deeper into the ocean, we went deeper and deeper into the forest. What would we find? What if there were human beings who had grown up in this lightless, intense canopy world? What would they be like?" she says.
The story was just one of the many pieces in progress Pratt had in her Google Drive folder at the time. And while she considered submitting others—including a romantic horror story and an urban fantasy—she chose "Thorns, Black and White" because its surreal imagery and fantastical storyline were more "out there" than some of her other pieces, with a Brothers Grimm-like feeling that evokes the work of one of her biggest influences: Neil Gaiman.
"I love sci-fi and fantasy. I love the idea of exploring other worlds and of building and creating alternate microcosms that exist with somewhat different rules from ours, but also with rules that co-exist with ours," she says. "I knew I was taking a risk by submitting 'Thorns, Black and White,' but I'm glad it paid off!"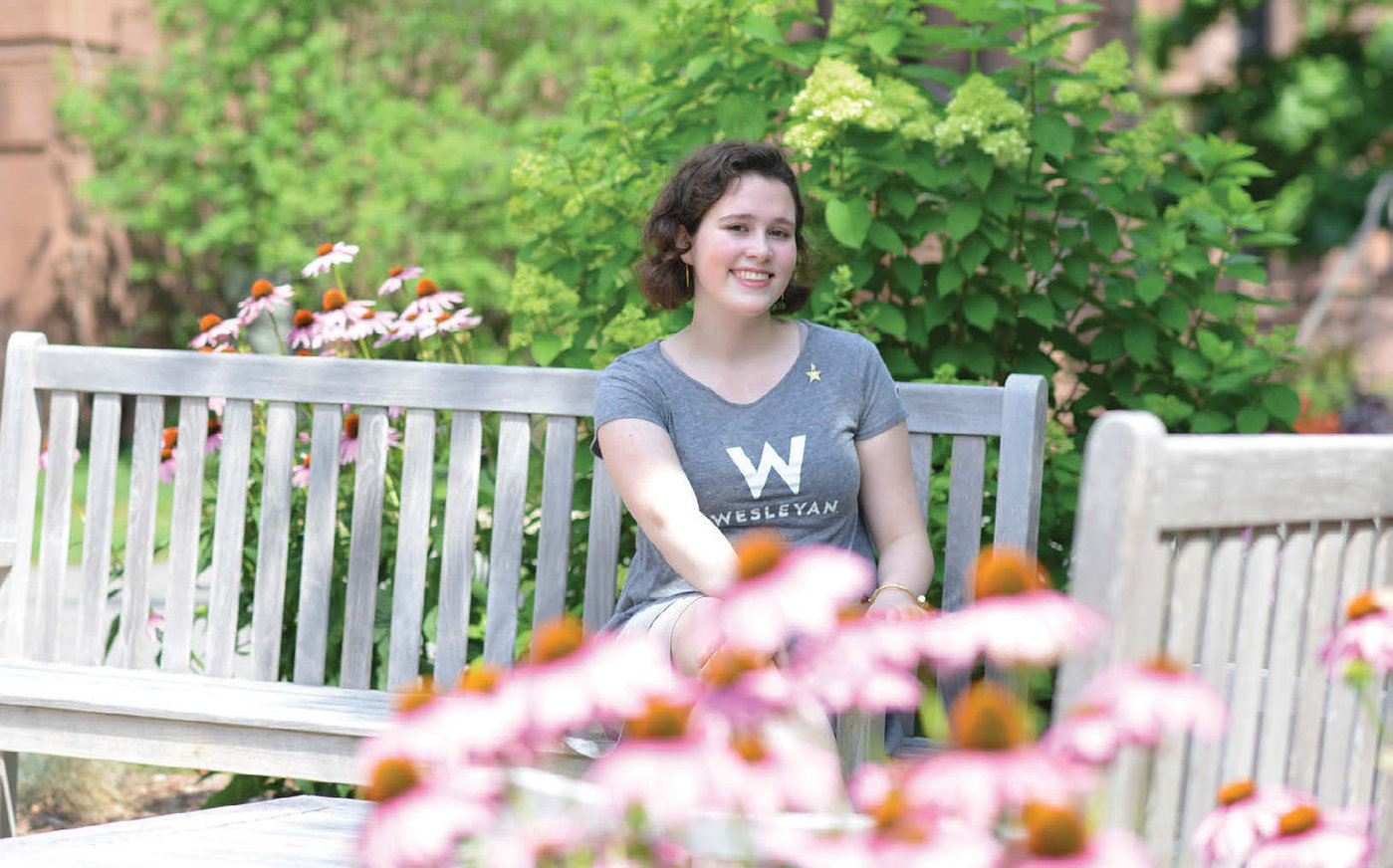 Ask Audrey Pratt to name the best three hours of her life so far, and she'll tell you: Seeing Hamilton on Broadway. And the single best moment of her life so far? Winning the Hamilton Prize.
FROM HIGH SCHOOL SENIOR TO HAMILTON PRIZE WINNER
As a member of Needham High School's Class of 2017, Pratt was a captain of the speech and debate team, a member of the National Honor Society, and a member of the school's all-female robotics team. Her role: ensuring that changes made to the robot were documented in writing. "Trying to get STEM people to write things can be like herding cats," she laughs. "I said, 'just tell me about it, and I'll type it up'."
Pratt's involvement with the robotics team gave her the opportunity to explore the intersection of her two main areas of interest: writing and science. "A lot of brilliant people can't communicate the 'big ideas' to people who don't have the same pedigree," says Pratt. "That's one of my big things—communicating about science in a way that makes sense to people. If we learned how to communicate about it better, more people would understand what's going on and we'd have less of this kind of elitism and distrust of science."
With a dual interest in cognitive neuroscience and creative writing, Pratt focused her college search on schools that offered established programs in both the sciences and the humanities, because, as she explains, "I didn't want to have to choose what I wanted to do before I even went to college." In her junior year at Needham High, Pratt made plans to visit several colleges that had piqued her interest. First on her list: Wesleyan.
"Even though it was pouring out that day, I loved it immediately," says Pratt, remembering her visit. She was especially struck, she says, by what she calls the school's "noncompetitive vibe."
"It seems like everyone wants to do well, but for their own sake—not at the expense of someone else," says Pratt. "It's the mentality of: We do our best work when we contribute our best together; not some kind of Darwinist survival of the fittest."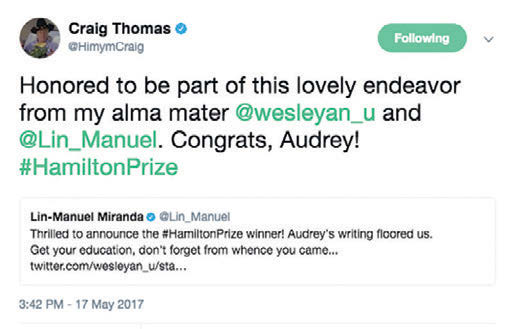 The more she learned about Wesleyan's open curriculum, the more she recognized just how well Wesleyan's educational philosophy meshed with her own. "Wesleyan's distribution requirements were so open that I knew that not only could I have a great experience in both the humanities and the sciences, I could actually explore both at the same time instead of having to choose between them," says Pratt. The opportunity to do research as an undergraduate was another plus. "The resources that are available at Wesleyan are not only great, but they're available whether you're a graduate or an undergraduate. That's something you don't find everywhere."
Realizing that Wesleyan was where she wanted to spend the next four years of her academic life, Pratt applied early decision, submitted her application for the Hamilton Prize, and by mid-May found herself not only accepted as an incoming member of Wesleyan's Class of 2021 but also short-listed as a finalist for the prize.
"I remember when I first saw who was actually on the judging panel," she says, ticking off the names of several committee members. "Matthew Weiner, Craig Thomas and Carter Bays, Amanda Palmer, Amy Bloom, Daniel Handler. I thought to myself, okay there's no way I'm going to win. In a million years, I'm not going to win. The bestcase scenario? Lin and Tommy Kail and the committee members actually read my work. And that, to me, was the best thing I could think of, honestly."
In early May, Pratt's best-case scenario became a reality. "When I got the e-mail saying I was a finalist, I just thought, wow— they're actually going to read it!" she says. Less than a week later, a phone call brought news she hadn't even allowed herself to imagine up until that point. "The phone rang, and it was President Roth," says Pratt. "I really thought he was going to say, 'I just wanted to say thank you for submitting work'—and instead he said, 'congratulations!'" she recalls. "That was a moment of much celebration!"
PLANNING FOR THE FUTURE
Several months later, Pratt continues to be amazed by the outpouring of goodwill in response to her achievement. "I started a Twitter account about three days before I won, and everyone on the committee was retweeting at me," says Pratt, shaking her head in disbelief, still. "Tommy Kail called me—I can actually say I played phone tag with Tommy Kail!—and we talked about it. And when I DM'd with Lin, I made a weird reference to one of the Saturday Night Live promos I saw when he was hosting the show, and he was so nice about it. 'Wow. That was a deep-cut reference,' he said, in the nicest possible way," she laughs.
This summer, Pratt is spending her time catching up with friends, visiting with extended family, and preparing for life at Wesleyan, where she intends to double major in creative writing and cognitive neuroscience, and perhaps to explore the Writing Certificate, too. And while she's fully aware of the expectations that come with winning an honor like the Hamilton Prize, she's able to deal with the pressure by remembering why she was selected in the first place.
"The expectations are pretty high right now," she says. "So whenever I feel the pressure, I remind myself that being chosen for the prize means that what I've been doing, is working."
Pratt doesn't have any concrete plans to publish "Thorns, Black and White" at the moment, but she's open to the possibility of doing so in the future. Right now, though, she's taking things day by day. "My plan," she says, "is to just keep learning. To keep reading, keep writing, and keep taking advantage of the experiences that come my way because of this incredible opportunity."
Submissions for next year's Hamilton Prize are due Jan. 1, 2018, the regular decision deadline for Wesleyan's Class of 2022. For more information, visit wesleyan.edu/hamiltonprize.