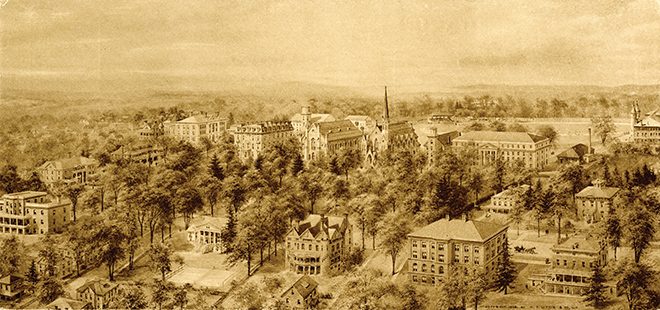 Through archival photographs, maps, portraits, and drawings, a new book traces four centuries of Middletown history, focused on the development and evolution of High Street.
One of the latest books in the popular Images of America series hones in on a familiar setting. Middletown's High Street and Wesleyan University (Arcadia Publishing, 2020) delves into the history and evolution of Middletown, and High Street in particular. Renowned for its dramatic views of the Connecticut River, expansive green spaces, and fashionable villas, High Street has long been a focal point for both the city and Wesleyan.
Authors Alain Munkittrick '73, an architect who is on the board of directors of the Middlesex County Historical Society (MCHS) and who served on Wesleyan's Landmarks Advisory Board, and Deborah Shapiro, the municipal historian for the City of Middletown and a former MCHS executive director, present a broad selection of photographs—many never before published—from the collections of Wesleyan's Library, Special Collections & Archives, and the Middlesex County Historical Society, among other sources. Images within the 127 pages include early maps and painted views of Middletown's riverfront, architectural drawings, portraits of some of High Street's most prominent residents, and photographs of more recent happenings on campus, such as Commencement addresses by Martin Luther King Jr. in 1964 (below) and then-Sen. Barack Obama in 2008.
Proceeds from the sale of the book support the programs of the Middlesex County Historical Society.