The Leavers: A Novel
LISA KO '98
ALGONQUIN BOOKS, 2017
The Leavers tells the story of 11-year-old Deming Guo, whose mother, Polly, an undocumented Chinese immigrant, fails to return home one day from her job at a nail salon in Brooklyn—leaving Deming alone to navigate a new life as Daniel Wilkinson, the adopted son of a well-meaning American couple in upstate New York.
Inspired by the true case of an undocumented mother who was arrested, jailed, and deported without her son in 2009, author Lisa Ko tells her story through the eyes of both Deming— who struggles to live up to the expectations of his new family while trying to come to terms with his new identity and the memories of his mother and the community he left behind—and Polly, whose deportation is finally revealed years later, when Deming begins his search for her and for the answers to questions that have haunted him since the day she disappeared.
Publishers Weekly says: "Ko's stunning tale of love and loyalty . . . is a fresh and moving look at the immigrant experience in America, and is as timely as ever." The book is the winner of the 2016 PEN/ Bellwether Prize for Fiction, awarded by author Barbara Kingsolver for a novel that addresses issues of social justice.
---
Lucky Broken Girl
RUTH BEHAR '77
NANCY PAULSEN BOOKS, 2017
Lucky Broken Girl is based on author Ruth Behar's own experience as a young Cuban immigrant growing up in Queens, New York, in the 1960s. In it, Behar—the first Latina to win a MacArthur "Genius Grant"—tells the story of her 10-year-old self, Ruthie, who longs for go-go boots and to move out of the "dumb" class in school, where she has been placed until she can speak better English. Ruthie lives in a one-bedroom apartment with her little brother, Izzie; her homesick Mami, Rebequita, whose "sadness gets so bad she can't hold back her tears"; and her father, Alberto, who longs to live the American Dream.
Just when it seems the family is on the cusp of adjusting to their new life, a tragic car accident shatters their immediate plans for the future: leaving a teenage boy and his friends dead, a woman paralyzed, and Ruthie confined to a body cast for a year—broken, but lucky to be alive.
"We were scared. We didn't have money. We didn't speak English. We didn't know if they'd ship us back to Cuba. And if we had to flee again suddenly, what would become of me? I was immobile, a girl confined to her bed," Behar writes in the book's Author's Note. "Writing this book gave me permission to return to my youth and re-experience that time, and even better, it has allowed me to make my childhood a bit happier than it really was."
Written for young readers with a message that will resonate with all, Lucky Broken Girl is a story full of hope and love and the healing power of community, compassion, and forgiveness.
---
The Mountain: Stories
PAUL YOON '02
SIMON & SCHUSTER, 2017
In The Mountain, author Paul Yoon introduces us to six unrelated characters who share a common bond across time and place. Uprooted by trauma, great and small, they find the courage to venture alone to unfamiliar places, and into an unknown future, on a quest for comfort. Quiet and contemplative, Yoon's spare, graceful prose provide room for reflection, as he takes us on a meditative and deeply affecting journey from a sanatorium in the Hudson Valley to a camera sweatshop in Shanghai to a village in the Pyrenees. A master storyteller, Yoon waits until we are fully engaged with each character before revealing the tragedy that has brought us to this place. The result is powerful, and sometimes devastating. Kirkus Reviews calls The Mountain, "Six little mysteries that quietly capture the breadth of the human experience."
---
The Rules Do Not Apply: A Memoir
ARIEL LEVY '96
RANDOM HOUSE, 2017
The Rules Do Not Apply follows author Ariel Levy as a young woman inventing her life just the way she has always envisioned it: becoming a successful writer, marrying the woman she loves, and traveling the world. It is only later— when she suffers a devastating miscarriage while on assignment for the New Yorkerin Mongolia—that she discovers that even though the rules of earlier generations of women do not apply to her own, the control she has always felt over her life was never anything more than an illusion.
Levy uses her evocative prose to deftly describe moments in her life, from her first kiss with the woman who later would become her wife ("I drifted off down the hill feeling molten and golden and saved.") to the lasting repercussions of an ill-advised affair ("Extricating myself . . . was like shattering a great pane of glass in the middle of a room. Months after I finished cleaning up the crash . . . I was still picking small, vicious slivers out of the soles of my feet.").
But it is the description of her miscarriage, as she lies alone on the bathroom floor of her hotel room in Mongolia, that provides one of the most devastatingly intimate descriptions of love and loss ever committed to paper.
"I felt an unholy storm move through my body, and after that there is a brief lapse in my recollection; either I blacked out from the pain or I have blotted out the memory. And then there was another person on the floor in front of me, moving his arms and legs, alive. I heard myself say out loud, 'This can't be good.' But it looked good. My baby was as pretty as a seashell."
And so Levy's world, as she had always envisioned it, began to fall apart. Yet even with the dissolution of her marriage that followed, and the longing for her son that continues, she moved forward into a life she now realized would always be beyond her control.
Read an excerpt from The Rules Do Not Apply at magazine.wesleyan.edu.
---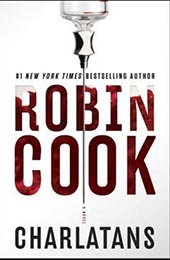 COOK '62 CELEBRATES 40 YEARS OF MEDICAL THRILLERS WITH THE RELEASE OF CHARLATANS
In 1977, Boston ophthalmologist Dr. Robin Cook '62 published a book that would spawn a new literary genre, change the public's perception of medicine (and doctors), and a launch a literary career. That book was Coma—a medical thriller about patients who were intentionally placed in irreversible comas during surgery so that their organs could be harvested and sold for transplant on the black market.
Forty years later, Dr. Cook's meticulously researched medical thrillers have sold a total of more than 100 million copies worldwide, been made into almost a dozen movies and television series—including Coma, the 1978 movie from doctor-turned-director Michael Crichton— and taught the reading public a thing or two about medical issues and ethics along the way, including stem cells and egg donation (Shock), xeno-transplantation (Chromosome 6 and the digitalization of medicine (Cell).
This month, Cook will publish his thirty-fifth book: Charlatans, the story of new chief resident Noah Rothauser on a race against time to identify and stop the person responsible for a rash of unexplained anesthesia-related patient deaths before any additional lives are lost. Filled to the brim with Cook's unique blend of science and suspense, Charlatans once again illuminates the author's unmatched ability to simultaneously entertain and educate.
---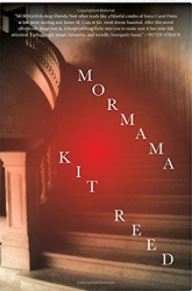 FACULTY BOOKSHELF: Resident writer Kit Reed's latest book, Mormama (Tor Books, 2017), is a supernatural southern gothic ghost story about an ancient family home haunted by a ghost who shares the secrets of the horrific fates suffered by the men and boys who have lived there. The Village Voice calls Mormama "a smart and chilling tale on par with the best of Shirley Jackson, by an author who helped define the American Gothic."
---
If you are a member of the Wesleyan community with a new or upcoming book, please contact Laurie Kenney, books editor, at lkenney01@wesleyan.edu. Review copies can be sent to Laurie Kenney, c/o Office of University Communications, South College, Wesleyan University, Middletown, CT 06459.