Holding Court at the Tony Awards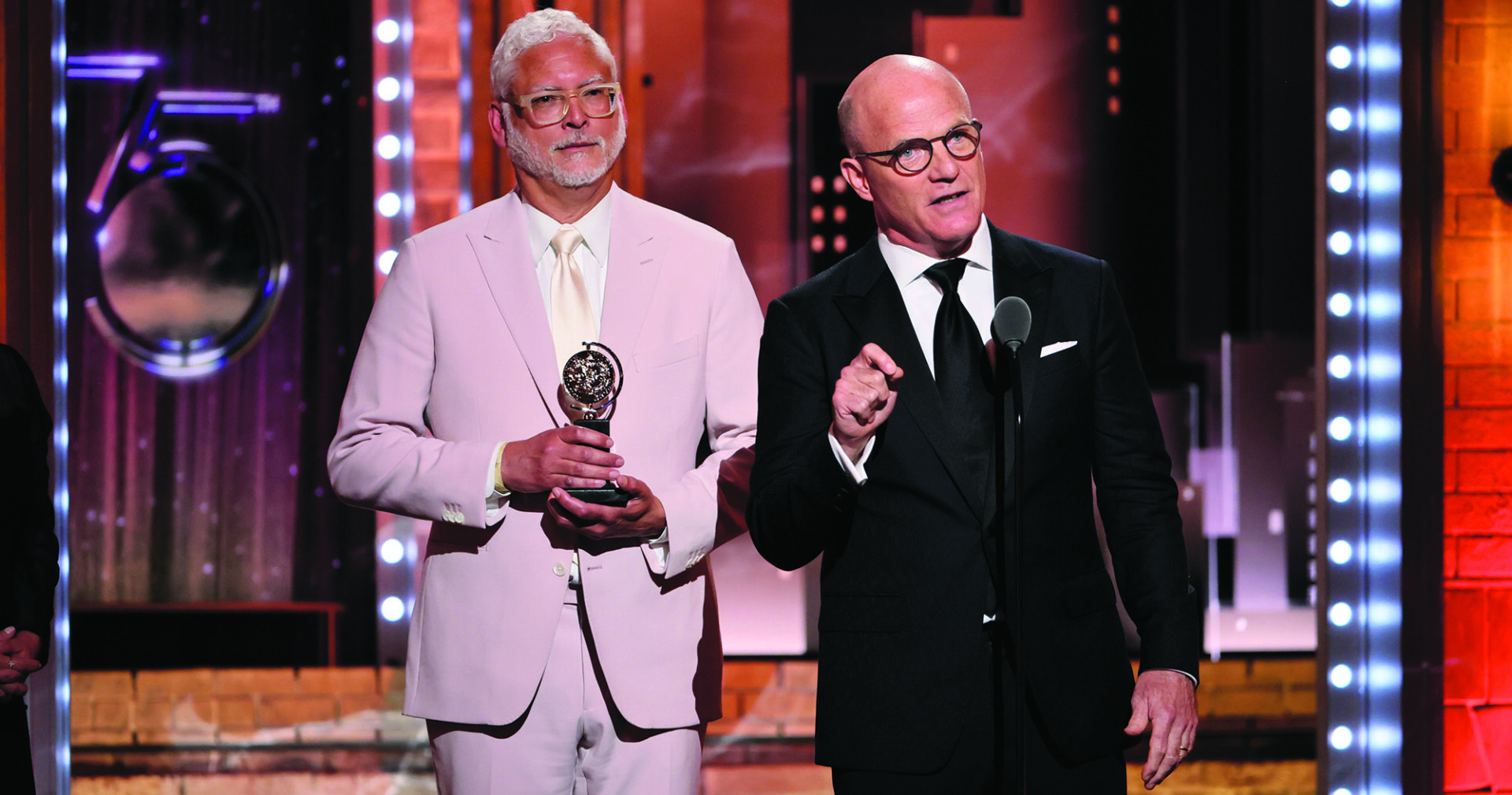 As Charles Newell '81 walked across the 75th Tony Awards stage at Radio City Music Hall to accept the Regional Theatre Award, he was keenly aware that this accolade signified much more than industry recognition of his Chicago-based theater company. It represented the fortitude of regional theaters across the country that were still reeling from a pandemic that had shut down performances and decimated the industry. Along with its regional theater peers, the Court Theatre (where Newell has led as Marilyn F. Vitale Artistic Director since 1994) had only just begun a tentative return to in-person performances.  
"We think of this award as the Nobel Prize for a regional theater," Newell remarked while speaking from his office in Chicago. "There is no higher national recognition that leads to such exposure for a theater company." 
Newell's path to the Chicago theater scene began while in high school, learning from a prolific theater educator, Ted Walch, who would go on to inspire the likes of Allison Janney, Maggie Gyllenhaal, and Wesleyan alumna Beanie Feldstein '15. During his first semester at Wesleyan, Newell audaciously applied to join an advanced directing class. "I thought, there's no chance in hell, but it's a directing class, so I tried." It was there he met William "Bill" Francisco, professor emeritus of theater, and found a spark of inspiration. Newell recalled the precise moment that Francisco observed him responding to a final dress rehearsal of a play. "He said, 'You have a director's instinct.' That was the first time that somebody said you could do this if you wanted to, and so I share this award with him as well. That's where my path started." 
Beginning his 29th season at the Court, Newell can now proudly declare that this 251-seat intimate venue on the campus of the University of Chicago shares the title of Tony Award–winning regional theater with five other storied Chicago-based arts organizations, including the Goodman Theatre and Steppenwolf.  
"This award is a tremendous affirmation for this company and my colleagues who have all been part of our journey in continually exploring what is meant by classic theater," said Newell. 
Beyond the pandemic, artistic directors like Newell have been confronting a similarly existential reckoning over the last two years, with Black, Indigenous, and People of Color (BIPOC) theater artists, including more than 300 theater makers under the banner We See You White American Theater, "demanding a more equitable and safe space for BIPOC communities in our nation and inside of the American Theater." 
These concerns remain top of mind for Newell, noting that throughout his tenure, the Court has been able to increase its audience of color from what was once five percent to now a third across all of its productions. He also recognizes that diversity amongst the theater's actors over the last 15 years has improved, with 60–70 percent being from BIPOC communities. "The work that we have been doing these last few years has been about dismantling systems and structures that are so harmful to everyone, particularly artists of color within the staff," said Newell. 
The Court's mission includes a commitment to exploring the African American theatrical canon and Newell sees such work as a vital component of its commitment to serving the company's South Side of Chicago community, which is a predominately Black (75.3%) and Hispanic (20.6%) neighborhood, according to the US Census Bureau. 
"If our purpose is to serve our community, and we are a classics-based company, what we define as 'classic' must resonate and connect to their lives," said Newell. "Our entire theater is currently engaged in strategic planning, creating a new mission statement that incorporates a more inclusive and equitable response to the question, 'What is classic theater?" Leading that process alongside Newell are Executive Director Angel Ysaguirre, Director of Engagement Kamilah Rashied, and newly appointed Associate Artistic Director Gabrielle Randle-Bent. The company's resident artist, Ron OJ Parson, has also focused on opening doors for artists and stories to better serve the theater's diverse community. "As we look ahead to what's next, we are always focusing on the culture of the Court Theatre and the art that reflects that culture," Newell added. 
Newell is excited as he speaks about the Court's future, partly because of his team's artistic ambition as well as the theater's financial stability, thanks in part to the University of Chicago's annual $1 million of in-kind support towards the theater's overall $6 million operating budget. "With that kind of financial backstop, we are always asking ourselves if we are taking enough risk. Are we challenging ourselves and our audience enough?" Newell recognized as he pointed to an upcoming, ambitious production of The Gospel at Colonus that will push the theater's limits. "We're going to do it with 15 performers and five musicians, which will be the largest number of people we've ever had on our stage. It is going to blow the roof off." 
Extolling the intimacy and experimental ambitions of the regional theater scene, Newell proudly reflects on his career at the Court. "I would tell any theater major graduating from Wesleyan today to move to Chicago. There is no other community that I know of, and I include New York and Los Angeles, where there are so many opportunities for you as an early career theater artist to get in the door."
Photo at top: Angel Ysaguirre and Charles Newell '81. Getty Images for The Tony Awards.