WESLEYAN INTRODUCES SPIN BIKESHARE PROGRAM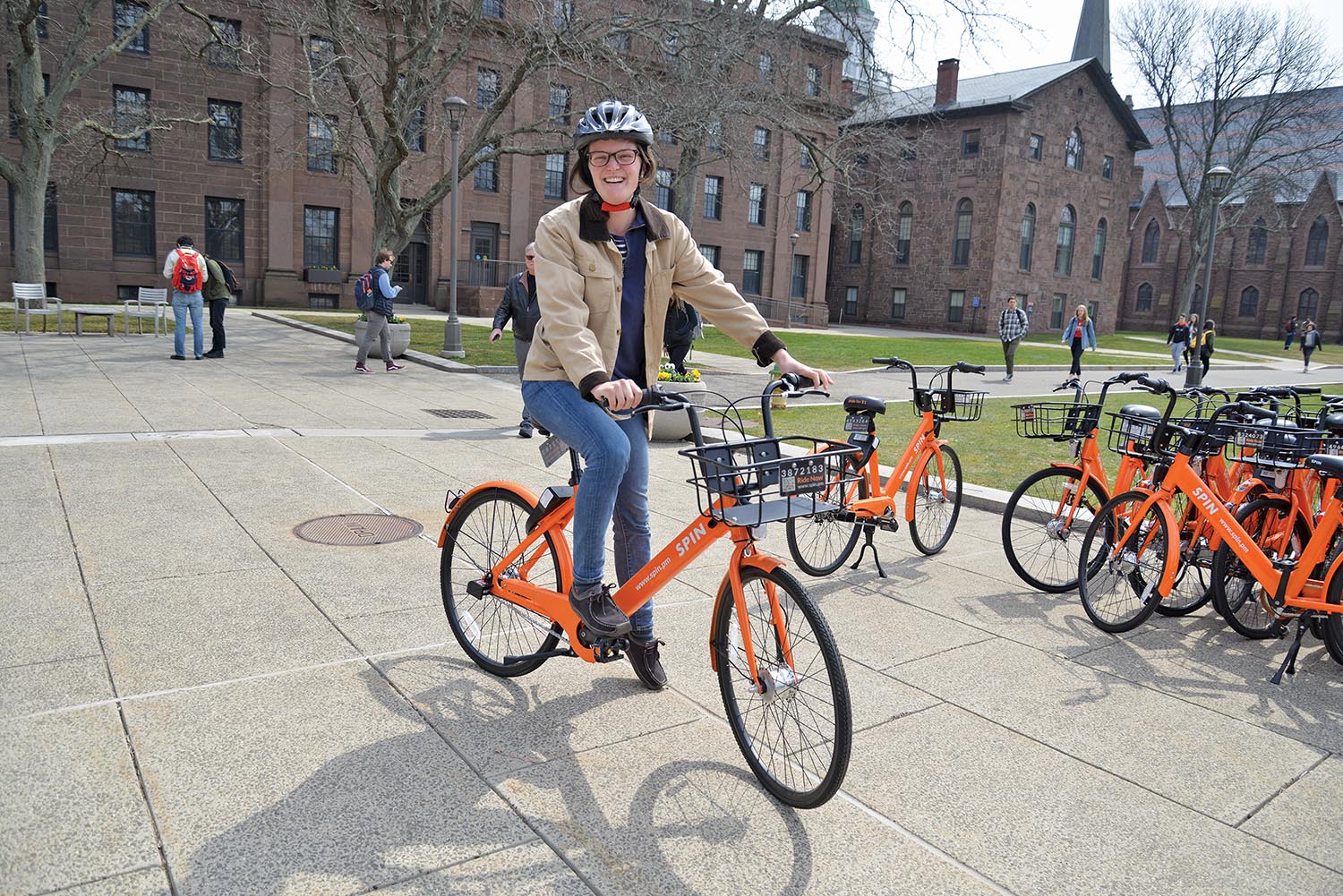 Bikes on Demand: Emma Porrazzo '19 goes for a spin on one of the orange bicycles popping up all over campus as part of the new bikeshare program. (Photo by Olivia Drake MALS '08)
On April 12, Wesleyan launched a new bikeshare pilot program for the campus community. Spin, Wesleyan's partnering company, has placed 100 orange dockless bikes at multiple locations throughout campus.
The Spin bikeshare program is used on 18 campuses and universities nationwide.
Anyone with a wesleyan.edu email can borrow a bike for 50 cents per half hour or receive unlimited rides for $14 per month. All new users get two hours of free riding.
To get started, riders can download the app by searching "Spin Bikes" in the app store and signing up with an @wesleyan.edu email.
Once registered, a bike-borrower uses the app to locate a nearby bike and scans a QR code on the bike to unlock it. After riding, a borrower may drop off the bike at a bike rack and should make sure it is locked (via a metal pin that automatically fastens the back wheel to the frame.) The rental session ends when the rider locks the bike.
When parked, bikes should never block building doors, access ramps, railings, and campus roads and pathways. Wesleyan strongly encourages users to wear helmets.
"We hope that this program will allow more people to take advantage of the bikes, be it to get from one end of campus to the other when you are in a rush, or to take them out for a leisurely ride during the weekends," said Jen Kleindienst, sustainability director. "We're excited to bring bikeshare to Wesleyan and hope it will be a little easier to get around campus!"
Early results suggested a fast start for the program: in the first week there were over 2,000 rides from nearly 1,000 individuals.
To offer feedback about the program, email sustainability@wesleyan.edu.