Introducing the Alumni Association Executive Committee (AAEC) With Get-To-Know-You Questions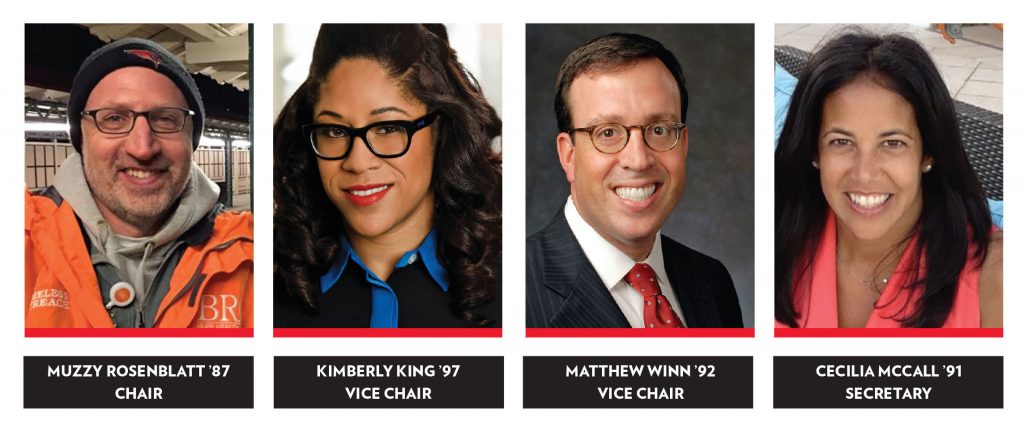 MUZZY ROSENBLATT '87, chair
Q: What is your favorite Wesleyan-related activity/event and why?
A: Reunion and Commencement Weekend, where I can simultaneously catch up with people with whom I shared this incredible experience decades ago, and be inspired by the passion and optimism of those about to become alumni and make their impact on the world.
Q: What do you hope to accomplish/work toward in your next two years as chair of the AAEC?
A: What: Increase the level of alumni engagement in all aspects of the life of Wesleyan. How: By listening better to what our alumni are saying and asking, and by enhancing how we communicate the amazing impact Wes continues to have on the students and the world of today.
KIMBERLY KING '97, vice chair
Q: Most important thing you learned at Wesleyan?
A: How to leverage my networks to create opportunities: I was passionate about the music business as an undergraduate, and I leveraged the Career Resource Center (now the Gordon Career Center) to sponsor discussions around careers in the music industry. Thinking outside the box and creating opportunities to serve others are anchors in my personal and professional pursuits.
MATTHEW WINN '92, vice chair
Q: Most important thing you learned from Wesleyan?
A: The value of connection. Academically, I learned to connect disparate thoughts to create a unique thesis. Socially, I learned how to connect with others and expand my thinking. Continuing to connect with our alumni as part of the Wesleyan professional networks is what excites me most about my time on the AAEC.
CECILIA McCALL '91, secretary
Q: Favorite Wesleyan-related activity/event?
A: The annual Summer Sendoffs. I love seeing alumni from many different classes come out to support new students and their families. Last year, I saw many parents of current students attend even when their children were away, just so they could give advice to new parents and welcome them to Wes. I love connecting with Wes folk and look forward seeing alumni, pre-frosh, and their families at this year's sendoffs.