Engaged Locally and Globally: The Wesleyan Refugee Project Aims to Improve Life for Displaced Peoples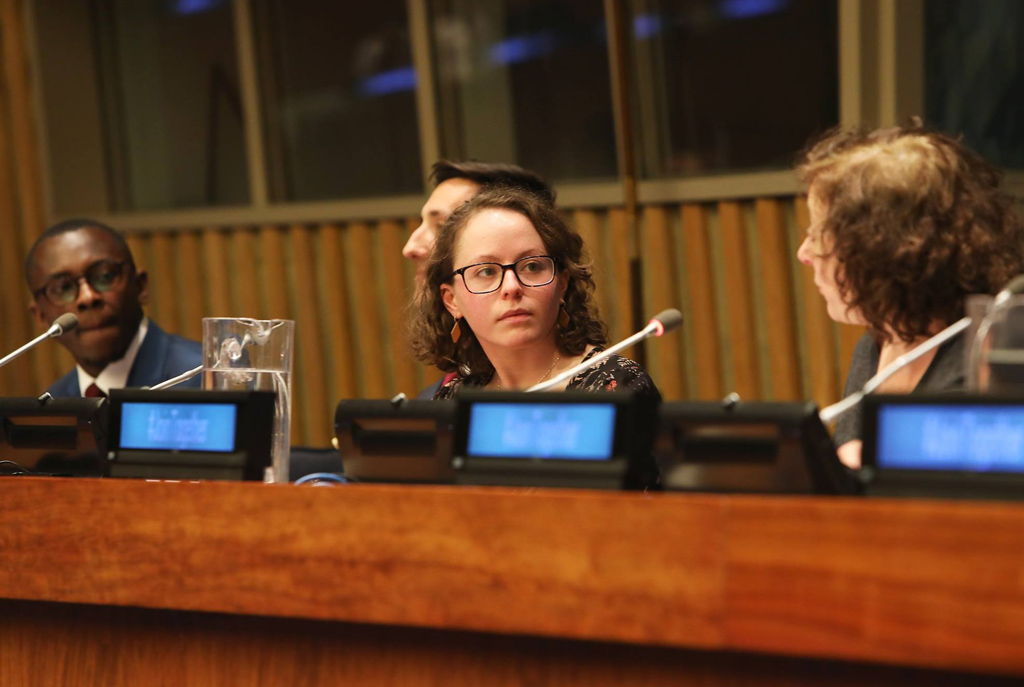 Humans around the globe are experiencing unprecedented levels of displacement. Earlier this year, the UNHCR (the United Nations Refugee Agency) reported that a record 70.8 million people have been forcibly displaced from their homes; nearly 25.9 million of them are refugees. At the same time, nations around the world have tightened their controls on immigration.
The Wesleyan Refugee Project (WRP), a student organization of approximately 55 members, is responding to this crisis with action and advocacy. Founded in 2015 by Casey Smith '17, Cole Phillips '16, and Sophie Zinser '16, the WRP focuses on improving life for refugees and other persecuted individuals around the world, organizing events to raise awareness of issues affecting refugees, and fundraising in support of local and international organizations. WRP members also volunteer directly with education, legal aid, and resettlement process groups in the greater Middletown community and beyond.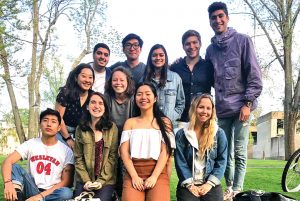 In its five years of existence, the WRP has blossomed from a tiny but determined circle to a large crew of committed activists and volunteers. Guided by a 10-student board, including liaisons to local community organizations, the backgrounds of the activism- and social justice-minded members stretch well beyond just international studies majors, with such varied disciplines as history, molecular biology and biochemistry, anthropology, and science in society represented. Thanks to an affiliation with the Office of Community Service, some members even participate through paid work-study positions, further strengthening and diversifying the group.
Although the WRP initially formed to address the Syrian refugee crisis, it quickly expanded to become simultaneously more local (working directly with refugees in Connecticut) and more global (engaging in remote work in countries around the world that are experiencing conflict and violence). The broader focus is essential, said Jake Multer '20, a current co-president of the WRP, along with Elizabeth Edwards '21.
"There's a common misconception that refugees are an 'over there' problem of people coming from the Middle East into Europe and the US," Multer said. "Part of this image in recent times is due to the Syrian civil war, which has (rightfully) drawn intense international focus as a humanitarian disaster. But the unfortunate reality is that people are displaced in many parts of the world due to conflict, on every continent except Antarctica."
The group now also incorporates US policy and domestic advocacy into its areas of interest, with particular attention to ICE activity, US policy at the southern border, and services available to refugees and displaced populations across the country, Multer said.
Some of the WRP's main partners are the Integrated Refugee and Immigrant Services (IRIS), a resettlement agency contracted with the State Department to help refugees in the New Haven area; the Middletown Refugee Resettlement Coalition (MRRC), which assists refugees in the Middletown area; and Paper Airplanes, which offers educational and professional training for refugees and migrants abroad. NGOs like the International Refugee Assistance Project and Liberty in North Korea are also supported by the WRP.
Advocacy is a key component of the group's activities. Each spring, the WRP holds an Advocacy Week, which has included fundraisers, film screenings, academic panels, and talks by politicians and community members. A highlight of a recent Advocacy Week was witnessing participants from various local organizations forge connections and find common points between their work, said Caroline Kravitz '19, the WRP's previous president. (All of the group's events are free and open to the public.)
"It's easy to stay within the Wesleyan bubble," Kravitz said. "But to be able to facilitate and start new conversations with and between members of the broader Middletown community—and even the global community—has always been critical to the WRP's work."
Another example of extending the group's work beyond campus has been the implementation of a curriculum (written by Elizabeth Salzman-Fiske '19) to educate younger students about refugees. Last year, Kravitz, Salzman-Fiske, and Thafir Elzofri '19 presented the curriculum to eighth-graders at Woodrow Wilson Middle
School in Middletown.
"We opened with a general overview of the issues: who is a refugee, and what might
contribute to someone having to flee their country," Kravitz said. Next, students read poems written by refugees, and shared their reactions in small groups. Kravitz was impressed by the seriousness with which the students approached the material.
"They asked incredible questions . . . and were eager to brainstorm actions to take in their local communities to support resettled refugees and immigrants," she said.
Although a singular experience, it represents how the WRP hopes to make a difference over the long term: by connecting students and local communities with broader global issues, and by getting more individuals personally invested and involved.
Many WRP alumni still deal directly with the issues themselves. Past members have
pursued careers at nonprofits and in education, and have obtained fellowships that allow them to study issues facing marginalized populations. One former leader worked for the International Refugee Assistance Project in New York City and is now in law school; another works for the Refugee Collateral Project in Amman, Jordan.
Today, the WRP seeks to grow membership and sustain momentum in its many subgroups (focused on such areas as advocacy and fundraising), and to expand its online presence. It's also exploring possible collaborations with other college student refugee projects.
Just as the issues facing refugees continue to evolve, so too do the opportunities to help. As Kravitz said, "there is so much room for people with different interests and skills to take action and support displaced persons worldwide."